WND Tries To Sell Discredited Book In Middle of Article Admitting It's Discredited
Topic: WorldNetDaily
You can't make this stuff up, folks.
A Jan. 15 WorldNetDaily article steals a Washington Post article on a Christian book publisher recalling the book "The Boy Who Came Back From Heaven" after the boy and his mother recanted the book's central claim by admitting he did not go to heaven and said so because "I thought it would get me attention."
But what's that in the middle of WND's stolen excerpt? A plug to buy the book from WND's online store. No, really: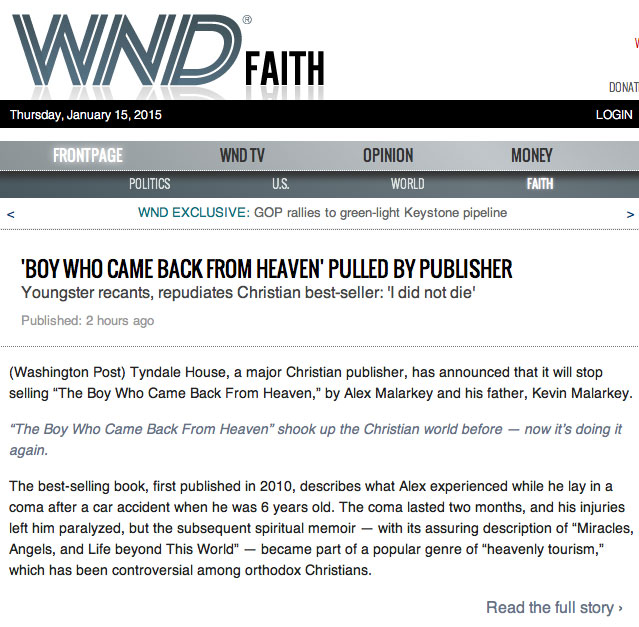 That's right -- WND is trying to sell you a book through an article that admits the book is a lie.
If that wasn't insulting enough, WND isn't even offering you much of a deal on this discredited book. As of this writing, it's available for the "discount price" of $19.99, a mere $5 off the cover price.
Wouldn't be easier for WND to simply return those books to the publisher instead of cynically trying to sell a book it knows is false?
Then again, WND has no problem selling discredited books, as demonstrated by its selling of David Barton's book on Thomas Jefferson, also recalled by its publisher for its numerous falsehoods.
Posted by Terry K. at 10:40 AM EST
Updated: Friday, January 16, 2015 10:41 AM EST