Is WND Selling David Barton's Discredited Book From His Stash?
Topic: WorldNetDaily
Several months ago, the publisher of David Barton's book "The Jefferson Lies" pulled the book from the marketplace because of growing concerns about its factual veracity. In the wake of the withdrawal, Barton bought 17,000 copies of the book.
Ever wonder what happened to all those books Barton bought? It appears that some may be popping up at WorldNetDaily.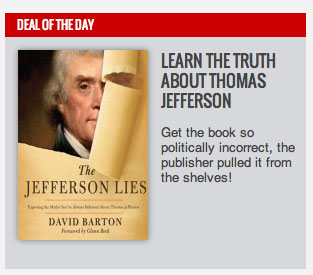 WND not only didn't tell its readers about the controversy regarding the book's accuracy, it continued to sell the book at its online store. Now, WND is making a new push to sell the book -- while telling a blatant falsehood in the process.
A May 17 WND article proclaims:
Thomas Jefferson stands falsely accused of several crimes, among them infidelity and disbelief. Prominent historian David Barton sets the record straight in the hard-hitting book "The Jefferson Lies: Exposing the Myths You've Always Believed About Thomas Jefferson".

It's so hot and so politically incorrect, the publisher pulled it from the shelves of every bookstore in America.

But the WND Superstore has plenty of copies and is making them available to you so you can know the truth about one of America's founding fathers.
No, the book was not pulled by its publisher (Thomas Nelson, which if you'll recall was WND's original partner for its book division) for being "politically incorrect"; it was pulled because it is factually inaccurate.
And where did WND get those "plenty of copies" it claims to has? Given that Thomas Nelson has not distributed the book for months, the one place WND can get its hands on plenty of copies of Barton's book is from Barton himself.
WND's online store continues to list the book as a Thomas Nelson product despite the fact that Nelson has disavowed itself from the book through withdrawing it from the market.
Would the Better Business Bureau be interested in WND knowingly selling a flawed product and misrepresenting how it's obtaining the product for sale? We shall see...
Posted by Terry K. at 9:36 PM EDT