WND Helps Right-Wing Channel Play Victim Over Suspension
Topic: WorldNetDaily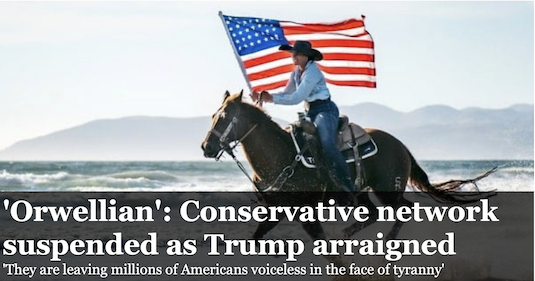 WorldNetDaily's Bob Unruh took a page of the Media Research Center victimization playbook for an April 4 article:
Another day and another attack on conservative voices in America.

It is the Google-YouTube conglomerate that again is being accused of using its online power to "eradicate the web of conservative voices" after its decision to suspend Right Side Broadcasting Network.

RSBN was accused of "pushing content on the stolen elections, fraud in the 2020 elections, and [an absence] of opposing voices," according to a report from The Gateway Pundit.

It's a frequent claim from leftists and liberals who want to suppress concerns about America's elections.

[...]

The Gateway Pundit report noted, "One day before President Trump is to be indicted on 'trumped up' charges by a Soros-funded district attorney, Google-YouTube suspended the Right Side Broadcasting Network (RSBN) account."

It explained, "Google-YouTube used a familiar excuse accusing RSBN of pushing content on the stolen elections, fraud in the 2020 elections, and absent of opposing voices in their videos."

The report, however, openly wondered, "Since when did Google-YouTube start forcing conservatives to contain liberal insanity in their content? And has the same standard been forced on the regime-approved mainstream media outlets?"
As we pointed out when the MRC whined about this very same thing, RSBN spreads proven falsehoods about election fraud and it doesn't believe it should be held accountable for doing so. Unruh clearly sympathizes, and he added his own conspiracy-mongering:
But the facts remain that a Media Research Center poll after the 2020 election revealed that Joe Biden almost undoubtedly would have lost key swing states – and the election, had social and legacy media not interfered in the election by suppressing damaging, but accurate, reporting about the Biden family's international business schemes.

Further, there was the undue influence on election results from the $400 million plus that Mark Zuckerberg handed out through foundations to local election officials, who often used the windfall to recruit voters from Democrat districts.

Almost certainly without those factors, which came from outside America's election process, the U.S. would be in the middle of President Trump's second term now.
Unruh censored the fact that Zuckerberg foundation grants were available to any election official who wanted it and much of it was used to help defray added expenses of holding an election during a pandemic. Also, there is nothing sinister or evil about encouraging people to vote, and the MRC's election-fraud conspiracy theory is based on polls it bought from Trump's campaign pollster and the polling firm founded by Trump adviser Kellyanne Conway.
Posted by Terry K. at 1:53 PM EDT