WND Defends Trump Over Indictment, Smears Prosecutor As Stalinesque
Topic: WorldNetDaily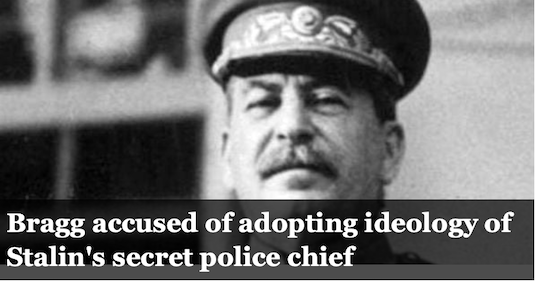 WorldNetDaily had been building up outrage over the possible indictment over Donald Trump, and when that happened, the outrage went to a whole new level. Bob Unruh's March 30 "news" article on the indictment simply parroted pro-Trump talking points:
Former President Donald Trump is accusing President Joe Biden of "political persecution" and "election interference at the highest level in history," following news that a Manhattan grand jury has indicted Trump on a questionable charge that most legal experts, including lifelong Democrats like Harvard professor emeritus Alan Dershowitz, have condemned as a totally "political" prosecution.

Previously, federal investigators and federal election investigators, even the Manhattan DA himself, all tossed out the complaint as unworthy of prosecution.

But Democrats, desperately clawing at anything to use against Trump as he runs for the 2024 presidential victory, pushed DA Alvin Bragg, a far leftist whose campaign was funded by billionaire extremist George Soros, to go after a claim about a "hush money" payment to a former stripper to keep quiet about an alleged affair.

Such payments are not illegal, but Democrats are alleging the payment was a campaign contribution to Trump's 2016 campaign.

Without this odd and controversial combination of claims, the allegations would have been dead in the water.

Democrats hope they can exploit a legal case against Trump as they promote the mentally declining octogenarian Joe Biden for another term in the White House.

However, polls show that Trump might actually benefit from the publicity and outrage, and experts in the law have concluded that Trump, even under indictment, still could be elected.

Democrats have a deathly fear of Trump as a candidate because of the success of his first "Make America Great Again" term, when he literally vaporized much of Barack Obama's "accomplishments."

Their concern, with reason, is that Trump would do the same to Biden's agenda.
An article by Unruh the next day touted pro-Trump "constitutional expert" Jonathan Turley criticizing the indictment, even though it "still hasn't been released, so few people know what it actually contains now." Unruh followed that a couple hours later by hyping a vicious smear of the prosecutor, Alvin Bragg:
Alvin Bragg, the far-left Manahattan district attorney who obtained a grand jury indictment of President Trump, probably over a payment and a nondisclosure agreement with a stripper over an affair both have denied happened, is being accused of adopting the promise that was made, back in the day, by Stalin's secret police chief.

Margot Cleveland, a longtime veteran of the federal court system and now a senior legal correspondent at The Federalist, identified that chief as Lavrentiy Beria and his promise as, "Show me the man and I'll show you the crime."
Never mind that, again, neither Cleveland nor Unruh actually knew what was in the indictment at this point.
Peter LaBarbera attacked Bragg as well in an alleged "news" article while touting how Trump has Republican support despite his apparent criminality:
With his politically-driven grand jury indictment of Donald Trump, Manhattan's George Soros-backed District Attorney, Alvin Bragg, has done what only a hard-left, Trump-hating Democrat could do: quickly unite most major Republican leaders behind the former president.

There are some exceptions: Senate Minority Leader Mitch McConnell's silence on the Trump indictment has been deafening. And former Arkansas governor and potential longshot presidential candidate Asa Hutchinson says Trump should "step aside," calling the indictment a "huge distraction" that is bad for Republicans and bad for America.

Even as he rails publicly against the "witch hunt" against him, Trump reportedly is cooperating with Bragg's office "to coordinate his surrender to the Manhattan D.A.'s Office for arraignment on a Supreme Court indictment, which remains under seal," CBS reported. He likely will not be handcuffed, and the process will take place Tuesday afternoon, after which Trump will return to Mar-a-lago.
LaBarbera offered no proof that Bragg is "hard-left" or that he hates Trump any more than he does any other criminal.
Unruh cheered intimidation of Bragg by right-wing members of Congress in an April 3 article:
It's no secret that leftist billionaire George Soros has been donating, sometimes heavily, to the campaigns of leftist district attorneys who, once they are in office, impose their own bias regarding justice.

They decline to prosecute certain crimes, they decline to seek prison terms for convicts, they work to arrange early release for those already in jail.

Significantly, in most cases, they allow crimes to skyrocket in their jurisdictions, to the point businesses and residents are seeking to move out.

Now Republicans in the U.S. House have come up with a response to the agenda: To strip those officials of their legal immunity.

According to a report from Just the News, Rep. Austin Scott, R-Ga., said liberals tried to remove the qualified immunity that protected police officers from lawsuits previously.

Now it's time for that move to target prosecutors.

"I think you're going to have to look at prosecutorial misconduct and whether or not prosecutors in this country should be exempt from liability," he said during an interview on the "Just the News, No Noise," television program.

House Speaker Kevin McCarthy already has said Congress will do something to punish Manhattan District Attorney Alvin Bragg, a far-left activist who took a misdemeanor complaint that multiple jurisdictions had concluded provided no evidence for a prosecution to file what apparently is a felony against President Trump.
Again, the indictment still had not been made public at this point, so Unruh could not possibly know the evidence behind it.
Joe Kovacs offered a Trump-friendly narrative about Trump's arraignment on April 4, where he deemed that the most important event of the day was Trump trying to pull an alpha-male move:
Donald Trump "definitely glared" at Alvin Bragg, the Manhattan district attorney who indicted the former president Tuesday on 34 felony counts of falsifying business records in connection with his alleged role in hush-money payments toward the end of his 2016 presidential campaign.

Trump vocally pleaded "not guilty" to all counts before Judge Juan Merchan, an avowed Democrat whose daughter has reportedly worked for Kamala Harris.

"It is not just about one payment," said Bragg.

Jake Gibson, a federal law-enforcement producer for Fox News, said after Tuesday's arraignment : "I think it's worth noting, President Trump definitely glared at the D.A. Bragg when he left.

"He seemed to get up, look around the room. .. and then lock his eyes on Alvin Bragg."
Following the arraignment, Kovacs served up more Trump stenography:
On the heels of his arraignment Tuesday in New York, former President Donald Trump addressed America from his Florida home at Mar-a-Lago, saying "our country is going to hell" and that the 34 felony counts against him "should be dropped immediately."

"Now there's radical election interference on a scale never seen before in this country," Trump said.

"I never thought anything like this could ever happen in America."

[...]

Trump specified that criminal as the "radical George Soros-backed prosecutor Alvin Bragg" who the former commander in chief says "campaigned on the fact that he would get President Trump ... at any cost before he knew anything about me."
Kovacs made no attempt to fact-check anything Trump said, demonstrating that he's not much of a reporter or editor.
Posted by Terry K. at 1:15 PM EDT
Updated: Wednesday, May 24, 2023 1:27 PM EDT