MRC Won't Stop Helping Crowder Play The Victim
Topic: Media Research Center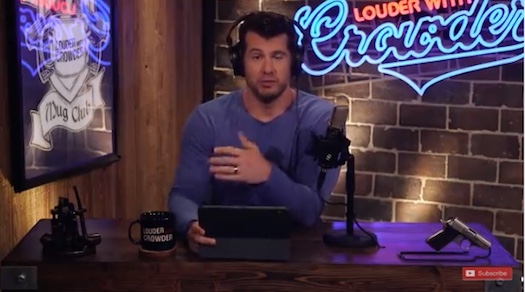 Steven Crowder is little more than a professional victim at this point -- and the Media Research Center is a willing accomplice in helping him play that role. Every time Crowder gets busted b y YouTube for spewing hate and homophobia, the MRC is right there to help him whine about being "censored." AS the hate and suspentions continued, so has the MRC's victim narrative. Catherine Salgado pushed that narrative again in an Oct. 19 post after Crowder got himself in trouble again:
"This is terrifying for the United States of America," said comedian Steven Crowder after he was censored by YouTube for a Louder with Crowder episode highlighting recent reports of "transgender" rape threat to women. YouTube issued the strike just after Crowder finished a different episode on the reported "transgender" rape cover-up in Loudoun County, Virginia schools.

Crowder posted on Instagram late last week that YouTube had removed an episode of his Louder with Crowder show and temporarily suspended his channel. The censored episode included a comedy sketch based on reports of the increasing sexual threat transgenders pose to female inmates in California's prisons.

Crowder shared alleged screenshots in which YouTube claimed that the episode violated the video platform's so-called "hate speech policy" against the "LGBTQ+ community," including "by indicating that trans people pose a rape threat to women."
Yes, it must be "terrifying" for Crowder to face consequences for his beahvior. At no point did Salgado quote from the episode in question to show Crowder's transphobia for all to see. Nor did she point out the fact that the story he was mocking was false. Mashable also reported the content that got Crowder a strike, which Salgado doesn't want you to know:
In the segment, Crowder and his producers make transphobic remarks such as referencing male genitalia when discussing transgender women.

The segment also includes a "comedy sketch" which parodies the Immaculate Conception. In the sketch, an angel portrayed by conspiracy theorist Alex Jones (who was permanently banned from YouTube in 2018) appears before an actor playing the Virgin Mother. Jones tells the actor that her cellmate, played by Steven Crowder and described by Jones as a "guy dressed as a woman," is going to "rape" her.
Gabriela Pariseau rehashed Crowder's victimization -- again, without admitting the story he was spreading was false -- in a Dec. 8 post as the lead example of "100 examples of Big Tech censoring content and users who affirm only two genders or recognize biological gender differences over the last 11 months." LIke Salgado, Pariseau didn't directly quote anything Crowder actually said.
Crowder got in trouble again later in December, and this time it was Joseph Vazquez who played the victimization card in a Dec. 16 post:
The censorship overlords at YouTube have apparently continued their digital war with comedian and political commentator Steven Crowder.

Crowder posted a purported snapshot of a notice from the liberal streaming platform informing him that it deleted his recent Louder with Crowder episode headlined, "The LEFT Hates Elon Musk Because He's Too Based!" The purported notice from YouTube said, "Our team has reviewed your content, and, unfortunately, we think it violates our hate speech policy." Crowder responded on Instagram, "Well well well… Rumble and #MugClub it is!! INCOMING!!! 10AM ET. #LwC."
Adhering apparent MRC policy, Vazquez refused to quote what happened in the actual show. Mashable again reported what Vasquez wouldn't:
Crowder's show that day opened up with a music video for a holiday "parody" song about a man who discovers his ex-girlfriend is trans and transitioned after they broke up. Crowder's comments on transgender people were similar to the segment that earned him his first strike in October, when he made anti-trans statements concerning a since-debunked story that he sourced from an anti-trans group.
Autumn Johnson confirmed the suspension in a post the next day. Surprisingly, she did reference the hateful content that got him suspended, albeit in a benign way to remove any offense: "The show featured a parody song about a transgender individual in a romantic relationship and also discussed criticism author JK Rowling had received over her own comments on the issue."
In a Dec. 22 post, Johnson touted Crowder's victimization tour:
Libertarian author and pundit John Stossel interviewed conservative talk show host Steven Crowder about his recent ban from YouTube. Stossel discussed the ban with Crowder and further attacks from Big Tech.

".@SCrowder has been suspended AGAIN from posting to YouTube," Stossel tweeted. "What did he do that broke the rules? YouTube hasn't said. That's dumb."

Crowder has recently discussed cultural issues, transgenderism, and election fraud. Stossel said that YouTube never disputed the accuracy of Crowder's reports, the platform "just deleted them."
Despite the fact that she had linked to Mashable's item just a few days ago detailing Crowder's transphobic content, Johnson was content to help Stossel and Crowder play dumb about what Crowder did.
It's clear that the MRC knows if it details the actual examples of Crowder's transphobia, he'll look much more like the bully he is and much less like a victim. That's why it stays vague at best about what he says -- that is, when it references that at all.
Posted by Terry K. at 10:38 PM EST
Updated: Wednesday, February 9, 2022 10:58 PM EST