WND Shills For, Spreads Misinformation From Dubous Doc McCullough
Topic: WorldNetDaily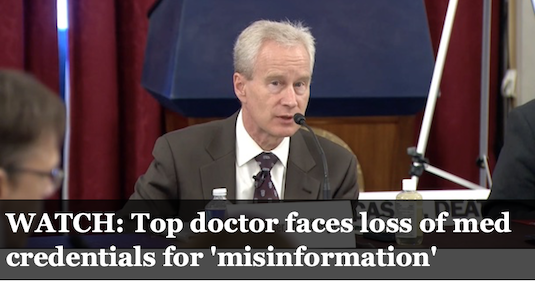 WorldNetDaily has long been a fan of -- and uncritical conduit for -- the COVID vaccine misinformation peddled by dubous doc Peter McCullough. It's still giving him that challenge-free platform. Art Moore did a softball interview with him for a Sept. 20 article designed to plug McCullough's new health operation:
The crushing of debate and traditional scientific inquiry that has curbed access to proven treatments and forced ineffective and even dangerous therapeutics on patients during the COVID-19 pandemic has, for many Americans, created an unprecedented crisis of faith in the world's most advanced health-care system.

If I get sick with COVID-19, can I trust my doctor to treat me as a unique human being, with a unique medical history and provide me – without hindrance from corporate or government bureaucrats – with a treatment plan that will help me heal?

For many who can no longer say yes to that question, Dallas-based internist and cardiologist Dr. Peter McCullough – one of the most outspoken critics of the government and medical establishment response to the pandemic – has become a de facto primary-care physician, particularly through his "McCullough Protocol."

He now has a far more sustainable solution, a health-care enterprise he has helped launch with former Yale University Medical School professor Dr. Harvey Risch and others called The Wellness Company.

In an hour-long interview with WND in which he also discusses the latest COVID-19 developments – including President Biden's declaration that the pandemic is "over" – McCullough explains the new venture's holistic, prevention-based approach to health care through telemedicine and, eventually, through in-person consultation as well.

"People have lost trust in the health system – there's no doubt about it," McCullough said. "It's the first time people were turned down for a treatment. ... It was inexplicable."

Then, there was a "second major hit," McCullough told WND, "where people just walked away," when doctors urged patients to take "the investigational COVID-19 vaccines."
Unmentioned, of course, was the role of both McCullough and WND in manufacturing that distrust, largely through the deliberate spread of misinformation. Risch, his partner, is another COVID misinformer, and that "McCullough Protocol" is heavy on things like hydroxychloroquine and ivermectin which haven't been legitimately proven to fight COVID.
Moore did another interview with McCullough for a Nov. 6 article, this time complaining that his misinformation has cost him his board certification:
Accused of spreading "misinformation," outspoken COVID-19 vaccine critic Dr. Peter McCullough is facing the loss of his board certification in cardiology and internal medicine.

In a video interview with WND (embedded below), the world renowned cardiologist and epidemiologist – with 677 scientific publications to his credit – explained he is now engaged in a rigorous appeal process at great expense personally as well as professionally.

"I can tell you this is unprecedented. We've never had a federal board like this, recommend that a doctor become decertified because of political reasons," he told WND.

"There is no complaint regarding my critical care. No complaint regarding my board scores."

After launching an initiative on COVID "misinformation" in September 2021, the American Board of Internal Medicine targeted statements McCullough made to the Texas Senate the previous March and to media. In May 2022, the board sent a letter to McCullough accusing him of spreading misinformation. McCullough crafted a 20-page response, citing the evidence for each statement he made, and requesting that he be allowed to attend a meeting about his case. The board denied his request and last month sent him a letter informing him that the meeting had taken place and the board had decided to remove his credentials. He has until Nov. 18 to file his appeal.

Meanwhile, McCullough has been terminated from his editor-in-chief roles of two different journals, Reviews in Cardiovascular Medicine and Cardiorenal Medicine.

"With no due process, no courtesy phone calls, no editorial board meetings, I simply received an email, a letter, saying that I was terminated as editor-in-chief," he said regarding the latter journal.

The letter "thanked me for my years of service, but no explanation, and I can tell you that never happens in academic medicine."
The fact that Moore went for the appeal-to-authority fallacy in hyping McCullough's credentials tells you that he will never seriously question McCullough about the misinformation he has peddled. And there's plenty of it to be found at WND -- not only did he falsely downplay last year's Delta variant as "the mildest one we've seen so far" with "a very low mortality,"he declared last December that the Omicron variant as a "minor variant" and is "simply not going to be as infectious" and "doesn't look like it's going to have the evolutionary efficiency to become a dominant strain." As we all know, Omicron variants are the most infectious and have become the dominant strain.
But Moore won't hold McCullough accountable for his wildly inaccurate prediction -- he needs the guy too badly to push more COVID misinformation, blaming people who purpotedly "died suddenly" on COVID vaccines. Moore uncfritically wrote in a Nov. 7 article:
Citing the available scientific evidence, renowned cardiologist Dr. Peter McCullough believes the best explanation for the "sudden and unexpected" cardiac events and deaths in otherwise healthy people is the COVID-19 vaccines.

In a video interview with WND in which he talked about the threat to his medical credentials for allegedly purveying "misinformation," McCullough pointed out that in the past, long before the COVID vaccines, athletes who died sudden typically were diagnosed with hypertrophic cardiomyopathy, an abnormal thickening of the heart, or premature heart blockage.

Now, athletes are thoroughly screened to rule out those conditions.

McCullough noted that peer-reviewed literature shows the vaccines cause myocarditis. He cited a U.K. study that found about 100 fatal cases of myocarditis linked to the vaccine. And he referenced a case report published in August in the journal Archives of Pathology that found a connection between a second dose of the Pfizer vaccine and myocarditis in two adolescents. A case report by South Korean researchers presented the autopsy findings of a 22-year-old man who developed chest pain five days after the first dose of the Pfizer vaccine and died seven hours later.

"When someone dies and the family doesn't come out and say anything, or doctors don't come out and say anything, it's a reasonable assumption that it was the vaccine, until proven otherwise," McCullough told WND.
First: Advising that doctors assume a cause for a medical condition runs counter to medical science and justifies the removal of McCullough's credentials. Second: McCullough is misrepresenting the results of those studies to which he referred.
In the first study, McCullough and Moore censored the fact that, as a more responsible publication found, that number of "about 100" was taken from a pool of 43 million people who had received at least one dose of the vaccine; counting people who were also hospitalized for myocarditis but didn't die for a total of 2,861 people, that's just 0.007 percent of people who got vaccinated -- while the number of people who suffered myocarditis after catching COVID was 11 times greater. The other two are case reports on a total of three people -- still a miniscule percentage of people affected by the vacctine compared with the millions who have benefited from it.
Moore then laughably wrote that, despite all evidence to the contrary, McCullough "doesn't want to scare the public."
Posted by Terry K. at 8:19 PM EST