MRC Has Yet Another Fit of Obama Derangement Syndrome
Topic: Media Research Center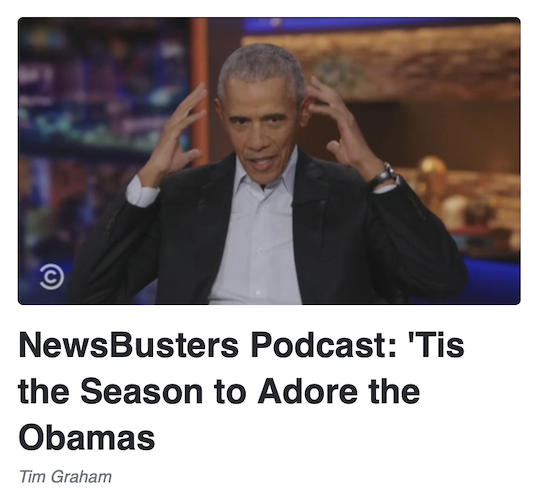 Six years after leaving the presidency, Barack and Michelle Obama continue to live rent-free in the collective heads of the Media Research Center. In yet another one of its fits of Obama Derangement Syndrome, the MRC is now mad that Michelle Obama has a new book out. Alex Christy ranted in a Nov. 12 post:
The Saturday edition of Good Morning America on ABC previewed an upcoming 20/20 interview with former First Lady Michelle Obama. If the preview is anything to go buy [sic], it is more of a fan experience for Robin Roberts than an actual interview as she hyped "the saying she made famous."

Host Janai Norman set the table, "Now to an ABC News exclusive. Our Robin Roberts sitting down with Michelle Obama for a 20/20 primetime special. The former first lady about to release her new book, The Light We Carry, and first on GMA we have a sneak peek of their conversation where Ms. Obama talks about the motto that became her rallying cry. Check it out."

In the clip, Roberts not only echoed those sentiments, she took the fawning to another level, "For nearly two decades the world has watched Michele Obama campaign for her husband, make history as the first black family in the White House and motivate many through the saying she made famous."
Tim Graham whined further in his Nov. 18 column:
Ben Shapiro was blunt on Twitter. He had discovered "The most sycophantic book review ever written." The book was the second tome from multi-millionaire author and advice guru Michelle Obama. The review appeared in The New York Times,from the paper's "Help Desk" columnist Judith Newman. She's "the help," all right.

Ed Morrissey tweeted back to Shapiro: "The secret to success in life: Find someone who loves you as unconditionally and fiercely as the mainstream media loves the Obamas."

Except they're not "mainstream" at all. These "objective newspapers" are blatantly leftist partisan rags, as they demonstrate on a daily basis.
In addition to failing to label Shapiro and Morrissey as partisan right-wingers, Graham seems to have forgotten about the gooey softball interview he and Curtis Houck did with onetime Trump press secretary Kayleigh McEnany earlier this year.
Jason Cohen ranted further in another post that day:
Michelle Obama put up with a lot from a "downright mean" country she never could be proud of until it elected her husband POTUS. But we're still learning how hellish her eight years in the White House really was.

In an interview with Ellen DeGeneres about her new book The Light We Carry, Michelle Obama said, "As black women we deal with it, the whole thing about do you show up with your natural hair? ... As First Lady, I did not wear braids. Being the first – yeah, we had to ease up on the people ... I was like, it would be easier. Nope, nope. They're not ready."

In CNN's coverage, Don Lemon said, "The former First Lady says that she kept her hair straight so her husband's administration could focus on other issues and not her hair."

Poor woman. Ben Shapiro joked about this, tweeting, "She is a modern-day Job."

As if Obama wearing her hair in braids would have caused a media hellstorm and colossal controversy.
Actually, given that Barack Obama wearing a tan suit caused a media controversy -- which Cohen has apparently even forgotten about or is too young to remember -- Michelle Obama wearing braids would have absolutely caused one.
Speaking of Barack, he popped up on "The Daily Show," and Alex Christy was there to whine about it:
Former President Barack Obama swung by The Daily Show with Trevor Noah on Comedy Central on Wednesday to promote his foundation's "Democracy Forum." With the state of democracy being the prime focus of the conversation, Noah asked why the state of political discourse is so bad. Proving that some things never change, Obama blamed Fox News.

Noah's approach to interview was to lob softballs Obama's way and let him ramble, "When you look at the discourse in the country as well, and around the world but again, I think you're correct in that America is the leader in what's happening right now, the discourse has become so toxic and I wonder what you make of that where do you think it's coming from? Do you think it is social media? Do you think it's a tenor of politicians in the Capitol?"
Christy went on to blame Obama for polarization while deflecting against Fox News:
Fox is one network; the left has all the rest. If Obama is truly concerned about the state of political discourse, he should've spent more time on that progressive echo chamber he only briefly mentioned or not used the bully pulpit to go after the one network that was critical of him during his presidency and Noah and his late night colleagues should take Obama's advice and break out of their progressive bubbles.
Just like a resident of the right-wing media bubble to refuse to acknowledge it doesn't exist, or that Fox News plays a major role in manufacturing political polarization.
Graham then spent his Nov. 18 podcast rehashing the anti-Obama antipathy he and his subordinates have been spewing:
Now that the election season is over, it's that special time on the political calendar when the Obamas come out of their mansion and bless their adoring media with the joy of their presence. Barack Obama lowered himself to The Daily Show on Comedy Central with Trevor Noah, and they discussed how Fox News has turbocharged divisions, and now the tone is so toxic.

Whether it's People magazine or National Public Radio, Michelle Obama is running around selling a new advice-guru book titled The Light We Carry. She's calling herself "honest and vulnerable." They're honestly super-wealthy elites. Between their multi-book deals and their production company's deal with Netflix, they've probably worth more than $100 million, but the pro-Obama media never wants to put a number together. They know somehow that Trump is lying if he calls himself a billionaire, but they want everyone to remain incurious about how rich the Obamas have become.

Mrs. Obama tried to tell the NPR audience that when she says "we go high" doesn't mean that the Left can't hold on their rage, but it needs to be harnessed to reason. You can somehow be civil and filled with rage. That doesn't make any sense, except this lady wants everyone to embrace the contradiction and just love her.
Like we said: rent-free. And that's not all -- the MRC has to attack anyone in the media close to them. A Nov. 21 post by Curtis Houck raged at CBS host Gayle King for being friends with Obama:
CBS Mornings (and its predecessor CBS This Morning) has lacked serious journalistic ethics since its inception as, somehow, CBS has seen zero problems with co-host Gayle King, who's had a past of not only donating to the Democratic Party but vacationed with the Obama family. This lack of ethics was on display Monday as King gushed over her time with Michelle Obama on Friday as part of the latter's book tour that included Obama gifting her a jacket with her initials "G.K."
And Houck know about all this? Because she has dicclosed it. Also, she's a morning show host, not a hard-news reporters. By contrast, neither Houck nore anyone else at the MRC complained about a lack of ethics when numerous Fox News hosts secretly advised Donald Trump during his presidency and frequently communicated with him and his advisers while refusing to disclose it to their viewers.
UPDATE: There was also an Oct. 25 post by John Simmons, who freaked out when Barack Obama appeared on ESPN's "Manningcast" of an NFL game to urge people to vote, and even though he didn't make a political statement about what party to vote for, this was all somehow about "influencing viewers to become progressive disciples." He then embedded a tweet from the Manning brothers' production company containing a vote-encouraging link -- which apparently wasn't even mentioned during the broadcast -- ranting that this was more evidence of this purported bias:
The link embedded in this tweet above was to a DNC-backed website, so while Obama refrained from specifically mentioning any Democratic candidates, the link's origins and the fact that one of the most liberal presidents in history was invited on the show speaks volumes as to what ESPN and its employees want Americans to do come Nov. 9.
For the sake of all of us ESPN, stop the political pandering.
Simmons also accused Obama of being someone who "regularly advocates for censoring conservative voices on social media" -- thought the link he provided to supposedly prove this show Obama speaking out about online disinformation, not advocating "censorship," and he did not mention conservatives at all. (Is Simmons admitting that spreading disinformation is a conservative goal?) He also complained that America "saw a worsening of race relations than an improvement," though one could argue that right-wingers being triggered by a black man being president played no small role in that, and he did not explain what Obama could possibly have done to change things when his opponents were (and are) so desperate to lash out at anything he does.
Posted by Terry K. at 9:20 PM EST
Updated: Saturday, April 22, 2023 1:02 AM EDT