MRC Downplays 'Bachelor' Host's Missteps To Claim He's A Victim Of 'Woke Mob'
Topic: Media Research Center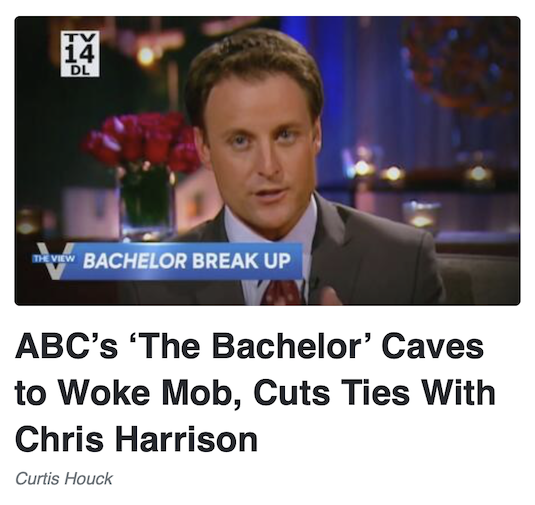 The last time we checked on the Media Research Center's weird fixation on "The Bachelor," Curtis Houck was sympathizing with contestant Rachel Kirkconnell over the exposure of her racially charged past (and support for QAnon) and with host Chris Harrison for making the mistake of rushing to Kirkconnell's defense before knowing the full story.
When Chris Harrison officially left the show after the incident, Houck went on a June 11 tirade agains the "woke mob" that supposedly got him fired:
On Tuesday, ABC and Warner Brothers Television announced that it had officially cut ties with Chris Harrison, the longtime host of ABC's The Bachelor and The Bachelorette following a truly childish and pathetic act of cancel culture.

However, Harrison may have had the last laugh thanks to numerous reports revealing that he demanded (and fetched) an eight-figure buyout or risk Harrison exhuming any and all bodies the franchise, network, and production company had buried.

To recap, Harrison found himself being burned at the stake by the woke mob in February when he insisted on there be grace for Bachelor contestant Rachael Kirkconnell when it was discovered that, among other sins, attended an antebellum-themed party in college. And because he said these things to an incensed Rachel Lindsey on Extra (who was the first Black Bachelorette), Harrison had to go.

Worse yet, he spoke out against the "woke police" that seemed hellbent on permanently ruining Kirkconnell's life. And when the mob wants to make someone miserable, they'll stop at nothing to do so.

[...]

Along the way, Harrison provided a textbook example of how the cancel culture mob will never be satisfied and thus anything from genuine apologies to public self-flagellation will remain a waste of time.
Note that Houck dishonestly, um, whitewashed Kirkconnell's offenses to mention only the most benign one, censoring that she also allegedly bullied girls in high school for liking black men and spread far-right QAnon memes on social media. Also it's quite rich that Houck bashed the "woke mob" for "cancel culture" and "never be satisfied and thus anything from genuine apologies to public self-flagellation will remain a waste of time" -- because those are the exact same tactics he and his MRC co-workers use against anyone in the "liberal media" who doesn't sound or behave like they're working for Fox News or OAN. It has never treated, say, Dan Rather or Brian Williams with the same spirit of forgiveness that Houck is demandingfrom everyone regarding Harrison. In other words, they actually are the "woke mob" they pretend to warn others about.
Houck also expressed glee that Harrison got an eight-figure payout to kee quiet about "the motherload of dirt" he supposedly had on the show and was "willing to dish as a final screw-you to the mob unless they ponied up to meet his demands." So Harrison is getting well paid to go away, so he doesn't really need anyone's sympathy.
A few days later, Houck found a weird thing to be proud of in the new season of "The Bachelorette," while still not able to let go of the past:
ABC's Bachelor and Bachelorette franchises have been in the headlines quite a bit as of late as the woke mob had decided to infiltrate one of reality TV's earliest shows, turning what's already a dumpster fire of drama and adding a side of wokeism.

But on Monday's Bachelorette, conservatives achieved a small victory when contestant Mike Planeta revealed his virginity during a group date that challenged each guy to be "sex-positive" in a skit meant to woo lead Katie Thurston and, despite Thurston's outspokenness on sex, gave him first place for the date.
So the "woke mob" "infiltrated" the show and forced Kirkconnell to do stupidly racist stuff?That's a bizarre interpretation of what happened.
Meanwhile, the MRC's homophobic wing weighed in on another show-related issue. Take it away, Veronica Hays:
Queerness is so en vogue at the moment! So trendy and cool — now a former Bachelor is cashing in and coming out. Wednesday on ABC's Good Morning America, former Bachelor Colton Underwood did just that. Of course, the public will be dying to know every ounce of detail regarding his incredible story of self-realization. Fortunately for the culture, Netflix will be providing just what the world so desperately needs, a new reality series starring Underwood, the latest gay man.

And predictably, GMA co-host Robin Roberts treaded lightly in all-but ignoring Underwood's creeper and stalker-like behavior toward now-ex-girlfriend Cassie Randolph.

Underwood sent shockwaves when he came out as gay to Roberts, who's a lesbian: "I've ran from myself for a long time. I've hated myself for a long time, and I'm gay. I came to terms with that earlier this year and have been processing it and the next step in all of this was sort of letting people know. Still nervous but, yeah, it's been a journey for sure."

Stunning. Brave.
Would Hays be bringing up Underwood's alleged "creeper and stalker-like behavior" if he hadn't come out? Doubtful. And Hays is especially hateful and ignorant if she thinks people reveal who they are sexually only because of the possibility of "cashing in."
Hays completed her screed by huffing, "Unfortunately, the time when The Bachelor features an out member of the LGBTQ community may not be far off." Um, so what? It's on her that she hates LGBT people much that this possibility squicks her out so much.
Posted by Terry K. at 8:16 PM EDT