MRC Whined That Media Accurately Reported GOP Failures In Midterms
Topic: Media Research Center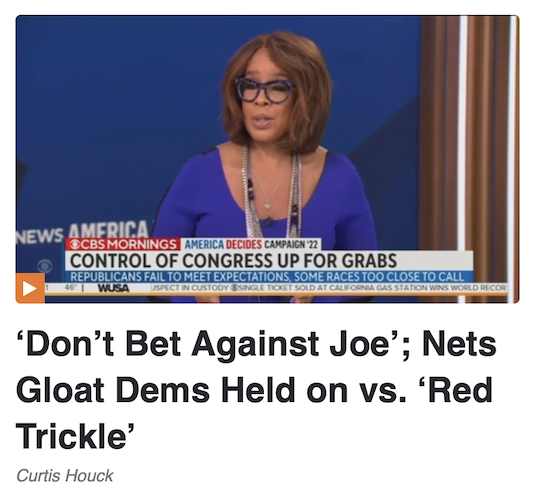 After spending so much time peddling Republican narratives before the midterm elections, ther Media Research Center was severely disappointed that Republicans severely underperformed -- at least, that's what we can assume from all the whining it did about news coverage pointing out that fact.
Election night started out promising for the MRC, though, as noted in a Nov. 8 post by Kevin Tober declaring that "MSNBC began losing it over the strong early results" for Republicans Ron DeSantis and Marco Rubio in the Hispanic county of Miami-Dade, which was a reliably solid Democrat [sic] county." But as the night looked more favorable for Democrats, the whining kicked in. Curtis Houck complained:
After spending hour after hour sticking to horse race results and CNN's magic walls, the liberal network's first piece of analysis reminded us of why they're still a laughing stock of a network as a trio of lefties marveled at Democrats winning back governors' mansions in some of the deepest blue states with "stellar" Wes Moore in Maryland and lesbian Maura Healey in Massachusetts.

Inside Politics Sunday host Abby Phillip swooned that "[t]here's a lot of history that could be made tonight" with Healey becoming "the first openly gay governor in that state — or the first lesbian in the entire country" and could have company later in the night if Democrat Tina Kotek won in Oregon.

As for Moore, Phillip gushed over him as "someone who Democrats agree is perhaps the future of the party" and "a huge rising star."

Who's Talking host Chris Wallace joined in on this pointless exercise and touted Moore as "an enormously impressive candidate" and noted that Healey and Moore won in "deep blue states" after eight years of "moderate, moderate Republicans, Larry Hogan and Charlie Baker, both very popular."

However, they both had little in the way of challengers because the GOP nominees were "hard right candidates." Of course, Wallace never mentioned how Democrats meddled in the GOP primaries to boost said candidates.
Yes, the MRC is still complaining about that, even thought it cheered Republican meddling in Democratic primaries as urged by Rush Limbaugh. And he's not about to give Democrats any credit for the tactic being a success.
The next morning, Alex Christy grumbled:
Joe Scarborough and the rest of the cast of MSNBC's Morning Joe spiked the football on Wednesday as they opened the show by laughing at the GOP's disappointing results. Scarborough, specifically inflated GOP expectations so he could compare Kevin McCarthy to Liz Truss, despite the results still being unknown.

In front of a live studio audience, Mike Brzezinski kicked off the show by noting, "It's the morning after the election and control of Congress still hangs in the balance. The big news overnight—"

Scarborough then interrupted and after Brzezinski sarcastically expressed shock that he did so, he began his taunt, "No, but Republicans, I mean, historically, I don't know if you know this or not but I follow politics. Like, historically they're up going 40, 50, 60, 70 seats, right? Right, Michael Steele, we talked about this yesterday."

If Republicans won 50 seats, that would've made for their largest majority since the 1928 election while 60 would have been the largest since 1920. While Tuesday's results were certainly underwhelming, not breaking a record over a century old is not the great historical counter-trend Scarborough made it out to be.
Christy was silent about the fact that Republican pundits like Dick Morris were, in fact, confidently predicting a 60-seat gain in the House.
Houck whined some more about "gloating" (read: reporting accurately on GOP failures) and whining about the attack on Paul Pelosi being linked to Republican extremism:
Following a disappointing night full of failures (and some highs) for Republicans, the Wednesday morning's broadcast network news shows each moments of gloating and outright laughter that included claims such as country was reminded to not "bet against Joe Biden," that January 6 mattered, and voters bought the narrative that Republicans were tied to the Paul Pelosi attack.

On CBS Mornings, White House correspondent Ed O'Keefe had just finished arguing that President Biden did well in areas where candidates embraced him and poorly in areas where he didn't go (which wasn't true considering his stops in Florida for the hapless Democratic ticket) when he argued Tuesday's takeaway was "don't bet against Biden."

[...]

NBC's Meet the Press moderator Chuck Todd had an explanation for why Democrats did so well and Republicans so poorly. While many prognosticators have blamed Donald Trump, Todd's other point showed the liberal media's poisonous propaganda despite no evidence to support it:

There was the attack on Paul Pelosi. And I don't think that was an insignificant moment for a lot of voters. We actually saw a tone change with voters in our poll, post-the attack where voters in their message say — they said what message would you send with your vote? And they said, hey, end — end — end the partisanship, try to tone things down. Even Republicans were saying that in previous to the Pelosi attack, we weren't — it was only a one-sided conversation.

While the alleged attacker ranted about censorship and Q-Anon on his blog, the mentally ill, former Green Party supporter, and nudist who argued there are half-alien, half-human creatures in our midst had nothing to do with House Republicans.
The MRC has been quite desperate to distance Republicans from the attack, even though the MRC helped make Paul Pelosi a target.
Mark Finkelstein devoted another post to complaining about "Morning Joe" election takes:
Be careful what you wish for, liberal media: you might get it.

Morning Joe was in a great good mood today, glorying in the absence of a midterm red wave. And Joe Scarborough wasted no time in taunting Donald Trump.

With his trademark lack of class, Scarborough called out: "hey Trump! Hey Donald Trump! Meet Boris Johnson" —a reference to the former British Prime Minister who was recently pushed out of office He added: "Massive victory down there. Right? Unfortunately, Donald Trump lost the rest of America."

But if Scarborough and company are right, and Ron DeSantis is poised to replace Donald Trump as the dominant force in the Republican party, then, who knows? The liberal media might be singing a very different—and sorry—tune, in two years come Election Night 2024.
Kevin Tober added his two cents on allegedly "gloating" newscasts:
On Wednesday evening, after a disappointing showing for the GOP in Tuesday's midterms, the three leftist evening news broadcasts sought to further alienate the few right-leaning viewers they have by gloating over Democrats exceeding expectations by not getting wiped out as is common during a president's first midterm election. CBS went the extra mile by virtue signaling over the first openly-lesbian governor elected in the United States.

On ABC's World News Tonight, anchor David Muir was the gloater-in-chief for his network's newscast, gushing about how "the results defied expectations overnight and history for the party in the White House. There was no red wave, as some had predicted. Instead, a split decision across this country."

Muir then mentioned Biden's embarrassing press conference in which he described the results as a "good day for democracy and a good day for America."

[...]

Meanwhile, on NBC Nightly News, anchor Lester Holt used his frequently dramatic and condescending opening monologue to bloviate that "It was a good day for democracy. President Biden's first public reaction to yesterday's midterm elections in which Democrats defied the gravity of broad voter dissatisfaction and history itself to avoid massive losses in that widely predicted Republican wave."
The boys at the MRC have been so indoctrinated inside their right-wing media bubble for so long, they think any accurate reporting of negative news about Republicans is biased "gloating."
Posted by Terry K. at 10:19 PM EST
Updated: Sunday, December 25, 2022 6:26 PM EST