WND Spreads Conspiracy Theory That Anyone Who 'Died Suddenly' Was Killed By COVID Vaccine
Topic: WorldNetDaily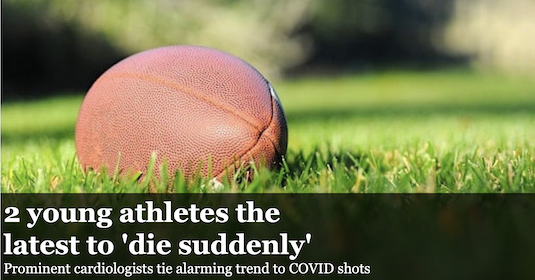 WorldNetDaily has been on a kick lately of spreading unproven -- and almost certainly false -- accusations that 1) there is a rash of people who have died or simply passed out without explanation, and 2) that explanation is that COVID vaccines caused their deaths. An anonymously written Nov. 4 article hyped:
The signs that there's something odd about the experimental COVID-19 vaccinations have been appearing all over lately.

[...]

Now a documentary charging that there is more to the story is scheduled to be released via streaming on Nov. 21.

Columnist Stew Peters already was talking about it:

"Why do we never believe them? For centuries, the global elite have broadcast their intentions to depopulate the world – even to the point of carving them into stone. And yet…we never seem to believe them."

He said new film is from his organization that also made "Watch the Water" and "These Little Ones" and presents "the truth about the greatest ongoing mass genocide in human history."

Various medical experts appear on screen explaining how many people, including many who are younger, "Died Suddenly."

They discuss the anomalous condition of the blood for many of the victims, with coroners denying they'd ever seen it before. Also, life insurance companies were reporting a surge in deaths among those who are only 18-49.
WND isn't going to tell you that even the trailer of the film is filled with lies. As the Daily Dot reported:
In the film's trailer, footage of a basketball star collapsing on the court is cited as proof of the vaccine's dangers. In reality, the footage is from 2020, long before the vaccine became available to the entire public.

Another clip from the trailer shows a woman in Argentina fainting and falling into a moving train. Yet once again, the individual shown in the film never died and no evidence points to a vaccine being responsible.

A third clip used shows a royal guard fainting while standing next to the casket of Queen Elizabeth, a common occurrence among guards who must stand in one place for hours on end. As with the others highlighted, the guard did not die.
The entire film, by the way, is a rehash of conspiracy theories by professional misinformers about the vaccines that WND has long peddled. As of this writing, the story remains live and uncorrected.
A Nov. 11 article by Art Moore pushed the "died suddenly" conspiracy theory regarding two more deaths -- even though he admits right up front he has no evidence whatsoever to substantiate it:
A former NFL defensive tackle and a champion motorcycle racer are the latest examples of apparently healthy people dying suddenly amid evidence the COVID-19 mRNA shots are causing serious heart damage at a rate exponentially higher than for previous vaccines.

There was no report that 35-year-old Keith Farmer, a four-time British champion, and 45-year-old Adrian Dingle, who spent five seasons with the San Diego Chargers, took the COVID vaccine.

However, citing the available scientific evidence, prominent cardiologists – including Dr. Peter McCullough and Dr. Aseem Malhotra – believe the best explanation for the "sudden and unexpected" deaths and cardiac events in otherwise healthy people is the COVID-19 vaccines.
This is the kind of article you write when, like Moore, you believe that narratives, however false they may be, are more important than facts -- an odd stance to take for someone who claims to work for a "news" organization.
Moore served up evern more evidence-free speculation in Nov. 21 article:
A reporter at the United Nations Climate Change Conference in Egypt passed out during a live broadcast, drawing global attention amid an apparent rise in reports of otherwise healthy people collapsing and in many cases dying "suddenly" or "unexpectedly."

Julie Yoo, reporting Nov. 9 for Channel NewsAsia, was "feeling a little unwell due to dehydration and low blood sugar," according to her employer, Singapore-based Mediacorp.

However, many others have not fared well, as a sampling of news reports since Friday attest:

TRENDING: The greatest Big Tech censorship and cyber-attack crisis

Others were reported to be recovering:

Two prominent cardiologists – Dr. Peter McCullough and Dr. Aseem Malhotra – believe the best explanation for the "sudden and unexpected" deaths and cardiac events in otherwise healthy people is the COVID-19 vaccines.

Brazilian reporter Vanessa Medeiros recently collapsed during a live TV report.

One week ago, Australian Football player Heather Anderson, 28, died unexpectedly:

[...]

Dr. James Olsson, a Johns Hopkins-trained biomedical and cancer researcher, keeps track of the reported "died suddenly" incidents via Twitter. And there's a "died suddenly" page on Facebook.
Actually, Olsson's name appears to be as fake as the conspiracy theories WND is helping him peddle. Twitter users have learned that nobody named James E. Olsson graduated with a doctoral degree from Johns Hopkins University in 2014, as he claims, or employed by Johns Hopkins -- though, interestingly, a psychologist named James E. Olsson died in 2006 in Baltimore, where Johns Hopkins is located.
Meanwhile, Moore got approval from one of his favorite COVID misinformers to keep spreading this malicious misinformation, "prominent cardiologist" Peter McCullough:
McCullough, in a recent video interview with WND, pointed out that in the past, long before the COVID vaccines, athletes who died sudden typically were diagnosed with hypertrophic cardiomyopathy, an abnormal thickening of the heart, or premature heart blockage. Now, athletes are thoroughly screened to rule out those conditions.

"When someone dies and the family doesn't come out and say anything, or doctors don't come out and say anything, it's a reasonable assumption that it was the vaccine, until proven otherwise," McCullough told WND.
What kind of quack medical professional advises spreading uninformed misinformation about someone's death because it fits their biased "assumptions" even though it's not based on actual medical information from a person's individual case? The kind of person who would willingly hang out with a fake-news purveyor like WND.
Yet Moore is committed to lying to his readers, as a Dec. 14 article showed:
A 25-year-old former college football player died after suffering a heart attack while jogging.

Jake Hescock, who played tight end for the University of Wisconsin and the University of Central Florida, suffered cardiac arrest in Boston on Dec. 6, the Orlando Sentinel reported.

A cousin, Lisa Walz Mlynarczyk, wrote on Facebook, "It is with a heavy heart that I have to say my cousin Jake has passed on, may he Rest in Peace and forever shine his bright soul down upon us."

Two prominent cardiologists – Dr. Peter McCullough and Dr. Aseem Malhotra – believe the best explanation for the apparent rise in "sudden and unexpected" deaths and cardiac events in otherwise healthy people is the COVID-19 vaccines.
At no point does Moore provide any credible evidence -- or, indeed, any evidence at all -- that a COVID vaccine was involved in any way in Hescock's death. This is sick, shoddy, journalism of the kind that usually results in libel lawsuits -- and yet another reason why WND is dying a slow death.
Posted by Terry K. at 6:33 PM EST
Updated: Thursday, December 15, 2022 6:38 PM EST