Newsmax Snipes At The Competition
Newsmax's potshots at Fox News have largely been about it not being as right-wing and pro-Trump as Newsmax is.
By Terry Krepel
Posted 5/31/2022
---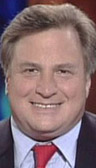 Dick Morris
Newsmax has grown concerned that Fox News seems to not be as interested in being full-time right-wing shills. This is all performative, of course. Newsmax is a direct competitor of Fox News, and it stands to gain viewers if it can portray Fox News as not right-wing enough or sufficiently pro-Trump -- a space that Newsmax has been aggressively staking out.

A Sept. 24 article by Eric Mack complained:
Rudy Giuliani has been banned from appearing on Fox News for several months, and only learned of the "from the top" order on the eve of the 20th anniversary of the 9/11 terrorist attacks.

Son Andrew Giuliani, a New York gubernatorial candidate, has also been banned.

And former NYPD Commsissioner Bernie Kerik, a close adviser to Giuliani, is rarely booked on Fox News, Politico Playbook reports.

Rudy Giuliani and Kerik were prominent New York City leaders on 9/11 as mayor and NYPD commissioner.
Mack didn't mention that Kerik is a close friend of Newsmax -- its Humanix division even published a novel by him -- and that the reason he's no longer a "prominent New York City leader" is because he got busted for corruption, which earned him a prison sentence. Mack then tried to make his employer look good by comparison:
Fox began distancing itself from Giuliani shortly after Trump left office and in the wake of Dominion Voting Systems' lawsuit against the network. The suit cited Giuliani's appearances and statements made on Fox in its $1.6 billion defamation case.

Newsmax was also sued by Dominion over its election coverage, but the network continues to have Giuliani, his son, and Kerik on as guests.
Actually, that's not a good look -- but that's the crowd Newsmax is playing to.
Mack also claimed that "A source close to Giuliani tells Newsmax that the former mayor and his circle view their banishment from Fox as part of the network's strategy to reduce and restrict Trump's influence in the Republican party." One has to wonder if that's Kerik as well.
Mack tried to generate outrage over another Fox News move in an Oct. 8 article:
The orchestrator of Fox News' early call of Arizona in the last presidential election is coming back to run the network's decision desk for the 2022 midterms and 2024 elections.

Fox News CEO Suzanne Scott told The Hollywood Reporter that Decision Desk Director Arnon Mishkin will be rehired to be in charge of upcoming election coverage.

Fox stirred outrage from its viewers when it called Arizona just minutes after polls closed on election night 2020, while still failing to call Florida for then-President Donald Trump, even though voting had closed almost two hours earlier.

Mishkin, a longtime Democrat operative who backed Hillary Clinton in 2016 and donated to Barack Obama's presidential campaign, quickly drew the ire of the Trump campaign for his Arizona decision.
What Mack doesn't do, however, is admit that Fox News' election night call on Arizona was correct and has been repeatedly proven so. Instead, he whined that the channel was trying to distance itself from Trump and conservatives, even citing the notoriously wrong Dick Morris as proof:
Political experts such as Dick Morris said Fox's early call for Arizona was an attempt to squelch the view Trump could still win if recounts in states like Wisconsin and Georgia were successful.

Trump has long pointed to Fox News' Arizona call for Biden as a watershed moment on election night.

Mishkin's re-hiring appears to fit Fox's new approach to distance itself from its more conservative base.

[...]

While Fox has kept its conservative, highly-rated show hosts like Tucker Carlson and Sean Hannity, pro-Trump hosts like Lou Dobbs and Trish Regan were given the boot after the election, while news coverage remains led by moderates like anchor Chris Wallace.

Fox News has also sought to keep in the good graces of the Biden administration, with the network's chief Washington lobbyist, Danny O'Brien, having served previously as Biden's Senate chief of staff.

Biden publicly acknowledged that his controversial mandatory employee vaccination program is modeled on one Fox News implemented for its staff.
Ironically, a couple months later, Newsmax would impose a vaccine mandate on its own employees, which caused rancor among its more anti-vaxxer employees.
The criticism ramped up with an Oct. 23 article by Sandy Fitzgerald complaining that Fox's new weather channel might actually stick to weather-related things:
Fox Weather, the new 24-hour sister network of Fox News, is launching Monday and will strongly embrace climate change as part of its coverage, according to multiple press reports.

The all-weather channel will become a competitor to The Weather Channel and Accuweather, but will be available free on OTT systems and platforms.

"If you're asking about climate change, climate change is part of our lives," Sharri Berg, the Fox executive who will head the division, told Variety.

"It's how we live. It's not going to be ignored. We will be reporting facts."

It's inevitable that questions would be asked about how the fledgling network will handle the controversial subject of climate change, given Fox News Channel's long history of discounting it, reports The Washington Post.
Fitzgerald went on to note that "Fox News, controlled by media mogul Rupert Murdoch, has long allowed his outlets to cast skepticism on climate change claims and initiatives that would limit traditional carbon-based fuels," then blamed money for the alleged changes:
As Murdoch's sprawling Australian media empire faced the possible loss of millions of dollars in ad revenue for not signing on to a liberal climate change agenda, his outlets did a 180-degree pivot.

[...]

The pro-global warming policy is expected to reach Murdoch's other properties as well, including Fox News, The Wall Street Journal, and the New York Post, according to media experts.

The newfound emphasis on climate change may put Fox Weather at odds with Fox News' traditional conservative base, many of whom harbor strong doubts as to the causes of global warming and potential remedies.
Fitzgerald didn't disclose that Newsmax is a direct competitor of Fox News and that her article is little more than a shot at the competition.
Two days later, Michael Reagan appeared on Newsmax TV to complain that Fox Weather was about "Going after the global warming crowd, getting the money in from there; it's all about money. It's not about a belief system as much as it is follow the money." He didn't explain why weather should put a "belief system" ahead of fats. Host Chris Salcedo claimed the channel would be "embracing the religion of man-made global warming," calling it "all kinds of wrong."
Lashing out at Chris Wallace
In an Oct. 24 article, Fran Beyer complained that Fox News host Chris Wallace said something nice about White House press secretary Jen Psaki:
Fox News Anchor Chris Wallace says that current White House spokeswoman Jen Psaki is "one of the best press secretaries ever."

In remarks Friday and while reminiscing about the heated grillings former press secretaries have endured, Fox News' Wallace praised colleague Peter Doocy for handling a tough back-and-forth with Psaki.|

"Honestly, as somebody who's spent six years in the White House, my immediate reaction was, 'Those are two people at the top of their game,'" Wallace said of the sparring, in a clip posted by Mediaite, and tweeted by another ex-press secretary and current Newsmax TV host Sean Spicer.

"I mean this as a compliment," Wallace said of Doocy. "I think he has become the Sam Donaldson of this White House press corps." ABC's Donaldson was famously aggressive in questions to then President Ronald Reagan.

But conservatives, who long have loathed Wallace's attacks on former President Trump and disdain Psaki's frequent dodging of tough questions, went on social media to hit back at Wallace.

Conservative activist Brigitte Gabriel re-tweeted Wallace's Psaki comments with her own: "TURN OFF FOX NEWS."

Radio and Newsmax host Sebastian Gorka tweeted, "Chris Wallace, @FoxNewsSunday you're a clown."

Wallace has come under repeated fire from for leaning too far left. Trump says he has a political bias like CNN and MSNBC.
Beyer -- and Newsmax -- wants you to believe that merely complementing the press secretary of a Democratic president for doing her job well is evidence that Wallace is "too far left." Beyer would also rather not have you dwell on the fact that Spicer -- who only lasted six months in the job -- was considered among the worst White House press secretaries.
Jack Gournell gave Trump a platform to whine about Fox News in another Oct. 24 article:
Former President Donald Trump on Sunday slammed Fox News for running commercials that are critical of him while guests and hosts say positive things about him and his ideas.

"What good is it if FOX News speaks well of me when they continually allow horrible and untruthful anti-Trump commercials to be run — and plenty of them," Trump said in a statement released through his Save America PAC.

"In the good old days, that would never have happened and today it happens all of the time," he continued. "Ratings-challenged CNN and MSNBC would never run a positive Trump ad — never. With so many forces against us, Big Tech, the Fake News Media, the Radical Left, the RINOs, and more, we are at such a disadvantage, but we will win anyway!"
Seems like Newsmax wants to show Trump it will be loyal to him and censor any criticism.
Charlie McCarthy once again lived up to his name by parroting what a former Fox news host said on his current Newsmax show in an Oct. 26 article:
Newsmax host Eric Bolling blasted former employer Fox News on Monday night for abandoning the conservative right.

Bolling, who left Fox in 2017, offered his old network a backhanded compliment for its ability to fool viewers.

"Think about what Fox is doing, though. It's brilliant," Bolling said on "Eric Bolling The Balance."

"Everything they truly believe is aired in the middle of the day when everybody is at work. Then they get home from work and watch evening commentary hosts say the complete opposite of what they reported just hours prior."

A prime example of that, Bolling said, has to do with vaccine mandates, which generally are blasted by Fox News Channel evening hosts.

"Fox hosts rage against the vaccine mandates, yet they work for a company that demands their employees get vaccinated or get tested," Bolling said.
This happened before Newsmax tried to impose a vaccine mandate on its own employees, including Bolling. And McCarthy didn't mention what made Bolling a former Fox News employee (presumably to avoid having to explain why Newsmax thought it was a good idea to hire him).
McCarthy wrote that Bolling also complained about Fox News' "early call of Arizona for President Joe Biden in the November election" -- though he didn't explain why correctly reporting the news was a bad thing -- as well as his own hotshot at Wallace:
Bolling called Fox's Chris Wallace a "leftist excuse for bipartisanship" and showed a clip of the host moderating a presidential debate last year when he admonished then-President Donald Trump for interrupting then-candidate Joe Biden.

Wallace recently said Biden White House spokesperson Jen Psaki "is one of the best press secretaries ever."

"The best? Really, Chris?" Bolling said. "You've been working in news since the '70s and she's the best? Really makes me wonder what you've been paying attention to all these years."
In Bolling's -- and Newsmax's -- hyperpartisan, hyper-biased world, saying even a slightly nice thing about Psaki makes one suspect as a "leftist."

Wallace's departure from for a new job at CNN was an occasion for more potshots. The initial Dec. 12 article on Wallace's departure was cobbled together from wire sources, but it appears Newsmax added a little right-wing grousing:
Wallace was the first Fox News personality to moderate a presidential debate, doing it in 2016 and 2020. The debate he moderated last year drew much scorn from conservatives as Wallace frequently cut off then-President Donald Trump as he interrupted Democratic challenger Joe Biden to contest a point.

Trump at one point objected to a Wallace question on healthcare policy, saying, "I guess I'm debating you not him (Biden). But that's okay. I'm not surprised."
After that, an article the same day by Eric Mack cranked up the hate for his failure to be a complete right-wing shill:
The hashtag #goodriddance was among the top trends Sunday on Twitter as anti-Trump host Chris Wallace announced he is leaving "Fox News Sunday" for CNN's streaming service.

"He'll be controlled by the radical left," then-President Donald Trump said about the prospect of facing Wallace as moderator in the one and only 2020 presidential debate. "They control him."

Former Trump adviser Steve Cortes tweeted his testy exchange with Wallace after that debate, where Wallace was blasted for "haranguing" Trump and "his incredibly biased performance as debate moderator.

[...]

Among those appearing in the Twitter stream hailing Wallace's departure was Act for America founder Brigitte Gabriel, who tweeted: "Good riddance to Fake News Chris Wallace!"

Conservative podcast host Todd Starnes mocked Wallace being "thrilled" to join the "lowest-rated cable news network."

Among Wallace's many defenses of Biden was a false claim the candidate did not support a defunding of police, despite wide reporting to the contrary.
Mack didn't mention that Cortes was a Newsmax TV host until he lost his job in a snit over corporate vaccine mandates.
Mack served up another sidebar about how Trump "called his shot this past June on anti-Trump host Chris Wallace leaving Fox News," complaining that "His ratings are terrible, he's 'almost' radical left, he was acknowledged to have failed badly as a presidential debate moderator (except for Biden who he totally protected!), and so much else."
Dick Morris cranked out a Dec. 13 column in which he too whined that Wallace didn't give Trump a pass during that debate:
But the moderator was following the "Chris Wallace Rule," ignore the facts in favor of a liberal bias.

And, when it came time to discuss the shenanigans that would later mar the 2020 vote counting, Wallace totally dismissed the looming danger of a disputed election.

The Fox News anchor blithely assured the national audience, "the biggest problem, in fact, over the years, with mail-in voting has not been fraud, historically. It has been that sizable number, sometimes hundreds of thousands of ballots, are thrown out because they have not been properly filled out or there is some other irregularity they just see through that deadline."

And even before the debate, Wallace tried to dismiss the charge that Biden wanted to defund the police.

When Trump told Wallace in an interview that Biden "wants to defund the police," Chris sprang to the vice president's defense saying, "Sir, he does not."

Wait a minute, is this guy a journalist or press spokesman for the Biden campaign?
Morris concluded:
This debate should be known throughout modern history as one in which a very biased journalist from Fox News delivered an election defeat to a sitting U.S. president.

Instead the left and the establishment will lionize Wallace for his bias, as we are seeing with his reward of a big, plum job at CNN.

Former President Nixon put it best when he said 'history is written by liberals."

It really is Chris.
Morris heartily embraced Trump's bogus election conspiracies, so he would defend Trump against Wallace.
Trashing Tucker Carlson for supporting Putin
Newsmax's little war on Fox News has even gone after the channel's current golden boy, Tucker Carlson, calling out his defense of Russia and leader Vladimir Putin for his aggressions toward Ukraine. Former NATO commander (and onetime Democratic presidential candidate!) Wesley Clark went after Carlson in a Dec. 13 column:
Last week, Fox News host Tucker Carlson made the surprising claim that Russian leader Vladimir Putin was justified in mobilizing military forces to threaten Ukraine.

Carlson's comments betrayed a growing fault line in the Republican Party and American democracy itself.

The host went on to say that the buildup on the Russian-Ukrainian border was really NATO's fault for "tormenting" Putin.

Carlson is not only wrong in his analysis, but his claims have no basis in fact or history.

[...]

There are many in the GOP who still see Putin, rightly, as a danger to America and our interests.

But there are a growing number, like Carlson, who are embracing Putin, despite his near dictatorial control of Russia and his brutish menacing of his neighbors.
The next day, Dick Morris played the Hitler card:
Fox News' lead host Tucker Carlson is behaving like the discredited appeasers of Adolf Hitler in the prelude to World War II.

The lesson of 1930s appeasement is that it does not work, does not gain peace, and leads to even greater tragedy.

Today, Carlson is making excuses for Russian strongman Vladimir Putin and his increasing threats against Ukraine.

Carlson even makes the fantastical claim that NATO has "tormented" Putin. He implies the North Atlantic alliance bears responsibility for a possible Russian invasion of Ukraine.
| | | |
| --- | --- | --- |
| Related articles on ConWebWatch: | | |
| | | |
Morris reiterated this in a Dec. 15 appearance on Newsmax TV, in which he declared: "If Vladimir Putin is the new wave of Hitler gobbling up country after country and threatening everyone else, then Tucker Carlson is the new Neville Chamberlain, the appeaser who makes excuses for him and undermines the will of the democracy — which is to stand up against him."

Morris wrote another column bashing Carlson on Dec. 17, in which he did something he has rarely done in the past two decades, praised his former employer Bill Clinton:
I've been flooded with responses, almost all positive, since my recent column "Tucker Carlson's Putin Play Mirrors Hitler Appeasement."

It's indeed worrisome for many that Fox News' lead host has become such an ardent defender of Vladimir Putin, criticizing the U.S. while defending the Russian dictator's territorial ambitions by saying he "just wants to keep his western border secure."

[...]

When I advised President Bill Clinton during the 1990s, he always stressed that Ukraine was "the key" to stopping the emergence of a new Russian empire in Eastern Europe.

Clinton grasped that supporting a free Ukraine while admitting Poland and Hungary into NATO created a "land bridge" from Western Europe to the former Soviet empire.
Morris also repeated his Hitler comparison: "Like Putin, Hitler claimed repeatedly that his aggression was 'defensive' because of his need for secure borders. Amazingly, the Carlsons of the 1930s bought Hitler's fantastical claims hook, line, and sinker, just as the Fox News host does today."
Newsmax TV host Grant Stinchfield took a, um, different approach, arguing that Carlson is "operating under duress" and suggesting that "the leftist leaders of this Trojan horse of a so called conservative network has compromised" him. Stinchfield offered no evidence that Fox News is run by "leftist leaders."
The latest from