MRC's Jean-Pierre-Bashing, Doocy-Fluffing Watch, Non-Doocy Edition
Topic: Media Research Center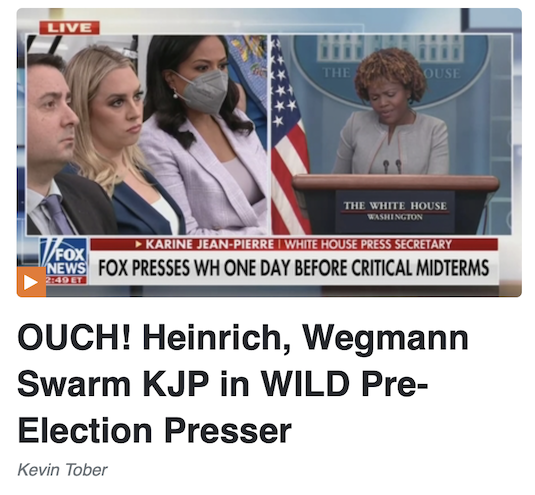 After lazily taking much of October off -- presumably to recharge the ol' hate machine -- the Media Research Center got back into the Karine Jean-Pierre-hating, Fox News-fluffing swing of things. Kevin Tober maliciously trashed Jean-Pierre yet again as an incompetent diversity hire in his writeup of the Nov. 7 briefing:
Proving once again that she was only hired so the Biden administration could fill their diversity quota, President Biden's press secretary Karine Jean-Pierre struggled through another painful and cringeworthy press conference where she had difficulty stringing coherent sentences together in order to answer simple questions from reporters in the briefing room.

Jean-Pierre's troubles began when Fox News White House correspondent Jacqui Heinrich asked her about Biden looking to hide from the press and not hold a post-midterm news conference as every President has for decades.

Addressing Biden's refusal to commit to holding a post-election news conference, Heinrich said "An outside observer might conclude that he doesn't want to have a press conference because he looks poised to lose control of one or both chambers."

She then asked, "why the day before the midterms won't the White House commit to holding that traditional post-midterms press conference the day after the elections?"

"You've been covering this administration for the past 20 months right?" Jean-Pierre nastily replied. She then made the laughable excuse that "it takes some time in any administration to lay out what the schedule is going to be."

"I've been very clear. You're going to hear from the President. He always enjoys taking your questions," she added.

[...]

The incoherent press secretary's next struggle session with the English language came during a question from CBS News digital's Kathryn Watson who asked about Biden's comments over the weekend where he said he wanted to shut down the coal industry and Jean-Pierre's insistence the President's words were "twisted" by Republicans or others who are hostile to Biden.

"You mentioned a couple times or repeated, a couple times today that those words were twisted. So w>"It's how it was reported out was being twisted," Jean-Pierre responded. "If you read the full transcript, the President was very clear. Commenting on a fact of economics and technology," she added.

Last but not least, Real Clear Politics White House reporter Phillip Wegmann sought clarification on Biden's intentions when it comes to the coal industry. Wegmann asked Jean-Pierre, "you said that the President is fighting for coal communities. But just to follow up, that doesn't mean that he's fighting to keep these coal mines open. Does it?"

Jean-Pierre, in broken English, claimed Biden "has put forward plans that are bringing new energy and manufacturing jobs to states, like West Virginia, to states like Pennsylvania," and that "he has secured critical investment through the Inflation Reduction Act to support coal communities, as well."
Curtis Houck found a different Fox News reporter to fawn over in his writeup of the Nov. 10 briefing:
After Bloomberg's Jenny Leonard asked President Biden on Wednesday afternoon about whether he thinks Twitter boss Elon Musk is a national security threat, CBS's Weijia Jiang and Fox's David Spunt followed up during Thursday's White House press briefing and whether Biden actually meant that and how that'd square with his campaign promise to have an independent Justice Department (DOJ).

[...]

Spunt was far more aggressive, using a rare pinch-hit appearance in the Briefing Room to point out that CFIUS involves the Justice Department and thus would mean Biden yet again meddled in the DOJ process like he has with January 6 subpoenas[.]

[...]

Spunt also tucked in a question about COVID-19 origins and whether Biden would bring that up with Chinese President Xi Jinping at next week's G-20, especially considering that's something Republicans would look to investigate if they take control of Congress.

Jean-Pierre hilariously claimed Biden "has always been clear on getting to the bottom of COVID," but wouldn't commit to having them discuss it.
Remember: for the MRC, it's all about gushing over right-wing reporters being jerks and finding new ways to denigrate Jean-Pierre.
Posted by Terry K. at 10:52 PM EST