MRC Tries To Rewrite Election History To Protect Republicans
Topic: Media Research Center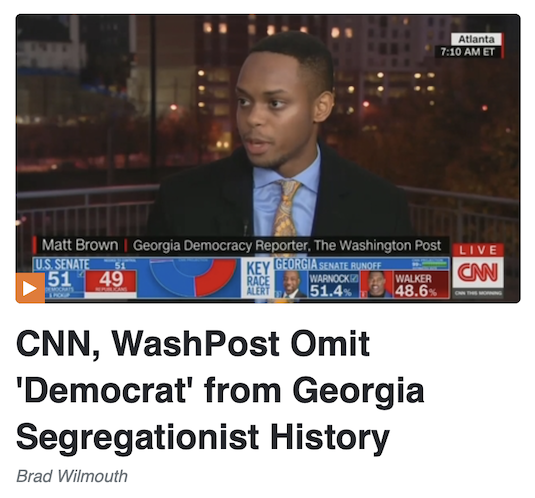 The Media Research Center's Kevin Tober complained in a Nov. 28 post:
On MSNBC's The ReidOut, New York Times editorial board member and MSNBC analyst, Mara Gay proved that she knows very little about the civil rights movement or how the historic Civil Rights Act of 1964 was passed when she attempted to slime the "modern" Republican Party as being in opposition to civil rights. When in reality, the civil rights legislation of the 1960s would never have passed without GOP support.

[...]

Gay jumped in to smear the GOP as a bunch of racists who are against civil rights for African Americans, which of course is an obvious lie to anyone who took a fifth-grade-level history course.

"The origin of the Republican Party as we know it today really has to do with a backlash to civil rights. And so any understanding of that Republican Party without that historical backlash to civil rights is incomplete," Gay said with a straight face.

While facts and logic are a foreign concept on MSNBC and The New York Times, they aren't here at NewsBusters. The truth is in 1964, the Civil Rights Act was in serious trouble because of Southern Democrats in the Senate.

Even then-Democrat [sic] President Lyndon Johnson told Hubert Humphrey that "The bill can't pass unless you get Ev Dirksen," who was the Republican Senate Minority Leader at the time.

Despite having 67 members of the Senate, barely 40 Democrats supported cloture on the Civil Rights legislation. According to Senate.gov's history of the legislative fight, "This meant that Dirksen had to deliver at least 25 votes from his 33-member caucus that was divided among 21 conservatives, five moderates, and seven liberals."

In the end, the Republican Party under the leadership of Everett Dirksen, "the final tally stood at 71 to 29—27 Republicans and 44 Democrats joined forces to support cloture."
By focusing only on the Civil Rights Act of 1964 -- which Reid and Gay didn't even mention -- Tober is engaging in a highly selectiveand biased reading of history. Yes, Democrats joined Republicans in supporting that bill, but Southern Democrats (or Dixiecrats) were so mad about its passage that they began switching their party allegiance afterward to Republican. As one historical summary noted regarding that 1964 vote:
Six Republicans voted with the Dixiecrats, and one was Barry Goldwater of Arizona, who was that year's GOP nominee for president. One of the filibuster leaders was Strom Thurmond of South Carolina, who switched his party allegiance to Republican and backed Goldwater for president. President Lyndon Johnson was elected in a landslide that November, but Goldwater carried Thurmond's home state and its Deep South neighbors: Georgia, Alabama, Mississippi and Louisiana. It was a harbinger of things to come, when these states would help flip all the "Solid South" from D to R in the Electoral College.
So, yes, the civil rights movement did, in fact, establish the Republican Party as being opposed to civil rights. Sounds like Tober is the one who needs to take a remedial fifth-grade history course.
Brad Wilmouth served up his own similarly selective reading of racial history to protect Republians in a Dec. 10 post:
On Wednesday's CNN This Morning, as the show had on Washington Post reporter Matt Brown to discuss the Georgia Senate runoff, co-host Kaitlan Collins asked Brown about his article tying the runoff system to White segregationists who designed it in the 1960s.

Neither mentioned that these segregationists were Democrats as Collins vaguely called them "conservative White candidates," and Brown's Post article completely scrubs the word "Democrat" even though it recounts that "Republicans" in recent years have tweaked the system for self-serving purposes.

[...]

In the actual article, titled, "Georgia's runoff system was designed to dilute Black voting power," Brown begins: "Tuesday's showdown between Sen. Raphael G. Warnock (D) and Republican challenger Herschel Walker is the product of an unusual general election runoff system that was pushed by a powerful Georgia segregationist who sought to blunt the power of Black voters in the 1960s."

In the rest of the 1,644-word article, which was mostly about Southern Democrats who tried to limit Black power in the 1960s, the word "Democrat" was not used at all. But, in the last few paragraphs, Brown did specify that "Republicans" had made reforms in recent years for self-serving reasons.

Without informing viewers that Democratic Senator Wyche Fowler was defeated in a 1992 runoff after he came in first place with less than 50 percent of the vote, Brown vaguely stated that the "state legislature changed the threshold for a runoff, requiring a candidate to win at least 45 percent of votes instead of 50 percent." Not mentioned was that it was a Democrat legislature that made the change, and that the change worked as planned, helping Democrat Max Cleland get elected Senator with just 49 percent of the vote in 1996 as the Libertarian candidate drew more than three percent.
Like Tober, Wilmouth similarly forgot to mention that segregation-favoring politicians in the South went from Democrat to Republican after civil rights legislation passed -- and those Republicans did nothing to get rid of the runoff system. And why would they? Out of 10 runoffs between 1992 and 2018, Republicans won nine of them, and the GOP candidate saw an average vote percentage increase of 5 points. Wilmouth also didn't mention that it was a Republican-controlled state legislature who changed the law back in 2005 to requiring a 50 percent threshold.
Further, it's only because Republicans have lost runoffs in the past few years -- two of which involved Warnock -- that Georgia Republicans are now calling for the runoff system to be eliminated. Neither Wilmouth nor anyone else at the MRC have told their readers about that.
Posted by Terry K. at 11:26 AM EST
Updated: Sunday, December 25, 2022 1:56 PM EST