SICK: MRC's Houck Smears Hunter Biden, Daughter On Her Wedding Day
Topic: Media Research Center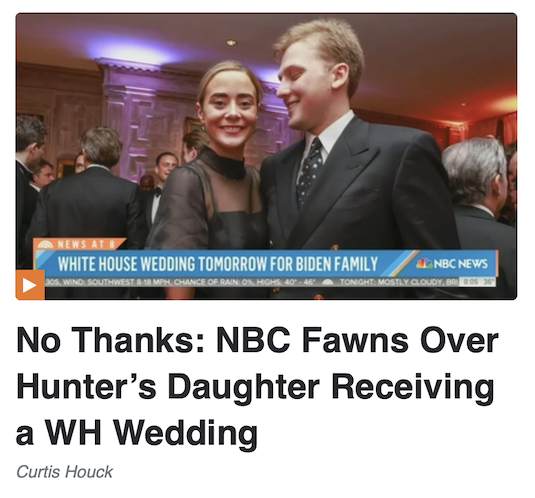 How deep does the Media Research Center's Hunter Biden Derangement Syndrome run? It even smeared him and his daughter over her wedding. Curtis Houck huffed in a Nov. 18 post:
On Friday, NBC's Today wasted away three minutes and 18 seconds (plus a tease) in its second hour gushing over Saturday's White House wedding of Naomi Biden (whom the Free Beacon described as "the oldest legitimate daughter of amateur adult film star Hunter Biden") and her fiancé Peter despite the fact that, as would later be detailed in the White House press briefing, one in which cameras and press coverage are banned.

And, in news the liberal media revealed on Friday, Hunter's eldest and her fiancé having been lived on the taxpayer's dime at the White House with their grandparents.
As if a president's extended family members have never lived in the White House before. Indeed, Melania Trump's parents lived in the White House while she was first lady, and we don't recall the MRC complaining about them grifting "on the taxpayer's dime." There's also the small matter of the years of demonization of Hunter Biden by right-wingers like the MRC, which have almost certainly resulted in threats against his life and safety -- which makes the quite secure White House the best logical place to protect his life. Not that Houck cares about Hunter's life, of course; as an own-the-libs kind of guy, he'd love to see him killed or to commit suicide.
Houck whined further about the wedding:
Chief White House correspondent Kristen Welker had the story and noted right off the top that she's the "daughter of Hunter Biden" and "about to join a small club of brides who've gotten married here at the White House" as "[o]nly 18 couples have said I do here"

Welker laid it on thick:

But this will be the first wedding on the South Lawn. Naomi is incredibly close with her grandfather who she calls pop. A wedding fit for a First Granddaughter in the ultimate venue. Instead of saying "Hail to the Chief," they are saying "Here Comes the Bride" at the White House this weekend. 28-year-old Naomi Biden, the first granddaughter of the President and First Lady, is about to say I do to her long-time love, 25-year-old Peter Neal.

After a soundbite from pathetic Biden spinster Michael LaRosa that the wedding would be "infused with a lot of love, a lot of laughter, and traditions," Welker ran through a portion of the history of White House weddings with the last having come in June 1971 when President Nixon's eldest daughter Tricia married Edward Cox

Welker also paid homage to the weddings of Teddy Roosevelt's daughter Alice Roosevelt Longworth in 1906 and Lyndon Baines Johnson's oldest Lynda Bird Johnson Rob in 1967 and ran a soundbite for former First Lady Laura Bush Chief of Staff Anita McBride as having said that "[n]o matter how you may feel about a particular administration, you can't help but be happy" for anyone who gets married by becoming such a "unique and special part of history."

Tossing back to Melvin, Welker noted the couple "already live[s] here at the White House" and passed along the claim that "the Bidens are paying for all of the festivities."

Fast-forward a few hours to the White House briefing and ABC's MaryAlice Parks dropped this key detail: "Why is the White House going against precedent and not letting any journalists cover a bit of this wedding that is taking place here at the people's house?"

If this had been Republican President having their granddaughter or child married and they shooed away journalists, we know this would be front-page news with cringeworthy panels on CNN and MSNBC.
And Houck would be vociferously defending that Republican and treating his family with respect -- the exact opposite of what he's doing here. He thinks he's being cute and clever by attacking Hunter and smearing his daughter, but he's only demonstrating how little regard he has for the basic humanity of people he is paid to attack and destroy.
Posted by Terry K. at 10:48 AM EST
Updated: Saturday, December 17, 2022 10:59 AM EST