MRC Whines That Misinformation About Slow Ariz. Vote Count Got Called Out
Topic: Media Research Center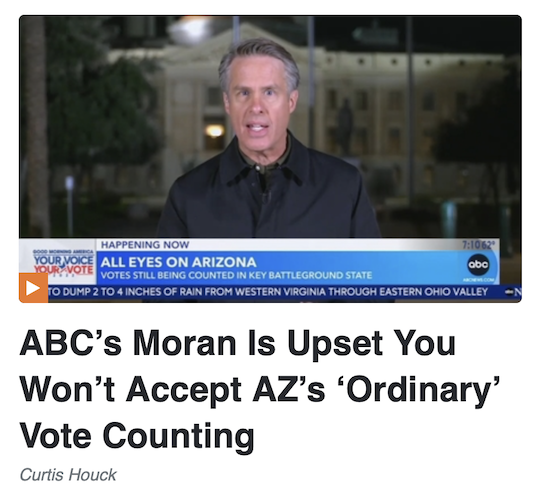 The Media Research Center's Jeffrey Clark spent a post on Nov. 8, the day of the midterm elections, whining that "The liberal media cranked the propaganda meter up to 100 before and during the midterm elections, warning that Big Tech was acting as a conduit for 'election misinformation' and not censoring enough people for pushing 'conspiracy theories,'" citing as an example how "The New York Times rebuked 'right-wing fraud claims' spreading online about Maricopa County, Ariz., in a Nov. 8 story." Clark didn't explain how all that stuff wasn't misinformation.
And indeed, after the election the MRC spread right-wing misinformation about vote counting in Maricopa County and in Arizona as a whole, darkly hinting that the slow count meant election fraud was going on. Curtis Houck pushed it in a Nov. 11 post:
During Friday's Good Morning America, ABC's senior national correspondent Terry Moran made it clear he's not going to tolerant anyone who decries the reality that it's unclear when the final votes will be tallied in states like Arizona. Why? Because, according to Moran, offering such gripes makes you a conspiracy theory calling into question a "normal" and "ordinary" process we should all accept.

Moran explained in a report from Phoenix that "[t]he counting here continues and there still hundreds of thousands of ballots left to go and officials here tell us that, despite what you might read on social media, that is not evidence of suspicious activity or any incompetence."

As our Bill D'Agostino showed, Moran was one of many liberal journalists smearing Americans who, at a minimum, have wondered why some states can report votes in a few hours while others might need weeks.
Houck linked to D'Agostino's post, which whined:
Since election night on Tuesday, the talking heads on broadcast and cable news networks have been pedantically scolding their viewers that "counting votes takes time," "this is normal," and everyone needs to please "calm down."

It's hard to say whether they sound more like exasperated kindergarten teachers or preachy DMV employees, but either way, it's incredibly obnoxious.
P.J. Gladnick got similarly huffy in a Nov. 12 post when the Washington Post pointed out how rightwingers were spreading conspiratorial disinformation about the slow Maricopa vote count:
Are you among the increasing number of people wondering why Maricopa County, Arizona can't count their votes on time? As of this writing, three days after the midterm elections, there are still over 400,000 ballots yet to be counted in Maricopa County. In fact, most of the votes might not even be counted until after the weekend according to KTAR-News radio in Phoenix, "Maricopa County now says most ballots won't be counted by Friday: 'The goalposts have changed.'"

If you dare to criticize the apparent incompetence of the pathetically delayed ballot counting, you could be guilty of "disinformation" according to a Washington Post editorial published on Wednesday, "Here's the sad truth about election-related disinformation."
Gladnick followed that with a post the next day bashing an Arizona Republic columnist for calling out Fox News and losing Republican candidate Kari Lake (and even the New York Times) for spreading misinformation about the slow vote.
What Houck and Gladnick couldn't be bothered to do, however, was tell their readers the reason why the vote count in Maricopa County was slow. Meanwhile, an actual news organization did look into it -- and found that right-wing conspiracy-mongerers are in part responsinble, quoting former Maricopa County election official Tammy Patrick:
For one, Patrick says she thinks voters in Arizona have changed their voting behavior in response to all the misinformation that has been circulating about mail-in ballots.

"There has been this narrative around voting by mail that it is ripe with fraud and ... you shouldn't trust it," she says.

This distrust, Patrick says, could be why more voters decided to drop off their ballot at a polling site on Election Day, as opposed to mailing it days in advance.

"It's typical for Maricopa County to see about 180,000 ballots be turned in on Election Day," she says. "When I was there for that decade that was kind of the standard number."

This year, though, local election officials reported a whopping 290,000 ballots were dropped off at polling locations on Election Day.
Patrick added that all those mail-in ballots delivered in person have to be manually opened and have their signatures verified by bipartisan teams, which also takes time.
But facts don't matter when a bogus narrative is so much easier to spread, so Kevin Tober was on narrative patrol in a Nov. 14 post:
On Monday's Andrea Mitchell Reports on MSNBC, anchor Andrea Mitchell said with a straight face that the wildly dysfunctional election board in Maricopa County, Arizona has "some of the best vote-counting processes" despite the fact that it's been nearly a week since the election and we still don't have the complete election results reported. Apparently, Mitchell thinks this is normal behavior in a functioning democracy.

Turning to NBC's senior political editor Mark Murray, Mitchell turned the discussion to what's left to be counted in Maricopa County. "What's left out there in terms of how the vote keeps, you know, coming in," she asked.

[...]

At the time of publication, NBC and other networks have called the race for Hobbs, so it appears Murray was right in terms of who was the favorite to win.

This doesn't take away from the fact that Maricopa County appears incapable of running elections and tabulating the results. Mitchell is obviously delusional if she thinks the county "has some of the best vote-counting processes."
Paiten Iselin whined in a Nov. 17 post:
As multiple videos and reports emerged of "printer issues " and other technical problems in Maricopa, The New York Times scolded Americans for exercising their free speech rights and sharing election-related concerns online.

The Times rebuked "right-wing fraud claims" spreading online about Maricopa County in a November 8th story. Another skewed Election Day article by Bloomberg News framed "Arizona Republicans" as "election deniers" airing "baseless fraud claims over Arizona glitches."

The Times even claimed that Americans who raised concerns on social media were just paranoid and guilty of the supposed offense of peddling dangerous views in "right-wing media."

Bloomberg News parroted a similar angle, claiming that "Arizona Republicans are seizing on technical problems with ballot tabulation machines in the state's largest county to make unsubstantiated claims about the validity of Tuesday's elections."

Even after the election, NBC Philadelphia fear-mongered that "Maricopa County remained the epicenter of election misinformation."

It would seem that legacy media's M.O. is to aid leftists by parroting their hive-mind narrative and denouncing every other opinion that disagrees with it as so-called "misinformation."
Not that Iselin exhibited any interest in dispelling such misinformation, of course. the "printer issues" in Maricopa did not keep anyone from lawfully casting their votes, and it appears the cause of the issues was the thickness of the paper and the high volume of in-person voting -- and nothing nefarious.
But why report the facts when conspiracy theories and whining about getting called out for spreading them get so many more clicks? That's the path the MRC chose.
Posted by Terry K. at 9:11 PM EST