MRC's Musk-Fluffing Campaign Continues Apace
Topic: Media Research Center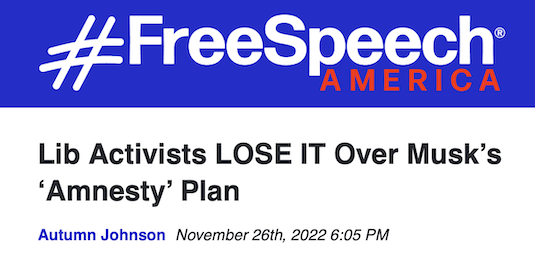 Autumn Johnson kept up her pro-Elon Musk stenography -- and the right-wing victimhood narrative -- in a Nov. 25 post:
Elon Musk wrote that Twitter will offer "general amnesty" to censored accounts as long as they do not break the law or engage in "egregious" spam.

He first asked Twitter users to vote in a poll about "general amnesty:"

"Should Twitter offer a general amnesty to suspended accounts, provided that they have not broken the law or engaged in egregious spam?" he asked via tweet.

Approximately 72% of voters answered "yes." Over 3 million people voted in the poll. In response to the final results of the poll, Musk tweeted that the "general amnesty" policy will begin next week.

"The people have spoken," he added. "Amnesty begins next week. Vox Populi, Vox Dei."

The change in policy is monumental, as conservative accounts have long faced unfair censorship and arbitrary suspensions.
While Musk has restored the Twitter accounts of QAnon cultists and actual Nazis, ConWebWatch's Twitter account has yet to be restored as of this writing after been suspended in April 2021 for using the same language the MRC does.
Another post by Johnson that day gushed that Musk was advancing that victimhood narrative:
Elon Musk says Twitter helped progressive candidates win their elections.

Musk was responding to a tweet discussing the censorship of conservative candidates on the platform in order to boost liberal ones. He promised that the company would be more transparent under his leadership.

"The more I learn, the worse it gets. The world should know the truth of what has been happening at Twitter," he tweeted on Wednesday. "Transparency will earn the trust of the people."

Musk added that the accounts of conservative candidates were "objectively" censored more than progressive ones.
Johnson repeated her employer's conspiracy theory that "Facebook and Twitter's censorship of the New York Post stories covering the Hunter Biden laptop scandal helped sway the 2020 presidential election for Biden." As we've documented, that finding is based on biased polls the MRC bought from Trump's election pollster and the polling firm founded by Trump adviser Kellyanne Conway, making such a conclusion specious at best.
Catherine Salgado cheered Musk advancing the victimhood narrative as well:
Twitter CEO Elon Musk agreed that it's been conservatives, not leftists, who overwhelmingly bore the brunt of Twitter's Orwellian censorship operation.

Filmmaker Dinesh D'Souza tweeted Nov. 21, "We don't hear much about Democrats and leftists being let back on Twitter. Why? Because they were never kicked off in the first place. Their lies and misinformation simply escaped all scrutiny. Censorship has been deployed as a one-way operation against conservatives @elonmusk." The new owner of Twitter agreed with that assessment, responding the next day, "Correct." D'Souza then tweeted, "Nice to get validated here by Twitter's senior fact checker."

Musk has been slowly reinstating some of the high profile conservatives banned by Twitter.
In contradiction to both Salgado and Johnson, pre-Musk Twitter admitted that its algorithm already had a right-wing bias -- something sure to grow as Musk lets more right-wingers back on the platform.
Yet another Nov. 25 post by Johnson whined that the Washington Post called out Musk's chaotic management and gutting of content moderation, which she unsurprisingly and dishonestly framed as "pro-free speech changes":
Writers at the Washington Post are outraged that Elon Musk is making pro-free speech changes to Twitter.

Technology reporters at The Post wrote an article Tuesday blasting Musk's decisions that have monumentally changed the platform's content moderation policies. The article says Musk's "reign" has been "marked by chaos."


[...]

The writers also complained that Musk has personally "stoked" the culture war.

"Amid the turmoil, Musk has stoked the culture-war issues that helped inspire him to purchase the company in the first place," the article reads. "A fierce advocate for the right "to speak freely within the bounds of the law," Musk has moved rapidly — at times erratically — to undermine a regime built over a decade to define dangerous language on the site and protect vulnerable communities, replacing it with his own more impulsive style of ad hoc decision-making."

[...]

For The Post, it seems that censorship is more important than democracy.
Johnson continued to crank out the pro-Musk propaganda in a trio of Nov. 26 posts. The first touted his tantrum that "he will create a new cell phone if Twitter gets booted from Apple and Google's app stores because of its new pro-free speech policies," while the second howled that "Liberal activists have lost their minds over Elon Musk's so-called 'amnesty' plan for Twitter." The third relayed that "Elon Musk said in a series of tweets that Twitter's decision to permanently ban former President Donald J. Trump was a big mistake" and that "'Deplatforming a sitting President undermined public trust in Twitter for half of America,' he wrote."
Johnson launched a Nov. 27 attack on a CNN commentator, falsely accusing him of "disturbingly slamming free speech as 'nonsense'" when he was actually pointing out the indisputable fact that free speech has limits:
On Friday afternoon's CNN Newsroom, CNN intelligence and security analyst and former CIA official Robert Baer responded to Elon Musk's new pro-free speech policies on Twitter by disturbingly slamming free speech as "nonsense."

Our friends at The Blaze reported on Saturday that Baer bizarrely accused Musk of promoting free speech online to benefit Russia in its war against Ukraine.

"Well, Boris, I can tell you one thing, Putin will be all over Twitter if there's no regulations on this," he said of reinstated censored accounts. "Fake accounts, spoofed accounts, the rest of it, this is a great opportunity for him."

Baer then went on to suggest that Musk was personally colluding with Russian intelligence officials against the United States.

[...]

Baer's comments became even more unhinged as claimed that free speech as "nonsense."

"[Y]ou know, this freedom of speech is just nonsense because you can't go in a movie theater and yell 'fire.' It's against the law," Baer continued, incorrectly labeling legally protected speech illegal.
While the example Baer cited is a longtime example of the limits of free speech, it has been superceded by other court decisions that don't make it illegal but also don't make it "protected speech" as Johnson claimed.
Jason Cohen -- the guy who tried to defend Kanye West's anti-Semitism -- rushed to Musk's defense after he faced blowback for lashing out at a critic in a way that appeared anti-Semitic in a Nov. 28 post:
May we criticize an individual without being assumed to be prejudiced against their entire ethnic group?

Evidently not. Especially if you are an enemy of the left like Elon Musk is.

Retired United States Army lieutenant colonel Alexander Vindman happened to be the most prominent account posting a copypasta (text that is copied, pasted, and shared on the Internet) that said, "Kinda weird that @elonmusk gets to decide how like a half-billion people communicate. Way too much power for one erratic individual to wield, don't you think?"

Elon Musk criticized Vindman, tweeting, "Vindman is both puppet & puppeteer. Question is who pulls his strings … ?"

In the aftermath, Musk was slandered as an antisemite, despite it being unclear whether he even knew Vindman was Jewish.

This tweet was copied, pasted, and posted by many Twitter users. So in that sense, Vindman is the puppeteer. In another, he is a puppet for tweeting a sentiment that aligns perfectly with the mainstream narrative.

None of this has anything to do with Vindman's ethnicity/religion.

[...]

People in politics are called puppets/puppeteers all the time, Jewish and not. Vindman has entered the political arena, and it is reasonable to expect he will face those labels. Being a specific religion/ethnicity should not make him exempt from it.
Contrary to Cohen's proestations, the "puppetmaster" slur is very much an anti-Semitic trope that his own employer has used to smear people of Jewish heritage like George Soros and Jeff Zucker. Also, cohen's headlline called Vindman a "resistance hack" while providing no evidence to support the attack.
Tim Graham whined about criticism of the biased amnesty program in his Nov. 28 podcast:
On MSNBC on Sunday, weekend host Katie Phang sounded furious about Elon Musk offering a Twitter "amnesty" to some banned users. She asked Anti-Defamation League CEO Jonathan Greenblatt about how the Left should "get the reins" on Twitter. They can't stand this "free speech" business. He said freedom of speech isn't freedom to slander.
Last week, Greenblatt offered the same routine on CNN, as anchor Erica Hill noted the ADL was partnering with the Gay and Lesbian Alliance Against Defamation (GLAAD). These groups use their "defamation" branding to pressure the social-media giants to punish and curb conservatives. The Left employs Orwellian lingo about "diversity and inclusion" to exclude their opponents.
Catherine Salgado served up more stenography for Musk in another Nov. 28 post:
Twitter owner Elon Musk announced that files on "free speech suppression" at Twitter will soon be made public, which could include information related to the platform's sordid censorship of the 2020 Hunter Biden laptop scandal.

A Twitter user tweeted Nov. 23, "Raise your hand if you think @ElonMusk should make public all internal discussions about the decision to censor the @NYPost's story on Hunter Biden's laptop before the 2020 Election in the interest of Transparency." Musk responded, "This is necessary to restore public trust."

Musk then tweeted Nov. 28, "The Twitter Files on free speech suppression soon to be published on Twitter itself. The public deserves to know what really happened."
Salgado again rehashed her employer's bogus, biased "research" on the Hunter Biden laptop story. Johnson, meanwhile, was back on the servile-stenography beat for a Nov. 29 post:
Twitter owner Elon Musk said the fight for free speech against one-sided censorship is "a battle for the future of civilization."

If civilization is to survive, Musk said that free speech must be a top priority not just for the United States, but for all countries around the world.

"This is a battle for the future of civilization," he tweeted >Monday. "If free speech is lost even in America, tyranny is all that lies ahead."

The declaration came after he announced that internal files detailing Twitter's intentional suppression of free speech will soon be made public. The files could potentially include information on the 2020 Hunter Biden laptop scandal.
Johnson had another Musk-defending stenographic piece later that day, dutifully writing that "House Minority Leader Kevin McCarthy says the White House's plans to monitor Elon Musk's pro-free speech policy changes at Twitter are 'offensive.'" That's a reference to a statement by White House Press Secretary Karine Jean-Pierre that the MRC's Gabriela Pariseau tried to dishonestly frame as a threat.
Posted by Terry K. at 8:56 PM EST
Updated: Sunday, December 18, 2022 9:04 PM EST