CNS Uses Whataboutism And Whining To Deflect from Paul Pelosi Attack
Topic: CNSNews.com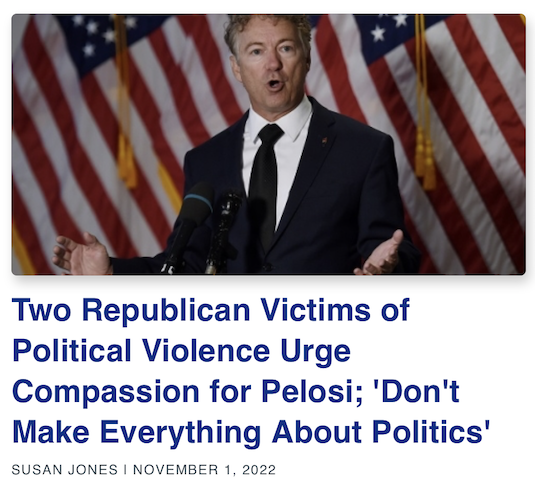 Mimicking its Media Research Center parent, CNSNews.com reacted to the violent hammer attack on Paul Pelosi, husband of House Speaker Nancy Pelosi, by complaining that Republican anti-Pelosi rhetoric was being blamed mixed with whataboutism. The first article referencing the attack was an Oct. 31 piece by Susan Jones complaining that a Democratic senator referenced "election deniers" in condemning the attack:
Sen. Amy Klobuchar (D-Minn.) is among the many Americans condemning the violent attack on Paul Pelosi. And she laid some of the blame on supporters of Donald Trump, who "have been expanding into our politics."

"This has to end," Klobuchar told NBC's "Meet the Press."

"And there are several things we can do from the security standpoint, which I'm happy to share with you...but it is also about making sure we don't add more election deniers into our political system."

Host Chuck Todd asked Klobuchar, "What's the bigger challenge, getting Republican leaders to deescalate or figuring out how to get these tech companies to stop amplifying this garbage?"

"They're both humongous challenges," Klobuchar said:
Jones became a one-person content mill after that, following this article literally just eight minutes later with an article quoting Vice President Kamala Harris' condemnation of the attack while weirdly leading with President Biden saying that Harris is "making me look good." And 20 minutes after that, Jones cranked out an article repeating Biden's condemnation of the attack and adding that "you can't condemn the violence unless you condemn those people who continue to argue the election was not real, that it's being stolen, that all the — all the malarkey that's being put out there to undermine democracy." An hour or so later, she moved to documenting Republican whining that they're being blaming for fomenting the attack, while sneering at another critic:
Republican Party Chairwoman Ronna McDaniel said it's "unfair" for the Washington Post to blame "Republicans' increasingly violent and threatening rhetoric" for the hammer attack on Paul Pelosi.

In an op-ed published Saturday, the Post said: "For many Democrats, the attack on Nancy Pelosi's husband represents the all-but-inevitable conclusion of Republicans' increasingly violent and threatening rhetoric toward their political opponents — a phenomenon that escalated under former president Donald Trump."

"Well, I think that's unfair," McDaniel told "Fox News Sunday."

[...]

MSNBC host Mika Brzezinski, her voice quivering with rage, took her cue from the Washington Post on Monday, saying that "years of Republican propaganda and Trump-fueled fascism led 42-year-old David DePape to break into Nancy Pelosi's San Francisco home, with the intent to harm her."

"There is no mischaracterizing what happened," Brzezinski said: "Are we to insist this attack was not the direct result of the dangerous, violent rhetoric we have heard from Donald Trump's Republican party over the last six years? The deranged man who violently assaulted Paul Pelosi got his idea from somewhere...
Jones didn't explain why it was somehow bad form for Brzezinski to be "quivering with rage" over the attack.
Later that day, Craig Bannister served up the whataboutism:
On Sunday, Sen. Rand Paul's (R-Ky.) wife responded to a flashback video tweet recalling how one MSNBC host made light of a 2017 assault that blindsided her husband and left him with six broken ribs.

After a vicious attack on House Speaker Nancy Pelosi's (D-Calif.) husband on Friday, Jason Howerton posted the flashback video in anticipation of left-wing media attempts to blame the attack on Paul Pelosi on right-wing rhetoric:

"I remember when @RandPaul was viciously attacked and an MSNBC anchor accidentally let her true feelings come out: '...the incident that left Senator Rand Paul with six broken ribs, this might be one of my favorite stories...'"

Kelley Paul replied:

"I do too, @kasie. I was caring for Rand as he struggled to breathe in terrible pain as you called his attack and injuries 'one of my favorite stories' on air. Yet you still have a job."
While Bannister plucked the "one of my favorite stories" quote out of context to manufacture right-wing outrage, he did surprisingly include the full statement by the anchor in question, Kasie Hunt -- who, it turns out, said it was one of her "favorite stories" because "the first assault on a sitting U.S. senator in decades" involved a dispute with a neighbor over lawn care, not politics.
Melanie Arter served up more mundane Republican denunciation of the attack:
For her first article on Nov. 1, Jones went to the whataboutism well to whine about heated Republican rhetoric being blamed for the attack, while making sure to describe the alleged attacker as an "deranged, homeless nudist" in an effort to further distance Republicans from him:
Democrat [sic] activists, particularly those with cable TV platforms, berated Republicans on Monday for stoking the violence unleashed by a deranged, homeless nudist on Paul Pelosi, who is recovering from hammer blows to the head and body.

Not so fast, said Republican lawmakers Steve Scalise and Rand Paul, both of them badly injured at different times by people opposed to their conservative politics.

"I mean, there's an eagerness on the left to make this political and immediately to start blaming Republicans, but where's the sympathy, even from the left, for Paul Pelosi?" Sen. Rand Paul asked.

[...]

"Laura, my thoughts and prayers are with Paul Pelosi," Rep. Steve Scalise (R-La.) told Fox News's Laura Ingraham Monday night. "[W]e need to be praying and hoping that he fully comes out of this and we stand up against any kind of violence, that is something I have been hearing loud and clear from all ends of the political spectrum, as it should be.
Jones served up further whining from a Republican candidate:
Arizona Republican gubernatorial candidate Kari Lake says she's being "attacked by the media," because "I'm speaking the truth" about topics that a leftist media has "prohibited."

"You know, you can't talk about vaccines. You can't talk about elections," Lake told Fox News's Tucker Carlson on Monday night:

"You can't talk about Paul Pelosi, now you can't talk about Nancy Pelosi, and you can't talk about the elections, and you can't talk about COVID. And I'm talking about all those things because I still believe we have a little bit of the First Amendment left."

Lake said another thing the media won't talk about is illegal immigration and its effect on Americans:

She noted that the man suspected of breaking into her opponent's campaign headquarters is an illegal alien, but "you can't say that now because you can't talk about that. It's insensitive. And the press won't report that.
Jones didn't mention that Lake is an election denier of the type Klobuchar warned about. Bannister wrote up whining and whataboutism of the Fox News variety:
The husband of the House Speaker was brutally attacked, and all Democrats and their media cohorts can talk about is how they want to blame the attack on conservatives, in order to influence the midterm elections, Fox News Channel late-night host Greg Gutfeld said Monday.

In the opening monologue of "Gutfeld!," the comedian-commentator mocked the left's lone obsession regarding the vicious home-invasion assault on Paul Pelosi: scoring political points.

While Democrats and liberal media are desperately trying to tie the home-invasion attack on House Speaker Nancy Pelosi's (D-Calif.) husband to Make-America-Great-Again ("MAGA") extremists and criticism of liberal politicians, Republicans are actually focused on the issue of crime, like the one committed against Paul Pelosi, Gutfeld said:

[...]

"It's MAGA extremists behind this - because they always attract illegal alien nudists who live in school buses, who think they're Jesus Christ," Gutfeld mocked.

But, the people freaking out never mention attacks on conservatives, Gutfeld noted: "Remember how many jokes were made about Rand Paul getting his ribs broken, 'Ha, Ha, Ha.'"
Bannister contributed even more Fox News-assisted whataboutism in a Nov. 7 post:
On Sunday, President Joe Biden claimed that his party never glorifies violence, ignoring times in recent years when prominent Democrats have been criticized for doing just that.

Speaking at a campaign event supporting the reelection of Democrat New York Governor Kathy Hochul, Pres. Biden said he couldn't recall another time since the Civil War "where violence is condoned."

Biden accused Republicans of inciting violence and engaging in dangerous rhetoric. He also accused unnamed Republicans of "making fun of" and "making excuses" for, the recent, brutal, home-invasion assault on House Speaker Nancy Pelosi's (D-Calif.) husband, Paul – but, provided no examples:

[...]

However, on Sunday, Fox News recalled just some of instances when prominent Democrats have appeared to support violence, based on their political goals:
The first alleged example Bannister noted was "Sen. Chuck Schumer (D-N.Y.) threatened Supreme Court Justices Neil Gorsuch and Brett Kavanaugh in 2020 during a pro-choice rally." In fact, Schumer merely said in that rally that right-wing justices "have released the whirlwind and you will pay the price." There was no endorsement of violence in that statement.
Posted by Terry K. at 4:52 PM EST
Updated: Tuesday, November 22, 2022 10:20 PM EST