MRC Hyped Polls That Pushed Right-Wing Narratives -- But Won't Criticize Them For Being Wrong
Topic: Media Research Center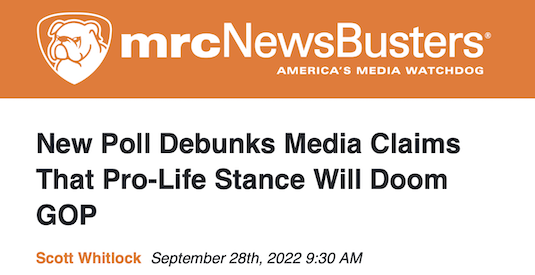 Before the midterm elections, the Media Research Center got mad when MSNBC's Joy Reid accused Reuiblican pollsters of flooding the zone with polls of dubious quality to create the impression of a coming "red wave" -- even though the MRC effectively accused the "liberal media" of not just doing the same in 2020 but that those polls suggested that Joe Biden was farther ahead of Donald Trump than the election results ultimately showed were "deliberately wildly wrong" -- that is, made up, a potentially libelous accusation. Needless to say, the MRC took part in that zone-flooding by hyping polls that conform to right-wing narratives. Let's look at some of those polls, shall we?
Gabriela Pariseau wrote in a Sept. 9 post: "Eighty-two percent of American parents are concerned about Big Tech's influence on their children's lives, according to a new poll by child advocacy nonprofit Parents Defending Education. The survey found that 'over two-thirds of parents (68%) are not comfortable allowing their kid to use TikTok without adult supervision, including 73% of parents aged 18-34.'" Parents defending education is a right-wing group that's obsessed with attacking critical race theory.
A Sept. 13 post by Joseph Vazquez hyped:
The Trafalgar Group, in conjunction with Convention of States Action, released a survey Sept. 12 of 1,084 likely 2022 election voters spelling possible doom for leftist candidates who support Biden's legally dubious plan to cancel $10,000 in student loan debt for anyone making less than $125,000 (or $250,000 for couples filing jointly).

Specifically, 55.6 percent of voters said they are "less likely" to vote for candidates that back Biden's plan. Even worse, this figure included a whopping 64.6 percent of independent voters who said they were less likely to support candidates who champion the student debt scam. A sizable plurality (49 percent) of all voters surveyed stated they were " much less likely " to vote for candidates who backed Biden on the student debt issue.
We've previously noted Trafalgar's record of dubious and biased polling.And it turns out that Trafalgar was also the main polling company pushing the (discredited) idea of a "red wave" in the midterms.
A Sept. 28 post by Scott Whitlock complained that the media "ignored good news for Greg Abbott, the strongly pro-life governor of Texas," citing an Emerson College/The Hill poll claiming that Abbott was the "candidate they align with most on the issue of abortion rights" over Democratic challenger Beto O'Rourke.
Brad Wilmouth spent an Oct. 1 post whining that CNN wouldn't use a poll more favorable to right-wing narratives on Republicans busing or flying migrants to other cities, claiming that using a different poll was all about "doing its part to spread misinformation to undermine the GOP on the issue.
An Oct. 10 post by Vazquez rehashed old news about Hunter Biden's laptop, claiming that "A 2020 MRC poll found that 45 percent of President Joe Biden's voters weren't fully aware of the New York Post story precisely because the media and Big Tech whitewashed it." As we documented, the MRC bought those poll results from The Polling Company, which was founded by Trump adviser Kellyanne Conway, which certainly makes it look biased.
An Oct. 14 post by Vazquez complained that Yahoo Finance was "blaming pro-lifers for the diaper shortage," huffing in response: "Yahoo! didn't bother mentioning CRC Research's August poll that reportedly found that both Republicans and Democrats are 'in agreement that pro-life clinics should receive government assistance, with 70 percent of Democrats and 62 percent of Republicans strongly favoring their public funding.'" It's unclear who paid for the poll -- CRC Research is a Canadian firm that, presumably, would not be conducting a lot of polls in America on its own -- but Students for Life also hyped it, which suggests that anti-abortion activists bankrolled it.
Tim Graham used an Oct. 24 post to claim that that "the public is ardently bored" with anyone who focuses on the Capitol riot, citing polls that fail to actually make that specific claim.
Jorge Bonilla touted poll results that meshed with his narrative in a Oct. 30 post:
We've often said that the nation's Spanish-language corporate media are unequivocally the biggest source and spreaders of Spanish-language disinformation to a vulnerable audience that relies on these news divisions for information on the events of the day. A recent poll has now arrived at the same conclusion, thus confirming our long-held thesis.

The Bienvenido-WPA poll published on October 25th finds both that viewers of Univision and Telemundo newscasts are frequently misinformed on a number of key issues, and that these levels of misinformation are directly attributable to the networks' unbridled activist impulses- which in our experience has often cast the wildest left-wing frame on any given story.
Bonilla didn't disclose that Bienvenido is a right-wing group, which you can tell from the refenence to "preserv[ing] constitutional values" in its euphemistically written "about" page.
A Nov. 4 post by Rich Noyes noted: "A poll released this week showed a whopping 45 percent of registered voters said inflation was their top concern going into the election." This poll was paid for by NewsNation, the news operation that has been hyped by the MRC for its purported lack of bias -- but it's actually being run by former Fox News operatives.
Given how the "red wave" hinted at by these polls was a failure, you'd think the MRC would be lashing out at the pollster for being "deliberately wildly wrong" the way it did in 2020. But you'd be wrong -- those wrong polls served the MRC's purpose of advancing their preferred narratives, and it's not about to start criticizing them now in case it needs those same results manufactured in 2024.
Posted by Terry K. at 11:04 PM EST