COVID Misinformer Risch Runs To WND For Softball Interview
Topic: WorldNetDaily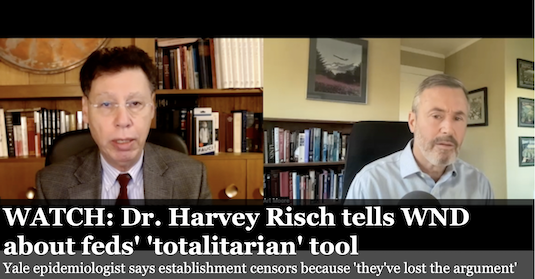 Harvey Risch is yet another COVID misinformer WorldNetDaily has promoted, and he got the full interview treatment with Art Moore in an Oct. 16 article. Because Risch had to be puffed up to give his misinfo some gravitas, Moore led things off by reciting his qualifications:
Dr. Harvey Risch has a distinguished career as a professor of epidemiology at the Yale School of Public Health, with more than 300 original peer-reviewed publications that include advances in cancer research. He's the editor of the International Journal of Cancer, associate editor of the Journal of the National Cancer Institute and for six years was on the editorial board of the American Journal of Epidemiology.

But over the past two and a half years, establishment media have labeled him a purveyor of "misinformation" for his criticism of the public health response to the pandemic and his advocacy – including in Senate testimony – for treating COVID-19 with drugs that have been shown to be safe and effective, such as hydroxychloroquine (367 studies) and ivermectin (92 studies). Further, the government and scientific establishment have suppressed and dismissed his scientific contributions to the global crisis with little or no engagement, adopting the media's "disinformation" narrative.

In a one-hour video interview with WND (embedded below) that includes his reaction to the FDA's new COVID booster shot, Risch was matter-of-fact about the current state of medical science.

"All of this censorship, all of these claims of misinformation, disinformation, is purely a statement of: We cannot fight on the playing field of ideas, of argument. We do not have the ability to fight back against those positions, and so we are using the tool of censorship instead," he told WND.

Risch, describing the "misinformation" tactic as "totalitarian," said the pandemic has opened the eyes of Americans to longstanding corruption in the medical establishment that has shattered trust. He discussed the fundamental problem of government serving the big pharmaceutical companies instead of the people, with influential figures in a revolving door between the governmental and private worlds.
Moore is not about to admit that Risch has, in fact, been caught spreading misinformation. And those studies he referenced purportedly proving the efficacy of hydroxychloroquine and ivermectin are all listed on websites that, as we documented, are anonymously run and may actually be secretly run by the fringe-right Association of American Physicians and Surgeons.
Indeed, Risch has lowered himself to doing interviews with less-than-credible outlets like WND precisely because he knows he'll never be exposed as a misinformer and always be celebrated as someone with a "distinguished career" who can be portrayed as a "victim" whenever his misinformation gets called out by more credible media outlets. And he knows that an anti-vaxxer reporter like Moore will always suck up to him and hype that "distinguished career" and never ask him challenging questions that threaten the narrative he's trying to push.
There are reasons WND is perpetually on the edge of extinction, and Moore's sycophancy is just one of them.
Posted by Terry K. at 2:11 PM EDT