The MRC's Double Standard on Election Mandates
Topic: Media Research Center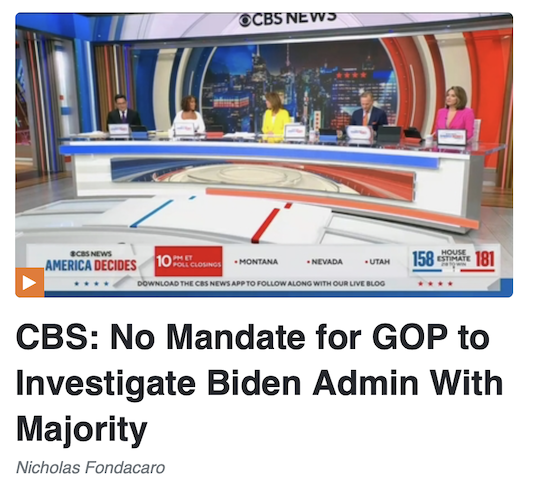 As part of the Media Research Center's bitterness that Democrats did much better than expected in the midterm elections, Nicholas Fondacaro complained in a Nov. 8 post:
With the red tsunami just beginning to swell on Election Day, with only a few races called early in the night, CBS was already in damage control mode. They insisted that despite Republicans taking control of the House, they wouldn't have a mandate from Americans to investigate aspects of the Biden administration.

Near the top of their America Decides: Campaign '22 coverage, chief election and campaign correspondent Robert Costa reported that he had just gotten off the phone with future Speaker Kevin McCarthy (R-CA), who laid out an agenda of fixing America's problems and investigating the administration:

[...]

He then suggested, without evidence, that Republicans wouldn't have a mandate from the American people to launch investigations:

Also, I don't know what our exit pools are going to show but I'm pretty sure they're not going to show Americans wanted investigations. This will be one of the early challenges. How much does a majority investigate, how much does a majority deal with the issues Americans are burning with about prices, education, and other things?

Walking and chewing gum in terms of investigating and fixing America's problem wasn't an option CBS would allow a Republican majority.
Needless to say, the MRC had the opposite argument on mandates in 2020, when Democrats won the presidency as well as both houses of Congress. MRC writers repeatedly attacked the idea of a Democratic mandate -- despite much greater victories than merely (and barely) flipping the House -- with one dismissing them as "elitist, leftist partisans" who demand "we must also subscribe to the electoral conclusion that Biden has a mandate while ignoring the Democratic Party's horrid performance in House and Senate races." And in a January 2021 post, Scott Whitlock cheered that "60 Minutes" made that argument to Nancy Pelosi:
Where was this 60 Minutes before the 2020 presidential election? On Sunday, co-host Lesley Stahl grilled Nancy Pelosi, telling the House Speaker that she has no "mandate" on policy and hitting the Democrat for failing to compromise with Republicans. Stahl even brought up Pelosi's obstruction of the COVID relief bill. In contrast, in a big pre-election 60 Minutes, this same woman said that Joe Biden was "not" part of any controversy related to his son Hunter.

On Sunday, Stahl used the famous "someone says" line, often an excuse to tout Democratic talking points, against Pelosi. She hammered the Democrat's partisan rigidity: "In the election in November, someone said that the-- the mandate that the Democrats won was not about issues because you lost so many seats; that the mandate was for tone, and attitude, and a-- a strong desire for compromise."
The MRC is certainly not going to argue that Republicans have no mandate because they performed so badly in the midterms.
Posted by Terry K. at 3:43 PM EST