Shocker: CNS Managing Editor Writes Articles Critical of Israel, Jewish Extremists
Topic: CNSNews.com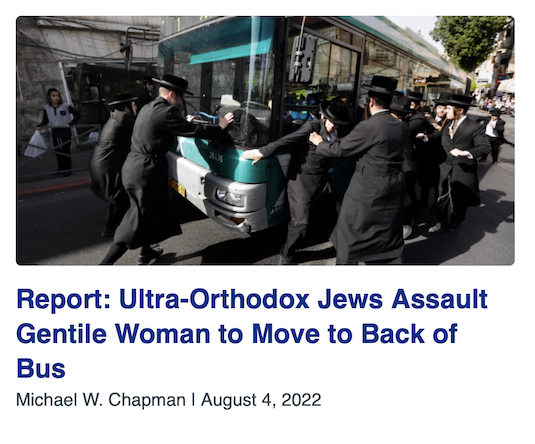 As a loyally biased right-wing media outlet, CNSNews.com typically adheres to the accepted narrative aggressively defending Israel -- witness its hearty embrace of a group of far-right, replacement theory-believing rabbis. But an odd (for right-wing media) thing has happened over the past few months: CNS has published articles critical of Israel and far-right Jewish extremists. And thje source is even more surprising: managing editor Michael W. Chapman. He has written the usual pro-Israel like these, particularly regarding the killing of American-Palestinian journalist Shireen Abu Akleh, who was likely killed by Israeli soldiers:
But Chapman has written other articles surprisingly critical of far-right Jewish extremists. A July 25 article noted:
During his trip to Israel last week, President Joe Biden met with Theophilos III, the Greek Orthodox Patriarch of Jerusalem, who alerted him to "unprecedented attacks by Israeli radical groups" against Christians in the Holy City, which is all designed "to create an environment that repels Christians from their own city of Jerusalem," reported the office of the patriarch.

"Patriarch Theophilos III stressed the need for an active American intervention to protect the Christian heritage and presence in the Holy Land, especially in the city of Jerusalem, which is witnessing unprecedented attacks by Israeli radical groups, that conduct their offenses without accountability in order to create an environment that repels Christians from their own city of Jerusalem," stated the patriarch's office.
Chapman wrote an Aug. 4 article highlighting an attack on a non-Jewish woman by ultra-orthodox Jews:
Ultra-Orthodox Jews verbally and physically assaulted a gentile woman for sitting at the front of a public bus in Jerusalem on July 31, apparently in an attempt to enforce a modesty dress code that they follow in the Haredi community, reported Haaretz and Ynet, two major news outlets in Israel.

The woman told Ynet that she regularly rides the bus (Kavim company) between Jerusalem and the ultra-Orthodox city of Elad. "On the way home, a group of 20 guys got on the bus, and decided that it didn't suit them that I was sitting in the front," she said.

She added that she gets nauseous and sometimes vomits if she sits in the back of the bus.

"When she declined to move, the men began verbally berating her, using a pejorative term for a gentile woman, and when she still refused to leave her seat began physically assaulting her," reported Haaretz.

[...]

According to Harretz, "such incidents are not uncommon, especially in ultra-Orthodox neighborhoods."

In June, a 13-year-old girl was stopped from riding a bus in northern Israel "because of how she was dressed," said Haaretz.

In another case from 2020, a woman was awarded $44,000 "in damages after a bus driver refused to let her board at a bus stop in a religious West Bank settlement because she was wearing shorts."
A Sept. 30 article by Chapman noted Israel's lack of support for Ukraine following its invasion by Russia:
In a recent interview, Ukrainian President Volodymyr Zelensky complained that the Israeli government had given his country no real military aid, such as missile defense systems, in its ongoing battle against Russia.

"Israel gave us nothing. Nothing, zero," Zelensky told France's TV5Monde, as reported in The Times of Israel. "I understand they are in a difficult situation with Syria, with Russia."

Israel has provided Ukraine with at least 2,000 helmets and 500 flak jackets, as well as tons of humanitarian aid, but has not provided defensive weapons.

Given that Israel is a Jewish state and Zelensky himself is Jewish, the Ukrainian president expressed surprise over the situation in the interview.

[...]

The refusal by Israel to provide weapons to Ukraine, according to The Times of Israel, "is seen as an attempt by Jerusalem to maintain working ties with Moscow, due to Russia's control of Syrian air space, where Israel's air force has carried out hundreds of sorties against alleged Iranian arms shipments and in order to keep groups backed by Tehran from establishing a foothold."
An Oct. 12 article by Chapman is the kind of article that gives people like Bill Donohue nightmares:
A new report out of Israel shows that the rate of sexual abuse is higher among students who attend schools in the national religious education system.

"Children who attend religious schools in Israel are more than twice as likely to experience sexual abuse, according to a stunning new report from a liberal Orthodox organisation published on Sunday [Oct. 2]," reported The Jewish Chronicle.

Data on the abuse were collected from Israel's Welfare Ministry and the Central Bureau of Statistics, and were analyzed by the Ne'emanei Torah Va'Avodah Movement, a nonprofit educational research group in Jerusalem.

The numbers show that in Israel's national education system, the rate of sexual abuse is 1.04 per 1,000 students. In the haredi (strictly Orthodox) system, the rate was 1.98 per 1,000 students, nearly double the national rate. And in the national-religious educational system the rate was 2.39.
Again, one does not normally find this kind of content on a right-wing "news" site. Is Chapman doing an experiment to see if CNS can transition into a (gasp!) fair and balanced media operation? We shall see.
Posted by Terry K. at 12:53 AM EDT