MRC Plays Its Usual Deflection Game Over Colo. Gay Nightclub Massacre
Topic: Media Research Center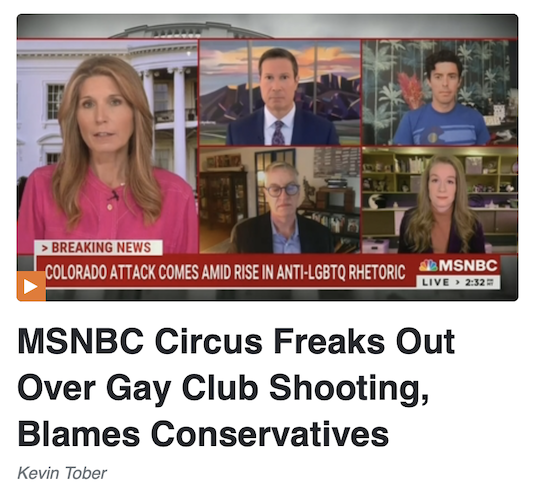 After a gunman killed five people at a gay nightclub in Colorado Springs, Colo., the Media Research Center did what it usually does in such tragedies: deflect and distract from the idea that right-wing rhetoric and policies may have inspired it. Its first post related to the shooting, a Nov. 21 piece by Jason Cohen, ran to the defense of notorious right-wing homophobe Matt Walsh:
A tragic mass shooting occurred at a Colorado LGBTQ club called Club Q that killed five people and injured 25. The left is doing its best to use it for its political agenda.

As Rahm Emmanuel said, "You never let a serious crisis go to waste."

Matt Walsh tweeted about this: "Leftists are using a mass shooting to try and blackmail us into accepting the castration and sexualization of children. These people are just beyond evil. I have never felt more motivated to oppose everything they stand for, with every fiber of my being. Despicable scumbags."

He added, "People die and the first thing they think is, 'Yes! We can use this as ammo against conservatives who don't think children should be exposed to drag shows!'

Soulless demons. Evil to the core. Truly."

The left is freaking out to the point where "Matt Walsh" is trending on Twitter.

A clinical instructor at Harvard Law Cyberlaw Clinic named Alejandra Carabello tweeted the following insane viral tweet that exemplifies the reaction from many liberals: "Matt Walsh isn't upset that someone shot up a gay bar, he's upset that more people weren't killed. He has a bloodlust for the murder of LGBTQ people. He's doubling down on it and wants more of it."

One must wonder whether they truly believe this or if they are exaggerating to go viral.

It is sick to think the people you disagree with support the mass murder of LGBTQ people when there is no evidence to suggest that.
Cohen offered no evidence or denial showing that Walsh does not support that.
Nicholas Fondacaro whined when it was pointed out how much Republicans hate LGBTQ peole: "Anti-Christian bigotry and blasphemy were the themes of Monday's edition of ABC's The View following a weekend mass shooting at a Colorado Springs, Colorado gay bar. Despite admitting they didn't know what motivated the shooter, the cast lashed out at Republicans and Christians by suggesting "Jesus would be the grand marshal" of a gay pride parade and hinted that they're like January 6 rioters and poor human beings." (Tim Graham similarly whined about this in his Nov. 21 podcast.) Kevin Tober complained further:
On Monday's edition of MSNBC's Deadline: White House, host Nicolle Wallace assembled a panel of malcontents and miscreants to hurl the vilest, and most unhinged insults and allegations against religious conservatives and Fox News hosts that they could think of as a way to blame them for the mass shooting at an "LGBTQ" club in Colorado Springs, Colorado.

Wallace started off the dumpster fire of a segment by blaming Fox News for the incident at the club: "You have anti-LGBTQ rhetoric spewed on the most watched hours of Fox News at a regular clip against the U.S. Military, against gay men and women, against gay teachers, against their right to exist."

Turning to Michigan state Senator Mallory McMorrow who was brought on the show for some unknown reason to discuss a shooting that took place in another state that she doesn't represent, Wallace asked McMorrow to presumably trash conservatives and "speak to the dehumanization that goes on all day, every day, in America."

McMorrow proved why she's the latest liberal darling on Wallace's show which has been dubbed the liberal wine mom hour on MSNBC:
Tober didn't identify anyone who wasn't a right-wing activist or who was even outside MRC HQ who actually says that.
In a Nov. 22 post, Curtis Houck repeated earlier whining that an anti-trans ad by Republican Senate candidate Herschel Walker was brought up in discussion of the shooting:
On Monday afternoon's CNN Newsroom, things briefly took a bizarre and sinister turn when the leftist regime tied Georgia Republican senatorial candidate Herschel Walker to the deadly mass shooting at a Colorado Springs LGBTQ nightclub. The reason? Well, he released an ad on Monday with former NCAA All-American Riley Gaines denouncing transgender athletes competing in women's sports.

Co-host Victor Blackwell noted the shooting and immediately pivoted to Walker: "[A]s you know, there was that mass shooting Saturday night in Colorado Springs at an LGBTQ nightclub. Five people killed. Herschel Walker in Georgia has released a new ad today. Let's play a portion of it."

[...]

Exit question: How many CNN anchors and likeminded folks at MSNBC want their young children to be taught sex ed and encourage them to explore changing their gender?
Actually, right-wing transphobia is about much more than this, but Houck obviously wants to minimize the issue to make that hatred look more benign than it is.
Alex Christy whined in another post that day:
NBC Late Night with Seth Meyers writer Jenny Hagel and CBS The Late Show host Stephen Colbert reacted to the shooting at a Colorado Springs gay nightclub that left five dead by making sure they mentioned every possible left-wing cliché by blaming everything from gun culture, the Supreme Court, unhealthy concepts of masculinity, homophobia, transphobia, to conservatives.

[...]

People who do not want their children taught about the 58 alleged genders are not responsible for a mass shooting. That's insane, not "dehumanizing," and ultimately just a not-so clever way to try to shut people up.

[...]

Blaming people other than the shooter for mass shootings and calling a part of the Bill of Rights a failure is not the best way to convince people to vote for your preferred candidates, but that won't stop Colbert from trying.
Like the others, Christy did not cite any major anti-trans activist denouncing the shooting or state that the right-wing anti-trans agenda does not exclude violence as a means to reaching its goals. Andno MRC writer could be bothered to denounce the shooting -- they were too busy on spin patrol.
Posted by Terry K. at 10:17 PM EST
Updated: Wednesday, December 14, 2022 10:23 PM EST