CNS Moving Back To Defending Israel Over Death Of U.S.-Palestinian Journalist
Topic: CNSNews.com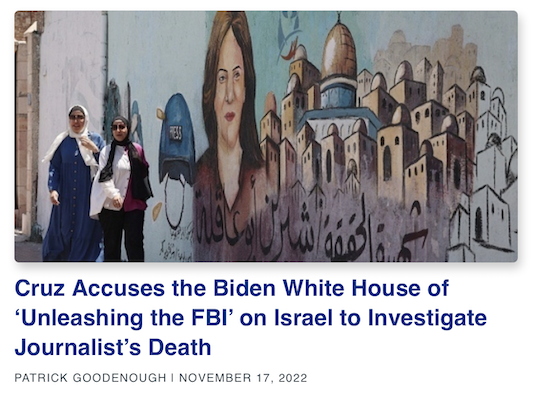 A while back, we noted how CNSNews.com was actually publishing articles that were a bit critical of Israel, whom it has long praised as part of right-wing orthodoxy. Apparently it got the message it was falling out of step because it's reeled that in a bit.
One Israel-related story CNS has been following has been the death of Palestinian-American journlalist Shireen Abu Akleh, who was killed covering a protest in the West Bank. It was immediately suspected that Abu Aleh was shot by someone in the Israeli Defense Force, and even Israel-friendly CNS reporter Patrick Goodenough seemed to concede that. In a May 12 article, he noted the "widespread criticism" of Israel over Abu Aleh's death and repeated Israeli officials claiming that they would conduct a thorough investigation. A July 6 article by managing editor Michael W. Chapman noted U.S. findings that an IDF bullet killed her:
On July 4, the U.S. State Department announced that after extensive investigations by several parties, overseen by the U.S. Security Coordinator (USSC), it was concluded that the gunfire which killed Shireen Abu Akleh, a U.S.-Palestinian citizen and journalist, likely came from Israeli Defense Forces.

Akleh, who had worked for Al Jazeera since 1997, was shot in the head and killed on May 11 while covering an Israeli military raid in the Jenin refugee camp in the occupied West Bank. Akleh was wearing a press vest and standing with other reporters when she was shot.

Al Jazeera journalist Ali al-Samoudi, who was at the scene, was hit in his back with a bullet. He survived.

[...]

National Public Radio reported that Israel "has strongly denied she [Akleh] was deliberately targeted, but says an Israeli soldier may have hit her by mistake during an exchange of fire with a militant."

Journalist Al-Samoudi told Al Jazeera there were no Palestinian militants at the scene when Akleh was killed.
This was followed by a July 19 article by Chapman noting that "In his meeting with Saudi Crown Prince Mohammed bin Salman (MBS) last week, President Joe Biden raised the issue of the murder of Washington Post columnist Jamal Khashoggi in 2018 by Saudi officials. In response, MBS reminded Biden of the Abu Ghraib prison scandal and also asked what the U.S. was doing about the recent killing of Palestinian-American journalist Shireen Abu Akleh allegedly by Israeli forces."
Chapman started to return to pro-Israel form in a Sept. 7 article:
Although the Israeli military admitted on Monday there was a "high probability" that one of its soldiers shot dead U.S.-Palestinian journalist Shireen Abu Akleh back in May, Israel's prime minister, Yair Lapid, rejected any suggestion that the U.S. would influence its rules of engagement for soldiers dealing with violent conflicts.

The U.S. announced on Tuesday, Sept. 6, that it would "press Israel" to "review its policies and practices" in such instances because of Akleh's death.

"[N]o one will dictate open fire regulations to us when we are fighting for our lives," said Prime Minister Lapid on Sept. 7, as reported in Haaretz.

He added that he would "not allow them to put an IDF soldier on trial who defended himself against fire from terrorists, just to receive a round of applause from the world."

[...]

On Sept. 5, the Israel military report stated there was a "high probability" that one of its soldiers accidentally shot Akhel. The report further said no one would be punished for the shooting, reported the Associated Press.
Chapman also exhibited sloppiness in repeatedly misspelling Abu Akleh's name in his article.
Apparently, though, it has been decided that nobody is to make Israel feel bad about killing Abu Akleh, and as a Nov. 17 article by Goodenough documents, that order came from none other than the guy who employs the daughter of CNS editor Terry Jeffrey:
Anyone involved the decision to launch an FBI investigation into the death of American-Palestinian journalist Shireen Abu Akleh during an Israeli security operation "should be fired or impeached," Sen. Ted Cruz (R-Texas) said this week, responding to a move that sparked strong pushback in Jerusalem.

"This administration has spent its time in office weaponizing the DOJ to target their political enemies as a matter of policy, and now they have allowed that tactic to bleed into their obsession with undermining our Israeli allies," Cruz said in a statement.

While the news of an FBI probe into the shooting of the Al-Jazeera journalist – evidently by an Israeli soldier – is being welcomed by some Democratic lawmakers, Israel's outgoing government says the Israeli Defense Forces will not cooperate.

"IDF soldiers will not be investigated by the FBI nor by any foreign body or state, friendly as it may be," caretaker Prime Minister Yair Lapid told lawmakers in the Knesset on Tuesday. "We will not abandon IDF soldiers to foreign investigations, and we expressed our strong protest to the Americans at the appropriate levels."

Defense Minister Benny Gantz in an earlier statement called the investigation "a serious mistake."

"The IDF has conducted a professional, independent investigation, which was presented to American officials with whom the case details were shared," Gantz said. "I have delivered a message to U.S. representatives that we stand by the IDF's soldiers and that we will not cooperate with an external investigation."

[...]

In his statement, Cruz accused the Biden administration of "unleashing the FBI" on Israel and Netanyahu, whom it views "as political enemies."

"Our Israeli allies have, since the very beginning, cooperated closely with the United States in investigating this incident, and the State Department and Defense Departments had already drawn their conclusions," he said.

"This outrage underscores how corrupt and blatantly politicized the Justice Department has become, and how entirely beholden to the radical left-wing Squad Democrats really are."

"Everyone involved with this debacle should be fired or impeached – all the way up to Attorney General Garland."
Goodenough didn't explain why Cruz did not make the same demand of the IDF forces involved in Abu Akleh's death, and Goodenough cited no consequences anyone in the IDF has faced as a result of killing a journalist.
Posted by Terry K. at 1:04 AM EST
Updated: Thursday, December 22, 2022 9:00 AM EST