MRC Gushes Over Hateful Right-Wing Country Song
Topic: Media Research Center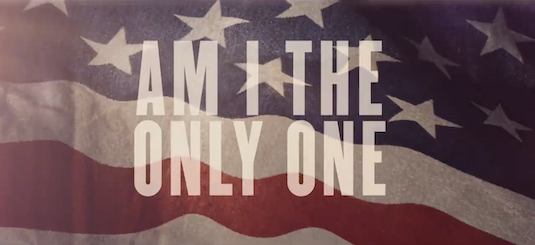 The Media Research Center has found a country song right-wing enough for it, and Gabriel Hays is in love:
A new country song seems to be saying all the things patriotic Americans have been thinking over the past year as they've watched riots rage in their cities, statues of American heroes demolished, and professional athletes disrespecting the Stars and Stripes.

Country music artist Aaron Lewis released his new song, "Am I the Only One" on July 2, just in time for the Fourth of July weekend. Though if audiences were expecting a fun, straightforward tune about how good seeing the American flag makes Lewis feel, well, they got something different.

The new song is patriotic, though in a different, more raw, angrier way. It's about the confusion and grief Lewis feels as he sees the American flag get trampled on, the ideas represented by it spurned by new generations of Americans.

[...]

Though the chorus clears up the mystery of what Lewis is anguishing over, and it ends up being a theme all of us conservative, freedom-loving, flag-waving Americans have been dealing with as we look at the nightly news or scour Twitter. He sings, "Am I the only one willin' to bleed, or take a bullet for being free? Screamin' 'what the f***?' at my TV? … Are you telling me that I'm the only one, willin' to fight for my love of the Red and White and Blue?"

Of course, by this point it's pretty obvious what Lewis is singing about, and it's the constant subversion of patriotism and love for American liberty that's all too popular these days. Lewis' lyrics hit directly in the same spot that was rubbed raw with outrage and terror as my friends and I watched our cities being torched, people being hurt, and statues being torn down for the sake of the Marxist Black Lives Matter lies. Those lies – and similar ones being taught to kids in schools today – say that America, as it was founded, is a place fit to be torn down.

[...]

It's poignant imagery that refuses to sugarcoat what's going on. This isn't politics as usual for Lewis. He, like many of us, sees this all as a concerted effort to destroy the social fabric and freedoms Americans have loved and have died for. His lyrics also speak to him feeling like a crazy person because of all the media propaganda telling us this "change" is a good, noble thing.

He asks, "Am I the only one not brainwashed, makin' my way through the land of the lost? Who still gives a s*** and worries about his kids, and they try to undo all the things he did?"
Nothing like right-wing grievance narratives set to song. Hays has drunk deeply of the conservative Kool-Aid -- as has Lewis, apparently -- and he's u nable to tolerate anyone who is not a conservative like him, trying to otherize them by portraying them as enemies of the United States.
Which makes Abigail Streetman's July 21 post uniroinically bashing any one who has criticized Lewis' song of a piece with Hays:
Aaron Lewis's new country song "Am I the Only One" quickly rose to the top of Billboard's Hot Country Songs list because of its pro-American lyrics and strong criticism at the left. The song's popularity angered a lot of cry-baby leftists and they are now targeting the founder of Big Machine Label group for promoting Lewis.

Music blogger Bob Lefsetz wrote a blog about Lewis's song last week and called out Big Machine founder Scott Borchetta for "marketing this junk."

[...]

Borchetta released a response to the post and noted that his job is not to tell his artists "what to sing and write about." He further noted that his label group also represented left-wing Sheryl Crow and when she released her song "Woman in The White House."

"Aaron Lewis and I have political disagreements. But there are also things we agree on. I think that's the foundation for the idea of our country," Borchetta continued. "It doesn't work if we're so divided that we can't reach across the aisle, have a conversation or an argument, and ultimately, shake hands. If we can't do that, and this moment is so divisive, we may never get our country back."
Neither Streetman nor Borchetta would admit that there's a significant number of people who believe we did get "our " country back by electing Joe Biden over Donald Trump, and that all this right-wing ranting that Lewis and Streetman are pushing are just partisan narratives designed to divide America and exploit divisions for profit.Apparently Streetman also believes you're not a "real" American unless you're spouting right-wing talking points.
Streetman concludes by praising Borchetta because he "won't bend his knee to the mob that wants to cancel all things conservative" -- but she's part of a right-wing mob that wants to cancel all things liberal. Not that she'll admit her double standard, of course.
Posted by Terry K. at 10:21 PM EDT