Fake News: WND Hyped Alleged Transgender Spa Incident That Appears To Have Been A Hoax
Topic: WorldNetDaily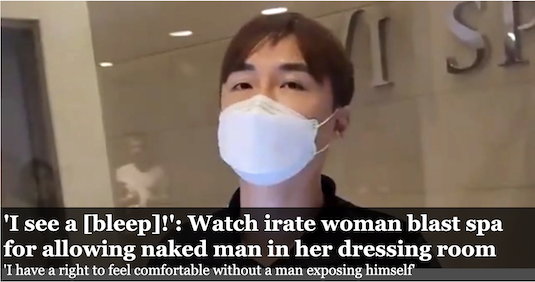 WorldNetDaily knows a hot-button rioght-wing issue when it sees one, as demonstrated in a June 28 article by Art Moore:
A heated confrontation at a popular upscale Los Angeles spa captured on a viral video illustrates the problem with males who "identify" as female -- while maintaining their God-given private parts -- using facilities designated for women.

An irate woman is heard on the video demanding to know why a man was allowed to walk around naked in an area reserved for females, including little girls, BizPacReview reported

The response of the front-desk employee she confronted is muffled, but he apparently made a reference to sexual orientation.

"What sexual orientation?" the woman fires back. "I see a d***. That lets me know he's a man ... he is not a female."

Pointing out that other women were highly offended and traumatized as well, she demanded to know the company policy.

"So Wi Spa is in agreement with men that just say they are women, and they can go down there with their penis, and get into the women's section? Is that what you're saying?" she asks.

[...]

The woman drew widespread praise on social media.

Well done to that brave woman," said one Twitter user. "She didn't just stand up for herself, she stood up for all women. Shame on these men who think it's in their gift to give dictate and erase the boundaries of women and girls."
WND followed up with a July 4 article from the fringe-right Western Journal touting protests against the spa over the alleged incident that were joined by "antifa-related groups" (but made no mention of the fct that the anti-spa protesters included Proud Boys thugs). WND also stole -- er, republished a July 18 article from Fox News highlighting how "Protesters and counter-protesters descended on a Korean spa in Los Angeles that became the latest culture war flashpoint just weeks ago when a customer complained that a transgender woman allegedly disrobed in the women's area."
Just one problem with this story: The incident appears to have been a staged hoax. The Los Angeles Blade reported that the appointment-only spa said that none of its usual transgender clients were scheduled that day, and noted other evidence:
Several other factors cast doubt on the veracity of the claims in the video. Cubaangel's Instagram account is almost exclusively Christian memes, which begs the question why she chose to go to a spa well known for being LGBTQ friendly. During Cubaangel's video, no transgender person can be seen, and no other witnesses have come forward to confirm the allegations made. It's also not the first time Wi Spa has been targeted for catering to transgender people. After the alleged, unconfirmed incident, Wi Spa was deluged with 1-star Yelp! and Trip Advisor reviews.

It also remains a possibility that there was a person, unknown to the Wi Spa staff, who pretended to be transgender to create an inciting incident. In 2015, anti-transgender activists in Washington State deliberately encouraged men to enter women's facilities.
There's more to this story -- but WND doesn't want to know. Thus, it has allowed apparently fake news to remain uncorrected.
Posted by Terry K. at 1:42 PM EDT
Updated: Friday, August 6, 2021 2:32 PM EDT