MRC Complains About 'Hit Piece' On GETTR That Echoes MRC' Hit Pieces On 'Big Tech'
Topic: Media Research Center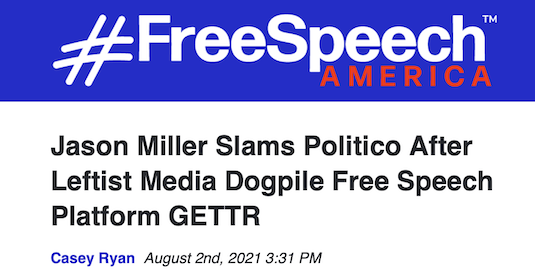 The Media Research Center's Casey Ryan complained in an Aug. 2 post:
GETTR CEO Jason Miller fired back against Politico after the media outlet launched an attack against his new platform claiming that it is a hotbed for terrorist activity.

Politico reported that free speech alternative platform GETTR was "inundated with terrorist propaganda spread by supporters of Islamic State." The liberal media outlet further reported that GETTR "features reams of jihadi-related material, including graphic videos of beheadings, viral memes that promote violence against the West and even memes of a militant executing [former President Donald] Trump in an orange jumpsuit similar to those used in Guantanamo Bay." The story ended with a statement that Politico reportedly obtained from Miller. However, the GETTR executive said that Politico is "refusing to print [his statement] in its entirety."

In his response on GETTR, Miller attacked ISIS and called out Politico for its reporting:

"ISIS is trying to attack the MAGA movement because President Trump wiped them off the face of the earth, destroying the Caliphate in less than 18 months, and the only ISIS members still alive are keyboard warriors hiding in caves and eating dirt cookies. Buried beneath a misleading and inflammatory headline, however, even Politico acknowledges GETTR has a robust and proactive moderation system that removes prohibited content, maximizing both cutting-edge A.I. technology and human moderation."

Politico's hit piece against GETTR was headlined, "Jihadists flood pro-Trump social network with propaganda." Several other media outlets also dogpiled GETTR and appeared to gleefully cover the story.
Ryan won't tell you that the thing Miller is complaining about is the exact same thing his MRC co-workers regularly do in their attacks on "big tech":
Ryan sounded like a paid mployee of GETTR -- as all MRC employees do -- in trying to serve up some positive spin for Miller's benefit, touting how "the Washington Examiner previously reported that GETTR passed '1.5 million users in just 11 days.'" But as we've noted, that number turned out to be bogus; according to a report from the Stanford Internet Observatory Cyber Policy Center (h/t Wonkette), GETTR didn't actually reach 1.5 million users until the first week of August. Ryan went on to insist that despite a claim from the Daily Beast that GETTR "has struggled to gain much traction," "several prominent personalities have joined the platform."
The MRC is so determined to serve as the PR division of GETTR, in fact, that it devoted a second post the next day to Miller's complaints about the Politico article. That article, by Autumn Johnson, is mstly a repeat of what is in Ryan's piece, though it added a biziarre accusation from Twitter that the Politico piece was "funded by GETTR's competitors in the tech and social media marketplace." Johnson apparently made no effort to seek substantiation of this claim from Miller, for none is provided; instead, Johnson linked to a commentary by Miller at the right-wing National Pulse website, in which he complained that data for the Politico piece came from the Institute for Strategic Dialogue," which he ranted " is funded by a list of GETTR's Big Tech competitors." Which, of course, proves nothing; Miller offers no evidence to further his conspiratorial claim.
Interestingly, neither piece noted whether or not GETTR took down the jihadi accounts after they were made public.Johnson rehashed GETTR's moderation policies as cited in Miller's National Pulse piece, but he too did not explicitly state that the jihadi posts have been removed. Miller did ry to make excuses, stating that "To combat Islamic extremist content is a continuous battle, as our competitors can attest, and much of the objectionable content on our platform was posted before our official launch."
Again, the MRC's function here is PR, not fact -- just like it has been with Parler.
Posted by Terry K. at 10:49 PM EDT
Updated: Sunday, August 29, 2021 11:18 PM EDT