CNS' Hot Pestering Intern Summer, Round 5
Topic: CNSNews.com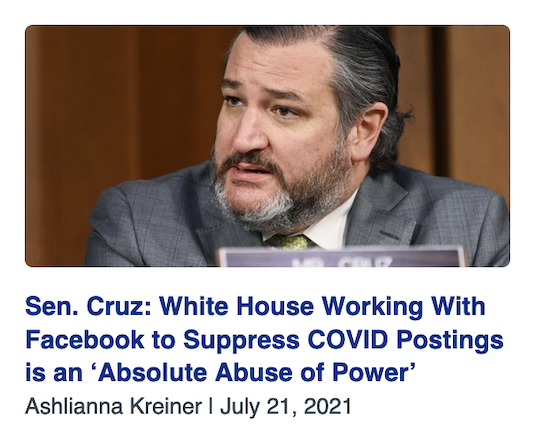 The fifth round of CNSNews.com's ambush questions to members of Congress was a follow-up to its previous question on COVID vaccines -- and an attempt to reinforce a new MRC narrative.
The question du jour was "Should the Biden Administration work with Facebook to suppress postings it considers vaccine misinformation?" The idea that misinformation is not an objectively defined thing but what someone "considers" it to be is the MRC's current narrative to deflect responsibility from its fellow right-wingers for spreading misinformation because it wants to attack social media platforms for "censorship" for holding (mostly right-wing) people accountable for spreading it (yet when it accused the "liberal media"of spreading misinformation, it's never couched in such mitigating terms).
A follow-up question some senators got was "whether there are any other types of speech the administration should work with Facebook to suppress" -- another narrative-driven question that presumes a constitutional right to lie and mislead, that lying and misleading are "free speech," and that social platforms aren't private businesses that have no right to enforce terms of service on their users.
The list of senatorial victims this time around :
Is teaching interns to pester politicians with politically loaded gotcha questions really "journalism"? CNS seems to think so -- but its heavy bias shows it's not interested in producing journalism.
Posted by Terry K. at 2:37 PM EDT