CNS' Gotcha War on Nancy Pelosi
Topic: CNSNews.com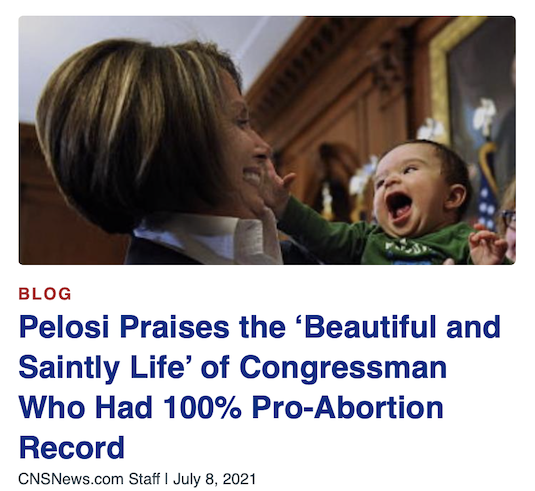 Another part of CNS" multi-pronged war on Nancy Pelosi involves finding ways to bash the people she says nice things about -- even if they're otherwise decent people. In an anonymously written June 25 article -- apparently nobody wanted to put their byline on this political hit job -- attacked a U.S. ally, under the headline "Pelosi Hugs, Praises Afghan President Whose Government Criminalizes Same-Sex Activity and Imprisons Gays":
House Speaker Nancy Pelosi (D.-Calif.) hugged and praised Afghan President Ashraf Ghani, whose government in 2018, according to Human Rights Watch, "adopted a new penal code that explicitly criminalizes same-sex relations" and whose nation's security forces, according to the State Department, engaged in "violence…against lesbian, gay, bisexual, transgender and intersex persons."

A video of a press briefing Pelosi held with Ghani in the U.S. Capitol today was posted on YouTube by Pelosi's office. The video shows Pelosi and Ghani coming together at the end of a hallway in the Capitol and embracing in front of a trio of American flags.
CNS doesn't actually care about LGBTQ people -- heck, given how homophobic its editors are, particularly managing editor Michael W. Chapman, they probably approve of these laws. The only purpose here is to play gotcha with Pelosi for honoring a U.S. ally whose country's policies don't align with her Democratic Party.
In a July 9 article, an anonymous CNS writer lashed out at a prominent civil rights hero under the headline "Pelosi Praises the 'Beautiful and Saintly Life' of Congressman Who Had 100% Pro-Abortion Record":
House Speaker Nancy Pelosi (D.-Calif.) on Thursday praised what she described as the "beautiful and saintly life" of Rep. John Lewis (D.-Ga.) who had a 100 percent pro-abortion voting record as scored by NARAL Pro-Choice America.

Pelosi made the remarks in a statement put out by her office to announce that she would be leading a Congressional delegation to San Diego on July 17 to participate in the christening of the U.S. Navy Ship John Lewis.

Lewis died last year on July 17.

"As House Speaker, I am deeply honored to lead this Congressional delegation of many friends of our beloved late Congressman John Lewis to honor his beautiful and saintly life," said Pelosi.

"John Lewis was a warrior for freedom and, as a titan of the civil rights movement, his courage and goodness helped transform our nation," she said. "In the halls of the Capitol, he was fearless in his pursuit of a more perfect union, whether fighting to defend voting rights, end anti-LGBTQ discrimination or respect the dignity and worth of every person."

On its website, NARAL lists Lewis pro-abortion voting record as 100 percent from 2016 through his passing in 2020.
Another anonynous CNS writer rehashed the gotcha on Lewis in a July 19 article hedlined "Pelosi's Title for Man Who Voted to Keep Late-Term Abortions Legal: "The Conscience of the Congress'":
House Speaker Nancy (D.-Calif.) spoke at the Christening Ceremony for the USNS John Lewis --a Navy vessel named after a late Democratic congressman from Georgia who had a 100-percent pro-abortion voting record--and declared that Rep. John Lewis was "the Conscience of the Congress."

"John always demonstrated courage with his presence," Pelosi said. "'Be there,' John would say.
The article did note Lewis' record on civil rights, but CNS is so myopic and so obsessed with abortion that it means nothing to them:
As a member of Congress, Lewis voting record earned a 100 percent rating from NARAL Pro-Choice America.
In its analysis of his voting record, NARAL Pro-Choice America noted that Lewis voted against the Pain-Capable Unborn Child Protection Act, which would have banned abortions after 20 weeks. NARAL Pro-Choice America also noted that Lewis voted against a bill "that defunds Planned Parenthood…and includes anti-choice policy riders such as restrictions on abortion care for women who obtain their healthcare through the federal government."
We don't recall CNS ever treating a Republican president or congressional leader this way. That's because it believes destroying Pelosi is more important than honest reporting.
Posted by Terry K. at 1:11 AM EDT