CNS Still Promoting GOP Rep. Boebert, Hiding Her Extremism
Topic: CNSNews.com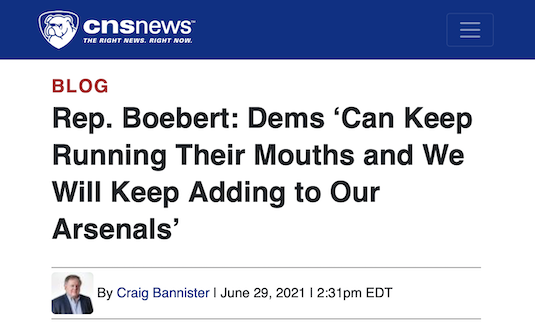 Craig Bannister gushed in a June 29 CNSNews.com article:
The more Democrats threaten to deprive Americans of their Second Amendment rights, the more Americans will buy guns, Rep. Lauren Boebert (R-Colo.) said Monday in a speech on the House floor.

The congresswoman began by sarcastically "thanking" Democrats for fueling the sale of firearms in the U.S., attributing purchases to Democrats' tolerance of violence and "threats to strip away our basic constitutional rights":

[...]

"So, my colleagues from the other side, they can keep running our mouths and we will keep adding to our arsenals," Rep. Boebert concluded.
CNS just loves Boebert -- and as with fellow far-right Republican Rep. Marjorie Taylor Greene, it also loves to hide her extremism and controversies. So you won't read about any of the following at CNS that happened over the past month or so:
But if Boebert again says something clickbait-y that advances CNS' right-wing narratives, CNS will undoubtedly be all over it.
Posted by Terry K. at 1:50 AM EDT