CNS Can't Stop Attacking Pelosi Over Capitol Riot Response
Topic: CNSNews.com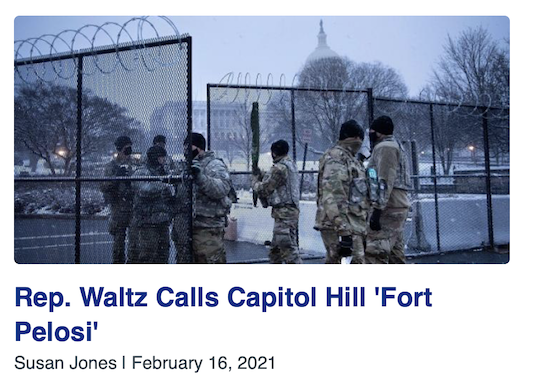 For months, CNSNews.com has been attacking House Speaker Nancy Pelosi over the Jan. 6 Capitol riot and its aftermath -- even though she and other Democrats had nothing whatsoever to do with it, and even though it was led by pro-Trump forces on the same side that CNS is on. (Remember, CNS helped amplify Donald Trump's bogus claims of a stolen election, which played a major role in inciting the rioters.)
A January article by Melanie Arter featured how "Acting DHS Deputy Secretary Ken Cuccinelli told Fox News's 'The Story with Martha MacCallum' on Tuesday that House Speaker Nancy Pelosi requested more National Guards be sent to Washington, D.C., even requesting 'crew-manned machine guns' – a sharp contrast between how she reacted when President Donald Trump wanted to use the military to deal with the violence from nationwide Black Lives Matter protests."
In February, CNS not only served as a echo chamber for Republican arguments that she was somehow responsible for the Jan. 6 Capitol riot but also for GOP attacks on her response to it:
Later that month, an anonymous article complained that "The 'task force' of advisors that House Speaker Nancy Pelosi (D.-Calif.) put together after rioters stormed the U.S. Capitol on Jan. 6 has recommended that Congress immediately approve funding to design and install 'mobile fencing' around the Capitol."
In an April 14 article, Craig Bannister seemed to be mocking a statement Pelosi made regarding the riot:
If the rioters who invaded the U.S. Capitol last January had caught up with, she was prepared to fight back – even if it meant using her spike heels as weapons – House Speaker Rep. Nancy Pelosi (D-Calif.) says.

"Well, I'm pretty tough. I'm a street fighter. They would have had a battle on their hands," Pelosi said in an interview with USA Today published Tuesday.

Displaying her 4-inch-high stilettos to her interviewer, Pelosi joked that "I would have had these" to use as weapons.
Even though Bannister eventually said Pelosi was joking, that's not theimpression readers had from the headline, which lacked any reference to humor: "Pelosi Says She Would've Used Her Spike Heels to Fight Off Capitol Rioters."
Months after the riot, CNS was still complaining about Pelosi talking about it. An anonymous June 16 article carried the headline "Nancy Pelosi: 'January 6th Was Unquestionably One of the Darkest Days in the History of Our Democracy'" -- apparently once again annoyed that Pelosi was talking about it -- but it was actially a bill to award Congressional Gold Medals to law enforcement officers who tried to protect the Capitol on Jan. 6.
That, by the way, is the only article CNS did referencing the medals to law enforcement; it certainly wasn't going to tell readers that 21 Republicans -- including CNS faves Marjorie Taylor Greene, Lauren Boebert and Matt Gaetz -- voted against awarding the medals.
Posted by Terry K. at 3:19 PM EDT
Updated: Sunday, June 27, 2021 3:35 PM EDT