MRC's Whitlock Serves Up Even More Hypocrisy on Corporate Whoring
Topic: Media Research Center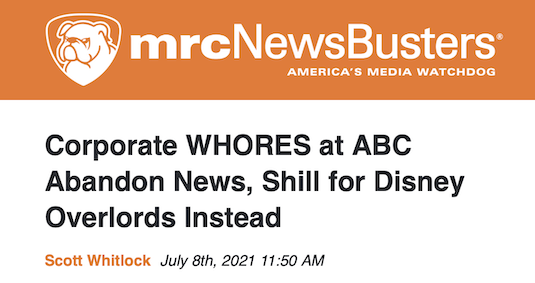 The Media Research Center's Scott Whitlock is so filled with hate for any non-right-wing news operation that he disgustingly smears them as "WHORES" (his all-caps, not ours) for engaging in the common practice of offering promotion of other events or programs tied to corporate parents -- even though the MRC's "news" division, CNSNews.com, routinely treats corportate MRC doings as "news." Whitlock did this again in a July 8 post under the headline "Corporate WHORES at ABC Abandon News, Shill for Disney Overlords Instead" (bold in original):
Some liberal journalists and media outlets like to mock Fox as not real "news," given that the network doesn't parrot their left-wing agenda. But no one should ever consider ABC actual "news." The network is committed to producing propaganda for corporate overlord Disney. Thursday showcased yet another pathetic example as Good Morning America devoted more time to pushing Black Widow than covering the latest on the Surfside disaster in Florida.

Co-host Robin Roberts sounded like a talking Disney press release, opening the 7:30 hour by robotically cheering, "Black Widow finally hitting theaters tomorrow. It is one of the most eagerly anticipated movies of the summer! Fandango reporting that the Marvel movie has already zoomed past F9 in presales!"
Whitlock's reference to Fox News is interesting, since its parent companhy not only owns Fox Broadcasting but also owned 20th Century Fox studios until 2019. Is Whitlock really saying that Fox News has never engaged in the corporate synergy process to use Fox News to promote Fox Broadcasting shows or 20th Century Fox movies? It would be highly unusual if that didn't happen and would display a demonstration of ethics that Fox News is not known for.
Meanwhile, we've documented how -- just a few days after Whitlock's post -- the MRC turned its main websites, including CNS, over to Mark Levin for a weekend of shilling for Levin's new book. One CNS headline had a particularly whorish tone to it: "EXCLUSIVE: MRC President Brent Bozell Interviews 'The Great One' Mark Levin on His Timely New Book, 'American Marxism'." Bozell and Levin are friends, making this whordom a very personal one.
Whitlock has been silent about this. Apparently he believes whordom is a good and virtuous thing when right-wingers engage in it.
UPDATE: Whitlock also wrote a July 30 post asserting that "ABC "News" seems to exist to shill for the network's overlords at Disney" because one show "took their bosses side in the fight against Black Widow star Scarlett Johansson" regarding how the movie's simulatenous release in theaters and streaming violated her contract. Whitlock claimed that "ABC journalists repeatedly misrepresented how Disney+ harmed the box office totals," insisting that a movie that made $319 million "was not a hit." Whitlock concluded that ABC was engaged in -- you guessed it -- "corporate whoring for Disney bosses."
Curtis Houck joined the slur parade as well, declaring in a July 23 post that instead of covering Hunter Biden, there was "more corporate whoring on ABC's Good Morning America for parent company Disney with a new Disney+ "cinematic experience"starring Billie Eilish."
Posted by Terry K. at 11:02 AM EDT
Updated: Monday, August 9, 2021 4:29 PM EDT