MRC's Double Standard On Corporate Whoring
Topic: Media Research Center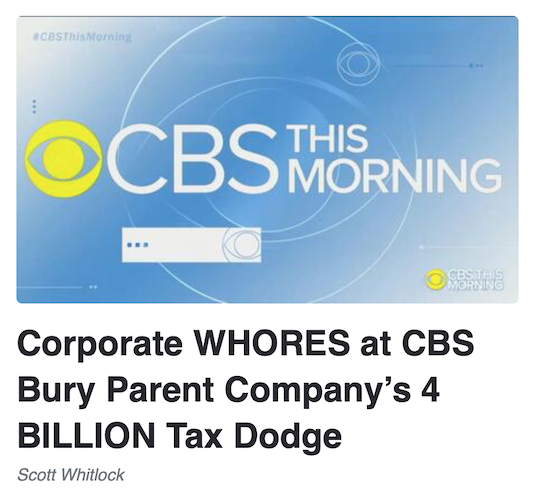 Media Research Center writer Scott Whitlock is so filled with hate that he's absolutely obsessed with smearing CBS employees as "WHORES" (his all-caps, not ours) because some CBS shows are used to promote other things under the ViacomCBS corporate umbrella -- despite the fact that the MRC does the exact same thing by using its own "news" division, CNSNews.com, to promote MRC interests.
Apparently unable to stop his irrational, insatiable hate, Whitlock ranted in a June 2 post under the headline "Corporate WHORES at CBS Bury Parent Company's 4 BILLION Tax Dodge":
ViacomCBS is engaged in an elaborate, sketchy effort to hide, funnel and move around money in an apparently successful attempt at avoiding paying almost four billion in taxes. That's according to a bombshell report in Tuesday's print New York Times. Yet CBS News journalists, who have hammered other companies for not paying taxes, skipped reporting on the story Monday night and Tuesday morning.

[...]

Yet back in April, CBSNews.com fretted over companies not paying their fair share after Donald Trump cut corporate rates.

CBSNews.com writer Stephen Gandel whined, "Many of those same companies had together paid billions of dollars in annual taxes prior to Trump's presidency." Also in April, CBS, as well as ABC and NBC, censored a study saying Joe Biden's corporate tax hikes would cost one million jobs in two years. That probably won't impact ViacomCBS, what with the company's creative accounting.

[...]

Keep all of this in mind the next time the supposedly objective journalists at CBS News talk about objectivity and journalistic toughness.
Meanwhile, CNS has done more of its own whoring in the form of touting the words of leader Brent Bozell:
Additionally, CNS editor Terry Jeffrey wrote a fawning obituary of right-wing financier Foster Friess, refusing to disclose until the second-to-last paragraph that Friess was a major donor to the MRC.
That's whoredom at its finest. Yet Whitlock doesn't seem interested in admitting his employer is no different than CBS.
Posted by Terry K. at 1:25 PM EDT