MRC Returns To Promoting Rep. Greene -- And Hiding Her Extremism
Topic: Media Research Center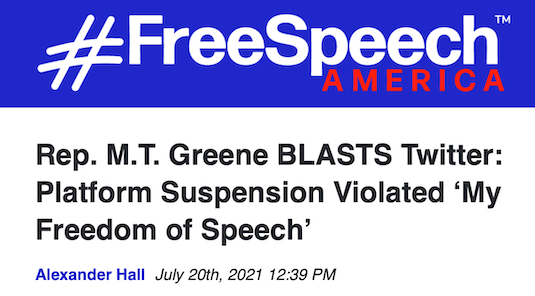 The Media Research Center spent months portraying Rep. Marjorie Taylor Greene as a victim of "Big Tech" while censoring the fact she's a far-right politician who faced sanctions from social media for her extremism. It appears that the MRC believes enough time has passed since her extremism was so exposed that even the MRC couldn't hide it that it can revive the victim narrative for her again. Alexander Hall wrote in a July 20 post:
Congresswoman Marjorie Taylor Greene (R-GA) returned from her recent Twitter suspension to compare the Big Tech platform to totalitarian censors in China.

"Twitter said on Monday that it was suspending Representative Marjorie Taylor Greene from its service for 12 hours after she posted messages that violated its policy against sharing misleading information about the coronavirus," The New York Times reported July 19. After her suspension was over, Greene claiming, "[it] banned me for 12 hrs, censoring me, & violating my freedom of speech." She then compared Twitter's leadership to state censorship by "CommunistChina."

A Twitter spokesperson explained to the MRC that "[w]e took enforcement action on the account you referenced (@mtgreenee) for violations of the Twitter Rules, specifically the COVID-19 misleading information policy (Tweets here and here)."

The spokesperson linked to Twitter's so-called " COVID-19 misleading information policy" page.
First: It's not a "so-called" policy -- it's a real policy with a real name. Second: Not only did Hall censor Greene's extremist background, he didn't even quote the offending Greene tweets -- perhaps out fear that the false claims would get the MRC into trouble as well -- he simply links to them.The first tweet falsely claimed there have been "6,000 vax related deaths," and the second conspiratorially referred to COVID vaccines and masks "human experimentation."
Instead of telling his readers the truth, Hall acted as Grteene's PR rep, touting how "Greene made it clear in a Newsmax interview that Big Tech censorship is one of her core political talking points." Perhaps Greene -- and Hall -- should be making it clear that they care about truth more than false partisan talking points.
Posted by Terry K. at 9:42 PM EDT