WND Embraces Anti-Google Researcher's Dubious Work
Topic: WorldNetDaily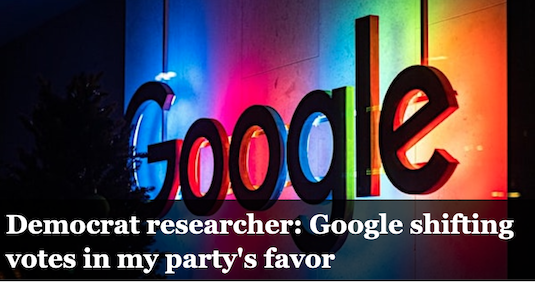 We've documented how the Media Research Center embraced Robert Epstein as a legitimate critic of Google -- specifically for his claim that Google built bias into its search engine to influence voters in favor of Hillary Clinton in the 2016 presidential election -- despite his shoddy research (extrapolating a mere 21 undecided voters). Now, WorldNetDaily has fully embraced Epstein's anti-Google sentiments. Art Moore interviewd him for a July 6 article, which weirdly started out by his taking credit for supposedly not being any search bias for Georgia Senate elections:
After finding that Google's search-engine manipulation in the 2020 election could have shifted a minimum of 6 million votes to Democrat Joe Biden, Harvard-trained research psychologist and Democratic voter Robert Epstein turned his sights to the Georgia Senate elections.

For the first time -- after having monitored three national elections -- he said in an interview with WND that his growing team of field agents found no political bias in Google's search results.

But Epstein believes that's a direct result of his monitoring efforts, and he plans to exponentially expand them.
Actually, Epstein's claim that millions of votes were moved by Google in the 2020 presidential election is disproven by the election itself, as the Washington Post's Philip Bump noted: "Of course, the idea that people primarily base their decisions on what they learn from Googling candidates — particularly at the presidential level — is dismissible on its face. President Biden got a record level of support from Democrats even as Trump earned near-universal support from Republicans. Which of them was influenced by his or her search results?" Also, no evidence was presented to back up that claim, with Epstein himself apparently conceding the speculative nature of it by having WND say it "could have" happened.
Moore gave Epstein space to push his allegedly liberal-leaning bona fides, claiming that "He emphasized to WND he is not a Trump supporter but a "supporter of democracy." He wanted Joe Biden to win, but wanted the election to be fair, recognizing that in the future the tech giants could put their massive power behind a candidate who is not of his choice." Moore also rehashed Epstein's defense of his earlier work by insisting that tht results "were based on an analysis of 13,207 election-related searches, along with the 98,044 web pages to which the search results linked" -- which still doesn't make up for the fact that the research was based on the work of 95 people, 21 of whom were undecided, and that his conclusions were based on how those 21 undecided voters reacted.
WND editor Joseph Farah touted Epstein again in his July 30 column:
Did you know that Google and Facebook have the power to throw elections?

Robert Epstein, a Harvard Ph.D. in psychology, has long studied Big Tech and its ability to swing massive numbers of votes.

In conjunction with the apolitical, nonpartisan American Institute of Behavioral Research and Technology, Epstein has watched carefully Big Tech's involvement with U.S. elections since 2016.
Stop right there. There's no evidence that Epstein's AIBRT is "apolitica" or "nonpartisan" -- indeed, it appears that Epstein is quite partisan given how much he caters to right-wing media with his research and wild anti-Google bias. Farah continued to be a reliable Epstein messenger:
You may recall what happened in the election for 2016. That was the year Donald Trump upset Hillary Clinton. Trump didn't have tens of millions of Twitter followers then. He didn't get any help from Big Tech that year. But Hillary did. At least 6 million votes – a combination of illegal ballots and manipulated data. But it still wasn't enough for Hillary.

Then came the next election – in 2018. Epstein estimated that Google and Facebook were in a position to turn about 12 million votes due to their overwhelming pro-Democrat bias demonstrated in their virtual monopoly dominance of search and social media platforms. That was the year Nancy Pelosi became speaker of the House.

But 2016 and 2018 were probably rigged elections, according to Epstein's projections.
Of course, that's all speculative extrapolation -- Epstein has no proof that 1) Google searches were definitively biased, 2) they were so biased they caused any voter to change his or her vote, or 3) that so many votes were changed to make those elections "rigged."
Epstein is saying what Farah and WND want to hear, and Farah and Moore are lapping it up.
Posted by Terry K. at 9:23 PM EDT