MRC Psaki-Bashing, Doocy-Fluffing Watch, 'Real Questions' Edition
Topic: Media Research Center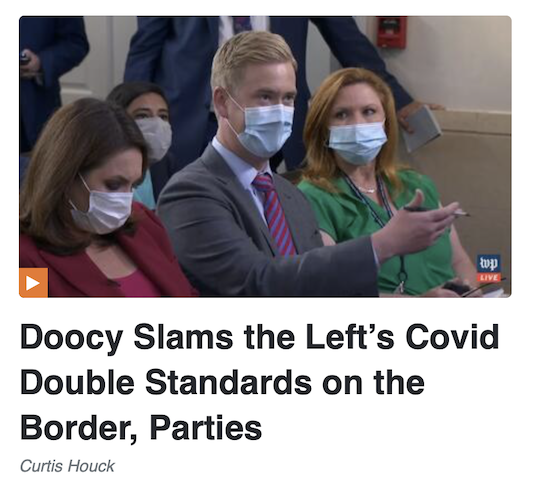 In case it hadn't been clear before, Media Research Center writer Curtis Houck all but demonstrated that Fox News correspondent (and his man-crush) Peter Doocy is a biased reporter by gushing over the bias and narrative-pushing he showed in the Aug. 2 White House press briefing:
On Monday, Fox News White House correspondent Peter Doocy started a new week by making the most of the delayed press briefing, questioning Press Secretary Jen Psaki about the left's Covid double standards in light of former President Obama throwing a massive birthday party and the administration letting illegal immigrants continue to flow into the country amidst a global pandemic.

[...]

Doocy was the fifth reporter called on during Psaki's Q&A and hit the ground running with this concise question about the border: "About public health at the border, is the President concerned that migrants who are coming in in great numbers are not being tested for Covid at their first point of contact with Border Patrol?"
Houck also loved Doocy asking about Barack Obama's birthday party and how he pushed the narrative that it supposedly could "become a superspreader event."
HOuck did two articles on the Aug. 3 hearing -- which also leaned into his and the MRC's bias. The first complained that non-Doocy reporters asked about the COVID surge in Florida and Texas and the Republican governors there who refuse to do commonsense things like mask mandates. The second, needless to say, was a gushfest on Doocy and other right-wing reporters:
Tuesday marked an eventful day at the White House as not only was there a press briefing with Press Secretary Jen Psaki (and a packed onevat that), but President Biden gave a speech on the coronavirus and ended up taking questions from eight different reporters on the virus, Governor Andrew Cuomo (D-NY), and illegal immigration.

Of course, Fox's Peter Doocy was a central player in questioning both, but he also had help from reporters such as McClatchy's Francesca Chambers, the Daily Caller's Shelby Talcott, and Real Clear Politics's Philip Wegmann. And in an admirable move, liberal outlets joined Doocy in firing off Cuomo questions.
Houck also praised Doocy's pushing of right-wing narratives with Biden: "As for Doocy, he had a brief exchange with Biden on how he squares his concern about the coronavirus with allowing record numbers of illegal immigrants into the country."
On Aug. 4, Houck cheered how "Fox's Peter Doocy and colleagues both in conservative media -- and even the liberal media -- had questions for Press Secretary Jen Psaki on the border crisis, China, the coronavirus, eviction moratoriums, Governor Andrew Cuomo (D-NY), and the history of allegations of inappropriate behavior against President Biden. When one right-wing reporter asked about alleged untoward behavior by Biden, Houck made sure to add a tweet from Tara Reade complaining about "the smears and attacks on my character." Houck didn't mention how his MRC co-workers lobbed.smears and attacks against the character of women who accused Donald Trump of sexual misconduct.
Houck kept up his man-crush on Doocy on Aug. 5 by delcaring he's the only reporter asking "real questions" (read: real biased questions):
On Thursday afternoon, the White House press corps kept up what's come off as a collusion effort with the Biden administration to malign Governor Ron DeSantis (R-FL) (and fellow Governor Greg Abbott of Texas) for his refusal to open the door to new Covid restrictions and lockdowns.

Meanwhile, Fox's Peter Doocy did his own thing in asking real questions of Press Secretary Jen Psaki with Thursday's installment focusing on the viral comments rom Congresswoman Cori Bush (D-MO) about defunding the police and Team Biden keeping out vaccinated foreigners while allowing unvaccinated illegal immigrants to flood the southern border.
Houck cheered Doocy's gotcha questions on Aug. 6:
Isn't it always a sight to behold when liberals say the quiet part out loud? Such was the case at Friday's White House press briefing as Fox News correspondent Peter Doocy's questioning led Press Secretary Jen Psaki to admit that parents shouldn't have any say in school matters such as whether their children have to wear masks.

And in defense of masking all children of all ages, Psaki insisted that her rising kindergarten likes masks and it's concerning to her that Governor Ron DeSantis (R-FL) has put children in unsafe "environments" by banning school mask mandates.

Doocy built to this by pointing out that "DeSantis says that he may start withholding funds from school districts that don't let parents opt out of policies that require masks in the classrooms," "Does the President think that parents should have that kind of power?"
Houck went on to praise other right-wing reporters, because his definition of "real questions" is question that advance right-wing narratives.
Posted by Terry K. at 11:46 PM EDT