What Fringe Figures Do The MRC Insist Are Being 'Censored' Now?
Topic: Media Research Center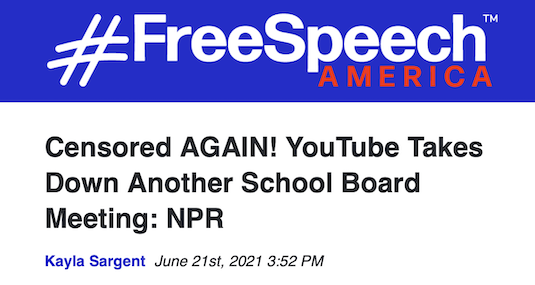 The Media Research Center has a long, shameful history of siding with fringe far-right figures whose extremism got them restricted or suspended from social media because it can massage the story and whitewash the extremism to portray them as victims of "censorship" by "Big Tech." Narratives, you know.
Dan Gainor found a fringe doctor who matched that description -- and, thus, the increasingly bogus narrative -- perfectly:
Google has opened a new front in the online censorship fight — restricting access to documents created in Google Docs.

Google Docs restricted Dr. Vladimir Zelenko, the first doctor to advocate for alternative COVID-19 treatments, from sharing six different documents. Users received a terms of service note when the doctor tried to share the documents with them. "We're sorry. You can't access this item because it is in violation of our Terms of Service," went the Google alert. It was unclear what rule was broken.

He wasn't surprised by the restriction, noting, "I called out the globalist elite" for how they handled the pandemic.

[...]

Zelenko made news in 2020 when he recommended alternate treatments for COVID-19, including the anti-malarial drug hydroxychloroquine and antibiotics. He sent a letter to the White House about his experience treating patients and was also contacted by the Trump administration.

Former President Donald Trump gave support to the doctor's efforts last May, according to The Times of Israel. The president even took hydroxychloroquine and a zinc supplement. He explained, "I got a letter from a doctor the other day, from Westchester, New York," who appeared to be Zelenko. "Trump did not name the doctor, but it matches the description of Jewish physician Vladimir 'Zev' Zelenko."
But as we documented -- and Gainor deliberately omits -- Zelenko's claims about hydroxychloroquine were poorly documented to the point that they are effectively worthless as medical research, and no legitimate medical research has backed up Zelenko's original claims. Gainor also didn't mention that despite Trump's promotion of hydroxychloroquine, he was not treated with that drug when he himself fell ill with COVID -- he was treated with the experimental drug remdesivir.
Alexander Hall wrote the next day:
Christian author and radio host Eric Metaxas currently still has a YouTube channel, but the outspoken conservative said videos of his radio show have been removed from the platform.

YouTube purges are often outrageous, but are no surprise to conservative commentators. Metaxas tweeted that YouTube purged content from his channel June 1: "FINALLY... Youtube decided that because we violated their 'community standards' my show has been entirely kicked off their platform. In related news, the [Chinese Communist Party] CCP and the North Korean govt don't like our videos."
Hall didn't mention that Metaxas has been moving further to the right over the past couple years, using racist language to demean Joe Biden and has pushed bogus election conspiracies. YouTube has pointed out that it "removed content that violated our policies on COVID-19 medical misinformation and presidential election integrity." Hall didn't explain why a private business is not allowed to enforce its terms of service on users.
Kayla Sargent ranted in a June 21 post:
YouTube has reportedly struck down yet another video of a school board meeting for violating its policies on misinformation.

The platform reportedly took down a video from the Shawnee Mission School Board in Kansas City, Kansas for "spreading medical misinformation and violating YouTube's community guidelines," according to NPR. "School board president Heather Ousley says having the broadcast taken down was a surprise."

One person, who NPR identified as Kansas State Senator Mike Thompson (R), said "I'm about six feet tall. Saying that this mask is going to block the virus is like saying, I can't walk through a doorway 6,000 feet tall and 2,000 feet wide." YouTube did not respond to a request from MRC Free Speech America to confirm the video's removal. NPR went on to say that Thomphson's statement "just isn't true," but provided no evidence for the claim.
Sargent provided no evidence that Thompson's claim is medically accurate. She also omitted the fact that, according to a news report, parents at that meeting made discredited claims that masks cause hypoxia -- a dangerous decrease in oxygen levels -- and that they are ineffective at stopping the spread of the coronavirus.
Hall took the side of a right-wing authoritarian leader in a July 22 post:
Big Tech platform YouTube has censored yet another head of state for the unforgivable: He dared to question the liberal narrative concerning COVID-19.

Brazilian President Jair Bolsonaro has reportedly been punished by YouTube for sharing his opinions as a head of state regarding COVID-19. "YouTube removed videos from President Jair Bolsonaro of Brazil on Wednesday for spreading misinformation about Covid-19, becoming the latest internet platform to act against a leader," The New York Times reported. The Timesillustrated for readers that YouTube "played an important role in Mr. Bolsonaro's rise to power" and is reportedly "more widely watched in Brazil than all but one television channel."

[...]

Unfortunately for people under the grip of Big Tech, the question of which drugs are effective to treat COVID-19 has become extremely politicized, with only a narrow range of opinions allowed. YouTube, for example, is not the only platform to purge users for speculating over the viability of using hydroxychloroquine or Ivermectin as a treatment for COVID-19.
But YouTube is not the one that made treatments "extremely politicized" -- right-wingers like Trump and the MRC did. And Hall offers no credible scientific evidence that hydroxychloroquine or ivermectin are effective treatments for COVID. And all his partisan ranting aside, Hall also offers no evidence that YouTube is trying to do anything other than get reliable health information out there when there is so much unreliable information that may be getting people killed.
Hall grumbled the next day:
History is, well, history. Facebook allegedly purged British historian/filmmaker Tom Rowsell and his wife without warning. Celebrating history apparently has consequences.

It's not just a fight for free speech anymore. Big Tech has now appeared to target the very ability of honest academics to earn a living online. "My wife and I both just had our [F]acebook pages deleted without warning, or reason given nor is there an option to appeal," Rowsell said via his Patreon account. "There was nothing on there that went against their community standards. The page had no strikes at all. They have given up all pretence of reason, and are just unpersoning people without reason."

Rowsell's channel, Survive the Jive, named for rejecting the loss of history amid a technological age, has approximately 139,000 subscribers. He described his channel in the description of his introductory video as a project that focuses on the "religions of ancient Europe" and examines the "linguistics, genetics, anthropology and other disciplines in order to gain insights into ancient peoples."

He explained to MRC Free Speech America: "The page was very helpful for me to raise awareness of my video content and was therefore part of my business." He then clarified: "It had no community strikes or objectionable content on it."
Again, Hall is censoring (!) crucial context. Rowsell is a far-right activist who has been involved in the UK branch of Generation Identity, a far-right youth movement that anti-immigrant and anti-Muslim (the French division of the group was banned in the country for inciting violence). Rowsell attended a recent Generation Identity UK conference and invited two neo-Nazi skinheads to join him.
So he's not the benign history professor Hall portrayed him as. Anyone surprised that Hall censored the truth (again)?
Posted by Terry K. at 9:41 PM EDT