MRC Pushes Dishonest Narrative In Freaking Out Over Efforts To Curb COVID Misinformation
Topic: Media Research Center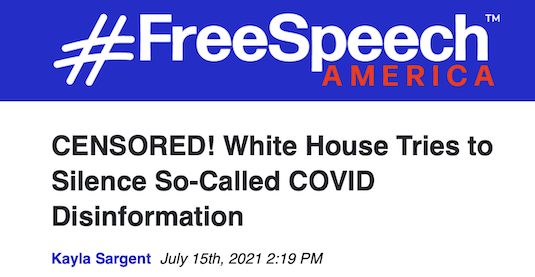 The Media Research Center sure seems to love misinformation, as we've seen from its attempts to deliberately muddy the waters by trying to redefine the word into a subjective, politically charged word that is subject to partisan interpretation. -- otherwise, it wouldn't be fighting so hard against efforts to curb misinformation.
So when the Biden administration said it wanted to work with Facebook to crack down on disinformation abaout COVID vaccines, the MRC went into full freak-out mode. A July 15 post by Kayla Sargent screamed "CENSORED!" in its headline:
The Biden administration continued its rampage against what it deems to be "misinformation" about COVID-19. White House press secretary Jen Psaki announced that the administration is "flagging problematic posts for Facebook that spread disinformation" to blatantly use Big Tech to censor Americans.

This was the second day in a row where Psaki admitted the administration is either considering or taking action against free speech. Today surgeon general Dr. Vivek Murthy declared he was "urging all Americans to help slow the spread of health misinformation during the COVID-19 pandemic and beyond." Murthy warned in a massive advisory that such "health misinformation is a serious threat to public health."

Psaki followed that up with the fact that the Surgeon General's Office is "flagging posts for Facebook that spread disinformation." She said the administration has a four-point plan to restrict COVID-19 content it didn't agree with.

She explained that, "there's also proposed changes that we have made to social media platforms, including Facebook, and those specifically are four key steps." Those included publicly sharing the impact of "misinformation"; "a robust enforcement strategy"; "faster action against harmful posts"; and promoting "quality information sources."
Note Sargent's dishonest framing. It's not the White House wanting to address clear, unambiguous misinformation, according to her -- it's "what it deems to be 'misinformation'" and "content it didn't agree with." She refused to concede that the White House "didn't agree with" that content because it's lies and misinformation.
Sargent also served as a stenographer for her boss: "Media Research Center founder and president L. Brent Bozell III warned how dangerous the Biden plan really was: 'Biden's team is trying to collude with Facebook to censor the whole internet. If you're not scared yet, you should be.'" What a dumb statement: Facebook can't "censor the whole internet," it can only address content on Facebook.
Neither Sargent nor Bozell explained why right-wingers must have the right to spread lies and misinformation without consequences.
Curtis Houck pushed the narrative the next day by complaining about the Biden administration's purported "collusion with Facebook and the rest of Big Tech to crack down on dissent (under the guise of fighting misinformation about coronavirus vaccines)." Houck offered no evidence that any sort of "dissent" was being considered, nor did he explain how lies and misinformation could be considered "dissent." A July 16 post by Autumn Johnson on the subject put "misinformation" in scare quotes.
When President Biden said misinformation on Facebook was "killing people," the MRC took offense, beause it hates Biden even more than social media. Tim Graham whined:
The president suggested Facebook's a pile of killers, and on Friday night, the pro-Biden networks just blandly passed it along. Facebook had a statement denying they were killers, but there was zero political rebuttal or fact-checking.

Naturally, NBC was the most expansive. Reporter Gabe Gutierrez did note "Late today, Facebook fired back, saying it will not be distracted by accusations which aren't supported by the facts." The social-media sites offered statistics on how much COVID "misinformation" they removed -- which probably includes anything on the theory that the virus leaked from a lab in Wuhan, China.
Needless to say, Graham offered no evidence that was the case.
Sargent returned to come to further defense of Facebook against Biden arguing that Biden should have had Facebook's back because the company allegedly gave most of its politial donations to Democrats:
The Biden administration has appeared to turn its back on Facebook after the platform worked hard to censor the American people for the last year and a half.

Facebook VP of Integrity Guy Rosen whined about the Biden administration's rampage over so-called misinformation about COVID-19 in a blog post. However, Facebook has very little room to complain, as the company and its subsidiaries donated nearly eight times more money to Democrats than Republicans in the 2020 election cycle.
But Sargent was misleading about the political donations. As she later noted, the donations she was citing came from not onbly the company but also "its employees and its affiliates," lumping individual employee donations with the company.
She also invoked a conspiracy theory by claiming that "a Facebook-funded organization may have helped swing the election in Arizona to then-candidate Joe Biden," linking back to a March post on the issue citing a report from the right-wing Foundation for Government Accountability. In fact, the foundation funded by Facebook founder Mark Zuckerberg made money available to all election agencies, which was used for various purposes, and even the FGA report offered no substantive evidence the money was used for partisan purposes, let alone that alleged get-out-the-vote efforts "influenced voter turnout in favor of Democrats," let alone swung the state for Biden.
Sargent also huffed that "Rosen also took the opportunity to brag about the platform's constant censorship," adding that "Facebook could, alternatively, have upheld freedom of speech on its platform, but it chose to censor content that it disagreed with instead."Again, she did not explain why she has equated lies and misinformation with "dissent."
Charlotte Hazard went fully down the rabbit hole in a July 19 post, weirdly blaming Biden for lower than expected COVID vaccination rates despite the fact that one of the groups with the most resistance to getting vaccinated is Republican men:
On Friday, desperate to deflect blame from his administration's failure to increase vaccination rates across the country, President Biden recklessly accused Facebook of "killing people" due to the spread of misinformation about COVID-19 vaccines on various social media platforms. On Monday, MSNBC's Morning Joe co-host Mika Brzezinski rushed to agree with the President's attempted scapegoating.

[...]

Brzezinski immediately sided with Biden and claimed that Facebook was to blame for the country not meeting the administration's vaccination goal by the 4th of July. "You know what? Facebook is definitely a part of the reason the goal was not mixed," said Brzezinski, who added: "And Facebook is a large reason why Trump's lies have festered across this country."
Staying on the corporate narrative, Hazard falsely claimed that Brzezinski's endorsement of efforts to stop disinformation meant she actually said that "social media companies should censor speech they don't like," further misleading that "It's so great that the media is pro-censorship and is siding with the President that Facebook is 'killing people.'"
In a July 20 post, Sargent portrayed the White House's clarification on what exactly it's doing with Facebook as a "FLIP-FLOP" (her all-caps, not ours), making sure to use the biased "so-called 'misinformation' terminology. concluded by ranting: "The White House could encourage free speech online. Instead, it has continually changed its tune and endangered the free speech of Americans. Even if the administration has 'not asked Facebook to block any individual posts,' as Psaki claimed, the fact remains that the Biden administration has no qualms about censoring the speech of its citizens."
Of course, she failed to explain how lies and misinformation -- which typically lack legal defenses or First Amendment protection -- are "free speech."
Posted by Terry K. at 10:29 PM EDT
Updated: Sunday, August 22, 2021 10:31 PM EDT