Fake News: WND Repeats Bogus Report Of Missing Election Paperwork
Topic: WorldNetDaily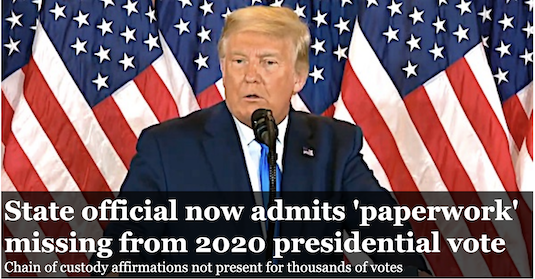 WorldNetDaily, it seem, just can't stop publishing bogus articles about the 2020 election. Bob Unruh did so in a June 14 article:
An elections official in Georgia has admitted that "a few" legally required forms documenting the chain of custody for ballots during the 2020 presidential election are missing, blaming the significant problem on the fact some "core personnel" were quarantined due to positive COVID-19 tests at the time.

But actually, a report in the Georgia Star News reveals that 385 official transfer forms, of an estimated 1,565 that would have been present in Fulton County, are missing.

"The total number of absentee ballots whose chain of custody was purportedly documented in these 385 missing Fulton County absentee ballot transfer forms was 18,901, more than 6,000 votes greater than the less than 12,000 vote margin of Biden's certified victory in the state," the report said.

The report explained the "stunning admission" about the missing documents came from Mariska Bodison, of the Fulton County Registration & Elections office.
As it turns out, that's not true. As a fact-checker found:
Earlier this week, a pro-Trump media outlet that has amplified calls for a so-called quot;forensic audit" of the election kicked off a firestorm of criticism, asserting the county was missing 385 absentee ballot transfer forms used to document how many ballots were retrieved from drop boxes daily and suggesting the provenance of nearly 19,000 ballots were questionable.

This comes from an ongoing open records request that the ;Georgia Star News made to Fulton for all transfer forms from the Nov. 3 election. The media outlet only received a portion of Fulton's forms.

According to Georgia Star News, an elections worker emailed the outlet stating that "a few forms are missing" and that "some procedural paperwork may have been misplaced" and the county disputed that 19,000 ballots were unaccounted for.

Then, the story published and rocketed across the pro-Trump mediasphere, prompting Republican Secretary of State Brad Raffensperger (who faces his own pro-Trump primary challenge from election denier Rep. Jody Hice) to announce an investigation in the county's actions and further fanning the flames.

But after GPB News asked the county Monday about the forms not included in the Georgia Star's records request, elections staff located all but eight of the more than 1,500 forms, sent them to state investigators and provided them to GPB News on a flash drive.
Unruh has not updated his article with the facts, nor has he written a follow-up that debunks this story.Unruh also didn't mention the hard-right bias of the Georgia Star News -- none other than Steve Bannon endorsed the operation, part of a network of state-level websites, as "very MAGA, very American First" -- which means it lacks credibility. Not a good sign when you're trying to convince people you're credible so they give you money so you don't go out of business.
Posted by Terry K. at 5:44 PM EDT
Updated: Thursday, July 22, 2021 5:48 PM EDT