CNS Unemployment Coverage Distortion Watch, Good-News-Is-No-News Edition
Topic: CNSNews.com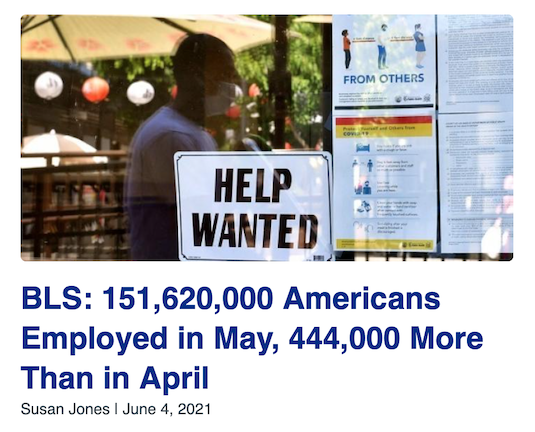 Last month, CNSNews.com had a field day with April's lower-than-expected job growth numbers, happily hyping the low numbers and falsely blaming generous unemployment benefits for it. When May's numbers came up not only much better than April's but also much closer to expectations, CNS really didn't want to talk much about it. Susan Jones' story about it was about as straightforward as CNS gets, while also sniping that the numbers still didn't reach some estimates and still aren't as good as they were under President Trump:
Following a disappointing employment report in April, the Labor Department's Bureau of Labor Statistics on Friday produced an improving picture as the nation continues to emerge from its COVID slump.

The economy added 559,000 jobs last month, below Bloomberg's median estimate of +661,000, but easily beating the lackluster 266,000 added in April (the April number fell far short of estimates as high as 1 million).

The unemployment rate, after rising a tenth of a point last month to 6.1 percent, dropped three-tenths of a point to 5.8 percent; and the number of employed Americans increased for the 13th consecutive month.

In May, 151,620,000 Americans were working, 7,115,000 fewer than the record 158,735,000 employed in December 2019 when Donald Trump was president. As COVID crashed the economy, the number of employed Americans fell to 133,370,000 in April 2020, a number not seen since 1999.
Interestingly, that was the only story CNS did. For someunexplained reason, no sidebars on government employment or Hispanic employment -- regular CNS staples until now -- never appeared. Perhaps CNS decided the numbers were so good that it didn't want to draw additional attention to them; after all, that would run counter to its aggressively anti-Biden editorial agenda.
Posted by Terry K. at 12:31 AM EDT