CNS Unemployment Coverage Distortion Watch, Too-Good-To-Attack Edition
Topic: CNSNews.com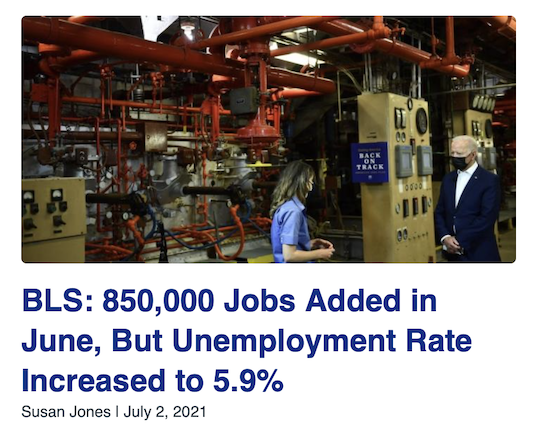 Similar to what happened the previous month, the employment numbers were so good that CNSNews.com could find nothing to attack President Biden over, and it was shocked into reporting the news in a mostly straightforward manner. Susan Jones, however, still tried to emphasize the few not-so-good numbers in her lead story:
Total nonfarm payroll rose by 850,000 in June, the strongest number of the year so far, and well above the 583,000 (revised) jobs added in May. The 850,000 jobs added exceeds analysts' estimates, which ran as high as 700,000 for June.

But at the same time, the unemployment rate ticked up a tenth of a point to 5.9 percent, the U.S. Bureau of Labor Statistics reported today.

(Note: Total nonfarm payroll employment is the number of paid U.S. workers in all businesses, excluding proprietors, private household employees, unpaid volunteers, farm employees and the unincorporated self-employed. It includes about 80 percent of those who contribute to GDP and who are covered by unemployment insurance.)

On Friday, BLS reported that the number of employed Americans broke a 13-month upward streak, dropping by 18,000 to 151,602,000 in June from 151,620,000 in May.

At the same time, the number of unemployed Americans -- those who don't have a job but are available for work and have looked for work in the past four weeks -- increased to 9,484,000 in June, a gain of 168,000 from 9,316,000 in May.

This produced the higher unemployment rate.
The numbers were so good the previous month that CNS didn't bother to do any sidebars; this time, editor Terry Jeffrey served up his usual complaints about government employment: "Governments in the United States added a net total of 188,000 jobs in the month of June, even as the federal government decreased the number it employed by 5,000."
Posted by Terry K. at 12:51 AM EDT