Newsmax Keeps Flooding The Zone With Fawning Trump Coverage
Topic: Newsmax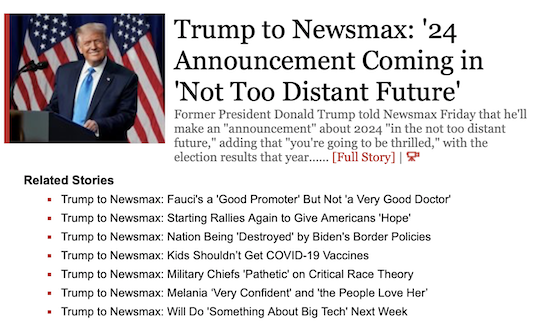 Newsmax just loves serving as Donald Trump's publicity agent, flooding the zone whenever he does an interview with a Newsmax personality. That happened again on June 25, when Trump appeared on Newsmax's morning show, "Wake Up America" (telling us that some Newsmax employees have experience writing outraged letters to the editor of newspapers). Newsmax generated a whopping eight articles out of that interview:
Now, this was not an interview that deserved eight articles -- who thinks that, say, what Trump says about his wife is worthy of a headline? But if you're a "news" organization that's effectively Trump's PR agent, you get your client's name out there as much as you can, and that's exactly what Newsmax did here.
And that's not even the end of the fawning, uncritical coverage Newsmax gave Trump that day. Jeffrey Rodack wrote in a separate article:
Former President Donald Trump is suggesting that Georgia residents sue the state for running "a corrupt and rigged 2020 presidential election."

His comments came in a statement released Friday after Attorney General Merrick Garland announced that the Justice Department is filing a lawsuit against the state of Georgia to try and overturn a new voting law that Democrats allege discriminates against minorities.

[...]

Trump, in his statement said: "Biden's Department of Justice just announced that they are suing the Great State of Georgia over its Election Integrity Act. Actually, it should be the other way around! The PEOPLE of Georgia should SUE the State, and their elected officials, for running a CORRUPT AND RIGGED 2020 PRESIDENTIAL ELECTION — and for trying to suppress the VOTE of the AMERICAN PEOPLE in Georgia. If we don't address these issues from the 2020 Election head on, and we allow the Radical Left Democrats to continue to politicize the DOJ and Law Enforcement, we will lose our Country. SAVE AMERICA!"
A real reporter would have also noted that no credible evidence has been found to back up Trump's claim of a "CORRUPT AND RIGGED" election in Georgia. But Rodack didn't -- he's part of the Trump PR team at Newsmax.
Posted by Terry K. at 3:40 PM EDT