Failing Downward: Eric Bolling Ends Up At Newsmax
Topic: Newsmax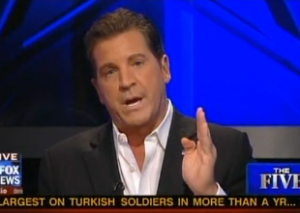 An anonymously written June 28 Newsmax article put the best possible spin on the development:
Newsmax, America's fastest growing cable news network, announced today that it is adding acclaimed television host and best-selling author Eric Bolling to its impressive talent roster.

Chris Ruddy, CEO of Newsmax, said: "Eric Bolling is a consummate media professional who isn't afraid to ask tough questions, get provocative answers and challenge establishment thinking. His background in business and politics separates him from the competition."

Bolling will begin as a guest host for shows on Monday, June 27, and is slated to host a new show in July with details to be announced soon.

Bolling said, "Like myself, Newsmax is concerned with the direction that Big Tech and Big Corporate Media have taken journalism and our nation. I'm excited to join an organization that delivers programming you can trust."

[...]

Most recently, Bolling hosted a popular talk show called "America This Week With Eric Bolling."

The show aired weekly across the Sinclair broadcast platform of 200 stations.

At Fox News, Bolling was its most visible and popular guest host, sitting in for Bill O'Reilly more than 200 times and guest hosting for top-rated "Hannity" more than 70 times.
Needless to say, Newsmax didn't tell readers why Bolling is no longer employed at those previous jobs. He was fired from Fox News in 2017 after allegations of sexual harassment surfaced in the form of sending lewd photos to colleagues, part of a wave of allegations against Fox News hosts and executives. He was fired from Sinclair Broadcast Group earlier this year after repeatedly getting busted for spreading misinformation about the coronavirus pandemic.
Newsmax did not provide an explanation of why it has chosen to hire a man with such a dubious track record.
Posted by Terry K. at 6:26 PM EDT