Uber-Catholics At CNS Suddenly Doesn't Want To Talk About Predatory Bishop
Topic: CNSNews.com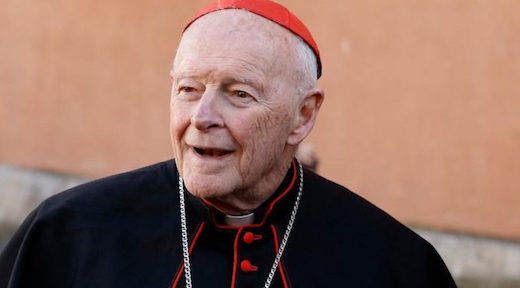 When former Catholic Cardinal Theodore McCarrick was defrocked after revelations of sexual abuse of children came to light, the uber-Catholics at CNSNews.com worked to try and tie McCarrick to Democratic politicians -- ignoring the fact that he also had ties to Republican politicians as well. Curiously, both of the stories in which CNS tried to tie McCarrick to Democrats have been mysteriously deleted without explanation.
Still, CNS continued to use McCarrick's behavior as a cudgel, this time to attack Pope Francis, whom those CNS uber-Catholics see as too liberal:
In a March 2 article, managing editor Michael W. Chapman touted how far-right Archiishop Carlo Vigano "alleged that Pope Francis knew about the homosexual abuse of teen boys and seminarians by then Cardinal Theodore McCarrick but stayed silent; Pope Francis even allowed McCarrick to carry out diplomatic and fundraising missions for the church."
On April 23, Chapman restated that in claiming that "In 2018, Vigano publicly called on Pope Francis to resign for allegedly ignoring the homosexual abuse practices of Cardinal Theodore McCarrick."
In touting a pro-Trump rant by Vigano on June 8, Chapman again noted that he "called on Pope Francis to resign in 2018 for reportedly covering up the sexual abuse history of former Cardinal Theodore McCarrick."
In a June 17 column, dishonest right-wing Catholic Bill Donohue declared McCarrick to be the church's "poster boy for sexual abuse crimes," then complained: "What Catholics want to know is not one more anecdote about McCarrick's homosexual adventures—which is all the story offered—they want to know who knew what and when about his behavior. The Catholic clergy and laity have been waiting for more than two years for the Vatican report on him. Why the delay? Never once do the reporters mention this."
CNS even snuck in a stealth attack in an Oct. 22 article stating how much the Catholic Church is supposed to hate gay people while omitting the context of Pope Francis expressing his support for same-sex civil unions (which CNS was in mid-meltdown over) included a file photo of the pope "reaching out to hug" McCarrick (which not referencing McCarrick's scandal).
Well, that Vatican report on McCarrick finally came out last month, and nobody looks particularly good, least of all Pope John Paul II, who elevated McCarrick to archbishop despite warnings about his behavior. Pope Benedict XVI -- like John Paul, a conservative-leaning pope in line with what CNS thinks a pope should be -- removed McCarrick as archbishop but not from ministry and did not do a full investigation into claims about McCarrick. Even Vigano doesn't come off well, with the report finding that he didn't investigate McCarrick when ordered to by the Vatican in 2012, and that he invited McCarrick to event while serving as the papal nuncio to the U.S.
In other words, there's a lot here that's worth reporting, especially to the Catholics who run CNS. But that didn't happen -- CNS devoted no news article to the McCarrick report. The only mention of the report at CNS came in a Nov. 11 column by Donohue -- who was not interested in discussing what was in it:
Having read the 449-page report by the Holy See on former Cardinal Theodore McCarrick, and having completed a manuscript on the subject of clergy sexual abuse (it is scheduled to be published later next year), I am in a position to assess its findings. That will be done soon.

My immediate interest is in assessing the Report's critics. They are a mixed bag. Some are reasonable, others are not.
So, yeah, that's pretty much it. It seems that the uber-Catholics at CNS have decided that if they have to admit that their preferred popes and their favorite pope-basher were also complicit in letting McCarrick get away with his predatory behavior for decades, they weren't going to talk about it at all.
Posted by Terry K. at 12:49 AM EST
Updated: Thursday, December 3, 2020 12:50 AM EST