MRC Whines Again That Trump Is Called Out For Playing Golf
Topic: Media Research Center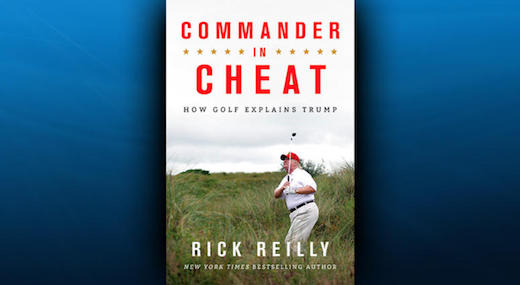 The Media Research Center likes to play whataboutism on President Trump playing so much golf, since President Obama liked to play golf too. (It also played the baseless everybody-does-it defense against a book documenting how Trump loved to cheat at golf.) Matt Philbin served up another defense in a Nov. 18 post:
Resentment is a powerful emotion. It can choke off reason and poison even moments of triumph. And it plays hell with self-awareness -- just look at the November 18th Washington Post "perspective" piece (oh the irony) by Robin Givhan.

Givhan is the Post's "senior critic-at-large writing about politics, race and the arts." (If race is an official part of your portfolio, resentment is a core competency.) And President Trump really, really irks her. Specifically, at the moment, she's bothered by his golf game.

Since the election, Trump has spent too much time golfing and not enough time conceding for Givhan's taste. Photos of the president at his Virginia golf club annoy her. "Trump is the unmasked duffer clutching the wheel of a golf cart, zipping over knolls while his caddie — also unmasked — hangs off the back."

Sure, remarking on POTUS not wearing a mask in a situation where nobody wears one is petty and "Karenish." But Givhan wants us to know her resentment is more profound. She objects to Trump's display of (altogether now!) "white male privilege."

[...]

What makes this particularly rich is that Givhan includes a typically self-regarding Instagram post from Michelle Obama congratulating herself for being civil to Melania Trump during the 2016 transition. Where could Michelle's husband like as not be found during his White House tenure? The golf course. Barry played 333 times as president. Which kind of privilege was he displaying?
If we're going to play that numbers game, it's only fair to note that, as of the end of November, Trump played golf 302 times since taking office -- and that's over less four years, compared with Obama's eight years in office.
Of course, Philbin will never defend Obama's golf-playing the way he does Trump's -- even to make a point about civil rights.
Philbin also complained; "Givhan also acknowledges those notably graceful losers Hillary Clinton and Stacy Abrams -- you know, the one who still maintains she's governor of Georgia." In fact, Abrams does not "maintain" that; in her semi-concession speech in 2018, Abrams said "I acknowledge that former Secretary of State Brian Kemp will be certified as the victor in the 2018 gubernatorial election."
Posted by Terry K. at 9:39 PM EST
Updated: Monday, December 7, 2020 9:43 PM EST