MRC vs. Twitter: More Bogus 'Censorship' Claims
Topic: Media Research Center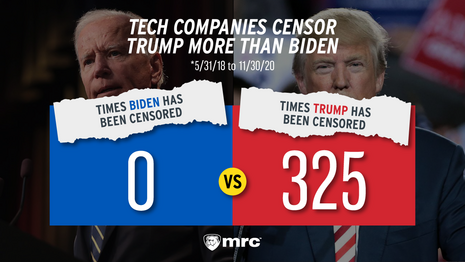 The Media Research Center is still falsely claiming that Twitter enforcing its rules of service against President Trump is exactly the same thing as "censorship."
Corinne Weaver complained in a Nov. 23 post that "Twitter has labeled Trump's tweets 52 times since Nov. 16. Team Trump's tweets have been labeled 16 times as well in the past week. Overall, Trump and his campaign have been censored 262 times since May 31, 2018. Meanwhile, Biden and his campaign have received no such censorship." Weaver updated the numbers on Nov. 30: "Overall, since May 31, 2018, Trump and his campaign have been censored by Twitter 325 times. By comparison, neither former Vice President Joe Biden nor his campaign have been censored on the platform."
As before, in neither post did Weaver identify any Biden post that violated Twitter's terms of service the way Trump's false claims about election fraud do. Further, those Trump posts aren't even actually "censored": they are labeled and "de-amplified," but anyone can still read them.
The fact that Twitter's actions against Trump's misinformation-laden posts isn't actual censorship, however, is not keeping the MRC from falsely calling it that. Take, for instance, this Nov. 16 post by Alexander Hall:
Twitter has continued its censorious campaign against sitting President Donald Trump.

On Sunday evening Trump proclaimed, "I WON THE ELECTION!" denying that former Vice President Joe Biden had won the presidency. Twitter quickly retaliated by flagging his tweet with the statement: "Official sources called this election differently." Twitter's fact-check led to an events page declaring: "Joe Biden is the projected winner of the 2020 presidential election," according to "projections by The Associated Press, NBC News and other news outlets." This events page provided no mention whatsoever of the numerous legal challenges that may change the election's outcome.

Trump's posts were labeled in the following hours for numerous other statements, ranging from calling the 2020 presidential election "Most fraudulent Election in history" to sharing a clip discussing how Dominion voting machines could be hacked with the statement This claim about election fraud is disputed."

Twitter flagged other statements today as well.
Again: Flagging isn't "censorship." Neither Hall nor Weaver has explained why it's using that false terminology.
Nevertheless, Hall did it again, ranting in a Nov. 19 post that "Twitter censored multiple conservative commentators shortly after they were retweeted by President Donald Trump." Actually, according to the article from the right-wing site Reclaim the Net that Hall sourced for his item, the accounts in question were suspended for, yes, violating Twitter's terms of service. Typically that means simply deleting the offending posts to restore service.
On Nov. 20, Heather Moon complained that "Dan Bongino, conservative commentator and a partner in Twitter alternative Parler, was censored by Twitter." As usual, Bongino wasn't "censored"; Twitter flagged the post for promoting bogus information. Sadly, Moon was utterly incurious about why an investor in a "Twitter alternative" still has an account on Twitter. (And she failed to disclose that another Parler investor is Rebekah Mercer, who is a major funder of, and board member at, the MRC.)
Meanwhile, a Nov. 13 post by Kayla Sargent brought more anti-Twitter (and bogus "censorship") drama:
It's no secret that Twitter takes its self-proclaimed role as the arbiter of truth seriously, but a recent report released by the company shows just how far it's willing to go to censor its opponents.

Twitter proudly announced in a Thursday update: "Approximately 300,000 Tweets have been labeled under our Civic Integrity Policy for content that was disputed and potentially misleading. These represent 0.2% of all US election-related Tweets sent during this time period."

Twitter censorship is now no longer something that the platform denies or conceals: it now publicly lists the number of people it has censored with impunity.
Sargent is lying when she claims Twitter is "censor[ing] its opponents," and she provides no evidence whatsoever that anything was done outside its Civic Integrity Policy. She's also forced to concede that "a few on the left were censored as well" -- undermining the MRC's entire victim narrative that conservatives are solely targeted by social media -- but bizarrely listing former Trump White House communications director Anthony Scaramucci as being on "the left." No, Kayla, criticizing Trump does not automaticlally place you on "the left."
Meanwhile, the MRC's Dan Gainor had a piece published at Fox News ranting that "Trump has been the enemy of leftist Twitter for his entire presidency, despite having nearly 89 million followers on the site. While the site refused to shut him down, it has censored him and his campaign nearly 200 times. Most of those have come this month" and claiming the site as "censored" Trump. As with the others, he didn't bother to explain why Trump's repeated violations of Twitter's terms of service were "censorship."
Posted by Terry K. at 8:39 PM EST
Updated: Wednesday, December 2, 2020 8:57 PM EST