ConWeb Triggered By Harry Styles In A Dress
Topic: The ConWeb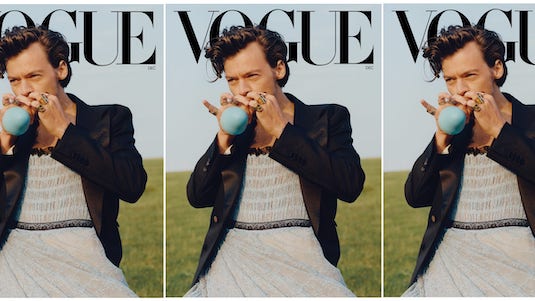 Pop star Harry Styles did a photo shoot for Vogue magazine in which he wore dresses, and unsurprisingly, the ConWeb melted down over it. Todd Starnes ranted in a Nov. 16 WorldNetDaily column:
Harry Styles, the former boy band singer, is making national headlines in the fashion world. He's the first man to grace the cover of Vogue. He was also wearing a dress.

Mr. Styles says society should dismiss the idea that there are clothes for men and clothes for women. He went on to say that wearing ladies' garments is "amazing."

Vogue prides itself in being the industry leader when it comes to fashion and style – and if they have their say, hairy-legged men with burly chests will be painting the town red in Gucci gowns with matching handbags.

[...]

It's a direct assault on cultural norms – this idea of gender fluidity. The left wants you to believe there's no such thing as male or female. They want you to believe that you actually exist on some sort of spectrum.

They want to create a society where it's perfectly acceptable for Doris and Sally to wear jock straps. And we should celebrate if Cousin Leroy meanders through Walmart wearing ladies' unmentionables.
At CNSNews.com, its favorite dishonest black conservative, Candace Owens, was given space for her own meltdown:
"There is no society that can survive without strong men," Owens tweeted on Monday. "The East knows this. In the West, the steady feminization of our men at the same time that Marxism is being taught to our children is not a coincidence. Bring back manly men."

[...]

She trended on Twitter at the number two spot because of the tweet and received criticism from many fans of Styles.

"You're pathetic," Olivia Wilde responded to Owens. Wilde is a filmmaker who cast Styles as the lead in her upcoming movie Don't Worry Darling.

Vox's Carlos Maza said Owens sounded "like the pearl-clutching puritans who've been around since the 50s and 60s. Genuinely impossible for them to be cool for even one second."

Candace tweeted after she began trending to clarify her position, "I meant: Bring back manly men. Terms like 'toxic masculinity,' were created by toxic females. Real women don't do fake feminism. Sorry I'm not sorry."
And at the Media Research Center, Sergie Daez was aghast that anyone would criticize Owens for her meltdown:
Who would look more manly? A gnarly-faced Scot who's clad in a kilt, sporting a fierce beard, brandishing a claymore and wearing a scowl that could kill a snowflake? Or a smooth-faced boy with styled hair who's wearing a dress that resembles a ball gown from the 1800s?

While appearance doesn't reveal everything about one's character, it can send off a message about one's beliefs. Harry Styles, British vocalist of the band One Direction, seems to think that it's alright for men to wear dresses, as evinced by his latest photo shoot with Vogue magazine. Conservative political activist and author Candace Owens found the sight revolting, and she tweeted on November 14, "There is no society that can survive without strong men. The East knows this. In the west, the steady feminization of our men at the same time that Marxism is being taught to our children is not a coincidence. It is an outright attack. Bring back manly men."

Billboard.com reported Owens's disgust in an article published on November 16, where they called Owens a "hater" and "conservative firebrand." They also presented a number of tweets defending Styles from Owens's comments, including a tweet from actress Olivia Wilde, who is known for acting in the medical drama House.

Billboard's headline indicated that Wilde was defending Styles from Owens, but it sounded more like a childish attempt to avenge an injury.
Actually, Daez is the childish one here, responding to actor Zach Braff's tweet that people are "free to be whatever the f*** yoiu want jto be" by retorting, "Clearly it's more important to Braff to be what one wants to be rather than to be what one is, that is, oneself," going on to further sneer, "Styles might have his own issues to deal with, but it's important to just be yourself."
But it's clear Daez doesn't want Styles to "be yourself," especially if that self involves wearing a dress in a photo shoot.
Posted by Terry K. at 6:13 PM EST
Updated: Wednesday, December 2, 2020 6:19 PM EST