MRC Drags 'Big Tech' Into Its Stolen-Election Conspiracy Theory
Topic: Media Research Center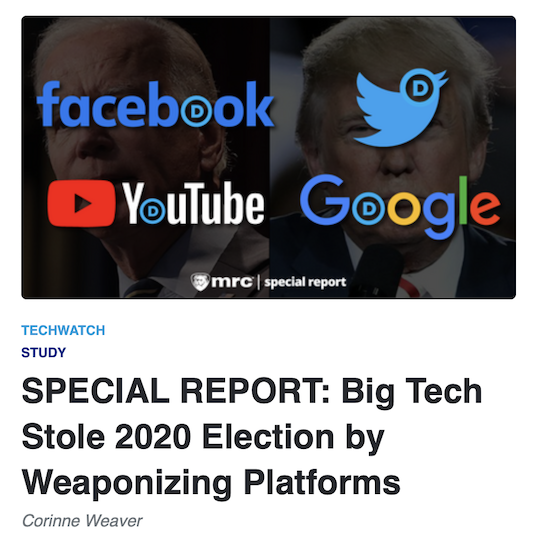 Remember when Media Research Center chief Brent Bozell flogged his conspiracy theories about the election purportedly being stolen from President Trump by declaring, "what we're going to break next week is going to blow you away." Well, it took two weeks for that revelation, and frankly, we felt little more than a mild breeze.
A Dec. 17 "special report" by Corinne Weaver expanded the MRC's conspiracy theory to "big tech":
Big Tech companies, outraged at President Donald Trump's win in 2016, put everything they had into ensuring that he would lose in 2020.

In seven key swing states, one in seven Biden voters (14 percent) said they primarily relied on sites such as Facebook or Twitter for their election news, according to a survey from the Media Research Center conducted by The Polling Company, which polled 1,750 Biden voters in seven swing states. But on Twitter and Facebook, conservatives, Trump supporters, and news that damaged the Biden campaign were regularly stifled, especially in the months leading up to the 2020 election.

Campaign messages only have value when they are heard. Trump and his campaign suffered the most in the censorship melee. Before the election, Twitter and Facebook had censored them 65 times but left former Vice President and Democratic presidential nominee, Joe Biden, unscathed. Twitter was the bulk of the problem, with 98 percent of all the instances of censorship.

[...]

The denial of facts from the liberal media left voters in the dark. Many Biden voters were not aware of the broad censorship Big Tech companies used to silence conservatives and Trump supporters. Thirty-four percent of Biden voters were not aware that Trump had been censored by Twitter and Facebook, while Biden was not censored at all, according to the poll from The Polling Company. Fifty-two percent of Biden voters were not aware that Antifa pages were allowed on Facebook, while many conservative pages had been taken down. Sixty percent of Biden voters were not aware that Facebook and Twitter prevented users from mocking or posting satire of Biden and his campaign.
The not-so-special "special report" is just a rehash of the MRC's anti-"big tech" victimization narratives over the past year -- much of which we've already discredited. The complaint that Twitter "censored" Trump and his campaign while not doing the same to Biden overlooks the inconvenient fact that the MRC has never provided evidence that Biden violated Twitter's terms of servie the way Trump has and, therefore deserved to be "censored" (in reality, Trump's violating Twitter posts are simply flagged as false and remain visible to readers).
Oh, and The Polling Company was founded by Kellyanne Conway, former Trump adviser, so its fairness and accuracy can be reasonably questioned. Not that Weaver will mention that, of course.
Weaver is clearly gaslighting with this victimization narrative -- but then she accuses others of gaslighting by pointing out that there's no evidence social media outlets are exclusively targeting conservative content:
But Big Tech denies it censors conservatives every time while finding new ways to suppress, label, and remove information posted on their platforms. The liberal media insist that tech companies are not removing content, but still urge Facebook, Twitter, and Google to do more to remove ideas and opinions that go against their established narrative. From criticism of mail-in ballots to satirical posts about Biden, Big Tech took them all down. YouTube's latest policy that will ban content that contests the 2020 election results is proof of the overwhelming direction toward censorship.

The Gaslight Strategy

The liberal media covered up the fact that Big Tech companies censored conservatives. "Republicans and right-wing media outlets have been all too happy running with the narrative that social media companies are censoring conservatives, regardless of the facts," stated CNN Senior Media Reporter Oliver Darcy. Vox Associate Editor of Politics and Policy Aaron Rupar tweeted in 2018: ".@foxandfriends gave @GOPChairwoman a platform to tout, without any pushback, hoax stories about conservatives being 'censored' on Twitter." Popular Information founder Judd Legum tweeted in 2019: "The core claim, that conservatives are being censored on social media IS TOTALLY MADE UP." Media ignored Big Tech censorship reports, hearings in the House and Senate, and labeled censorship concerns as a "conspiracy theory." The strategy was to make it seem as if censorship wasn't happening.
Weaver aded more conspriacy-mongering:
Companies like Facebook, Google, and Twitter picked sides before the election and used all their power to further the win.

Ninety percent of donations from Twitter and Facebook employees went to Democratic campaigns, according to OpenSecrets.org. Facebook contributed 91.68 percent ($2,409,464 out of $2,628,040) of its donations to Democrats collectively between individual donations ($2,400,269) and PAC donations ($234,000) equaling $200 or more. Affiliates of Alphabet, Inc., Microsoft, Amazon, Facebook, and Apple donated $10,243,589 to the Biden campaign during the 2020 presidential race, according to OpenSecrets. Trump received only $427,047 from the aforementioned Big Tech companies.

When the left embraced mail-in ballots, so did Big Tech. But that meant a hasty suppression of any criticism of mail-in voting. A letter from the Biden campaign, obtained by Axios, proclaimed that Donald Trump Jr.'s public statements of concern over mail-in voting were dangerous to democracy itself. Biden specifically condemned the platform for allowing "this dangerous claptrap to be spread to millions of people." The liberal media, including CNN and TechCrunch, previously had warned about the dangers of mail-in ballots. "Yet votes cast by mail are less likely to be counted, more likely to be compromised and more likely to be contested than those cast in a voting booth, statistics show," wrote The New York Times in 2012.

Trump was fact-checked by Twitter for condemning "Mail-In Ballots" as "substantially fraudulent" in May 2020. GOP Chairwoman Ronna McDaniel called out Twitter for censoring critiques of mail-in voting earlier this year: "Twitter falsely claims there is no evidence of mail-in ballot fraud." She added: "That's odd since NJ's all-mail primary this month was 'plagued' by fraud concerns, with 3,000 votes set aside." The censorship seemed to come as a response to criticism from the Biden campaign.
Weaver is -- as the MRC has long done this year -- falsely conflating political donations by individual employees of a company with corporate donations. And Weaver ignored McDaniel's hyping of alleged fraud in a local election in New Jersey showed that the system for detecting such possible fraud worked ... and demonstrated exactly how difficult it would be to do so on a national scale without detection the way Trump's "censored" Twitter posts have claimed.
Weaver concluded by fully buying into to Trump's false stolen-election narrative: "If liberal Big Tech companies have so much power and influence to manipulate an election, can any election really be fair? That's the question that both political parties, Congress and the federal government must address. Before the next election." Because the MRC has decided that the very integrity of elections must be undermined -- desipte no solid evidence to back it up -- in order to preserve Trump's legacy.
Posted by Terry K. at 9:08 PM EST