CNS Writer Touts Trump's Record Total, Doesn't Want To Talk About The Guy Who Got More
Topic: CNSNews.com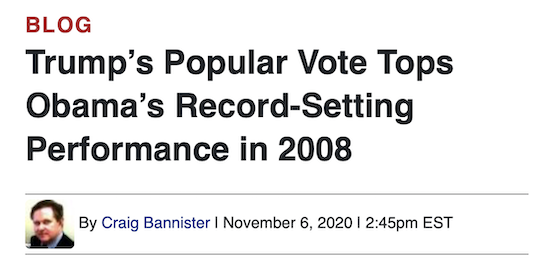 In CNSNews.com's election coverage, there may be no bigger pro-Trump suck-up than Craig Bannister. Case in point: He wrote not one but two articles touting Trump's vote count despite the increasingly apparent fact that he lost re-election. He gushed in a Nov. 5 article:
President Donald Trump, often portrayed by liberal media as a racist, has reportedly attracted the highest share of minority voters of any Republican presidential candidate since 1960, when John F. Kennedy defeated Richard Nixon.

Citing data obtained from Edison Research, The Daily Mail reports that Trump's minority support at the ballot box increased among Blacks, Latinos, and nonwhites as a whole:

[...]

Even former Obama Administration official and current CNN Commentator Van Jones admitted Wednesday Trump that Trump's outreach to minorities was surprisingly effective in this election cycle.

According to a chart posted on Twitter by Republican Strategist Adrian Gray, Nixon received 32% of the nonwhite vote in his 1960 loss to Kennedy.
The next day, Bannister gushed even harder under the headline "Trump's Popular Vote Tops Obama's Record-Setting Performance in 2008":
President Donald Trump has now garnered a higher popular vote total than President Barack Obama did when he set the record in 2008.

In 2008, Obama won 69,498,516 votes, according the Federal Election Commission.

As of Thursday morning, Trump had already exceeded that number, racking up 69,538,777 votes, Newsweek reported Friday, noting that Democrat Joe Biden appears to have won even more votes than Trump:
One hgas to go to the second paragraph of the Newsweek excerpt that followed -- the fifth paragraph of the article -- for mention of the highly relevant fact that Joe Biden had received nearly 4 million more votes than Trump.
From there, Bannister regurgitated claims of voter fraud:
In the battleground state of Florida, Maricopa County voters have filed a lawsuit alleging their ballots were rejected because of an issue with the Sharpie pens they were provided.

Constitutional scholar and nationally-syndicated radio host Mark Levin is arguing that in Pennsylvania, another battleground state, Secretary of State Kathy Boockvar, violated Article II, Section 1, Clause 2 of the U.S. Constitution by illegally changing the state's election laws.

Meanwhile, Trump and his legal team are claiming that the president is a victim of voter fraud – and that they are prepared to take their case to the U.S. Supreme Court.
Regarding the first claim, Maricopa County is in Arizona, not Florida, and the Sharpie claim is false. The Levin claim is taken from a CNS article about a Levin radio rant in which he is apparently arguing for Republican legislators in Pennsylvania to ignore the election results and vote to assign the state's Electoral College votes to Trump.
Posted by Terry K. at 12:47 AM EST