CNS' 2020 Election Bias, Part 1
The pro-Trump and anti-Biden bias CNSNews.com was blindingly obvious in the run-up to the election. Reporting only on polls that made Trump look good was just the start.
By Terry Krepel
Posted 12/1/2020
---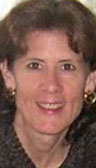 Susan Jones
The political bias in "news" coverage of the presidential election at CNSNews.com was more egregious than ever -- the rooting for a winner (President Trump) and against a loser (Joe Biden) was blindingly obvious, a process ConWebWatch documented in its coverage of the presidential debates. Indeed, its anti-Biden coverage was so hateful that it enthusiastically promoted the right-wing narrative that he was suffering from "cognitive decline."

CNS was just as enthusiastic about pushing pro-Trump narratives. Let's take a look at how it did so.
Only polls that make Trump look good
Pre-election polling showed that Biden was leading President Trump by a large margin nationwide -- but CNS didn't report on those, despite it claiming to be a "news" operation. Because CNS is operated by the Media Research Center, the media arm of the Trump campaign, the polls it promoted were cherry-picked to fluff Trump and avoid bad news about his campaign.
For example: An Aug. 21 article by managing editor Michael W. Chapman ignored the national numbers to promote a poll claiming that "Democrat Joe Biden and Republican Donald Trump are statistically tied in the presidential race" in Minnesota, which Trump lost to Hillary Clinton in 2016. Needless to say, Chapman ignored the overall polling that showed Biden with a sizable lead; instead, he pushed polling from the Trafalgar Group, which "weights its polls to account for a 'social desirability bias,' or the so-called shy Trump voters who are embarrassed to tell pollsters they support his candidacy." Trafalgar's polling gets a C-minus rating from FiveThirtyEight.
Speaking of unreliable pollsters, CNS loves reporting on polls by Rasmussen, which has a notorious pro-Trump bias (on top of being on the unreliable side -- only a C-plus from FiveThirtyEight). Here are the Rasmussen polls CNS touted over the past couple months:
Even with more reputable pollsters like Gallup, CNS worked to cherry-pick results. Chapman found another cherry-picked -- and irrelevant -- finding to push in a couple articles:
Chapman found another weird (and meaningless) Gallup poll finding in an Oct. 7 article: "In a new poll on President Donald Trump's job approval rating, Gallup found that a majority of Americans predict Trump will win reelection -- only 40% said Biden will win. Craig Bannister, meanwhile, did a lot of reading into another Gallup finding in an Oct. 13 article, working in an attack on Biden in the process:
Far more registered voters say they're better off now than they were four years than say they're worse off, a national Gallup Poll conducted September 14-28, 2020 reveals.

Fifty-six percent (56%) said they're "better off" now than they were four years ago, while just 32% said they're worse off.

As President Donald Trump seeks reelection, the 56% reporting that they're better off now than four years ago tops the scores of four other presidents – Barack Obama, George Bush, George H.W. Bush, and Ronald Reagan - at the end of their first terms, Gallup reports.

[...]

On Monday, WKRC-TV asked Democrat presidential candidate Joe Biden why the 56% of registered voters who feel they're better off today should vote for him. Biden's response: "They probably shouldn't."
But as CNN's Chris Cillizza pointed out, the finding conflicts with Trump being behind in the polls and other findings showing that people don't personally like Trump, meaning that voters are not necessarily crediting Trump for making them "better off."
An Oct. 19 article by Chapman gushed over another poll by the Trump-leaning Trafalgar Group having "place[d] Trump slightly ahead of Joe Biden in Michigan and Florida, and gives Biden a slight lead in Pennsylvania." As before, Chapman added that Trafalgar was "the only group to foresee a Donald Trump win in Michigan in 2016, and one of the few groups to forecast a Trump win in Pennsylvania in 2016." Two days later, Chapman pushed more Trafalgar polling that "currently places Trump ahead of Joe Biden in Arizona and in Florida."
On Oct. 28, Chapman was Trafalgar's PR person again: "The Trafalgar [sic] Group polling firm, the only pollster to accurately foresee a Donald Trump win in Michigan in 2016, and one of the few groups to forecast a Trump win in Pennsylvania in 2016, currently places Trump ahead of Joe Biden North Carolina, Ohio, and Pennsylvania." And on Election Day, Chapman wrote as if he was drawing a check directly from Trafalgar:
The Trafalgar Group polling firm, which was the only group to accurately predict a Donald Trump win in Michigan in 2016, and one of only a few firms that predicted a Trump 2016 win in Pennsylvania, gives Trump a slight lead today -- Election Day -- over Democrat Joe Biden in Florida, North Carolina, Arizona, Michigan, Wisconsin, Ohio, Georgia, and Pennsylvania.

Trafalgar's chief pollster Robert Cahaly, who accurately predicted Donald Trump's 2016 win and his electoral vote total (306), believes that Trump will win the 2020 race with an electoral total in the "high 270s."
Of course, as it turned out, Trump appears to have lost at least four of those states, suggesting there was something wrong with their model, which weights its polling to account for the "social desirability bias" of purportedly shy Trump voters. Chapman hasn't written a thing about Trafalgar since the election.
Chapman got in one more pre-election poll to fit his template, using a Nov. 2 article to tout how "a new Des Moines Register/Mediacom Iowa Poll shows that Trump has pulled into the lead with a strong 48% support compared to Biden's 41% support."
For all of this love toward a shiny new polling firm, CNS didn't completely forget its first love, the Trump-skewing Rasumussen. On Oct. 22, Craig Bannister touted how "Rasmussen's daily presidential tracking poll released Thursday shows that the percentage of U.S. likely voters approving of President Donald Trump's job performance has risen above fifty percent for the first day this month," adding that "Black voters registered 37% approval." On Oct. 27, Bannister served up another piece of Rasmussen's biased polling:
A majority of voters believe it's likely that, while vice president, Joe Biden knew about and may have benefitted from his son Hunter's controversial foreign business dealings, a new Rasmussen poll shows.

In a national survey of U.S. likely voters, conducted October 22 and 25, 2020, Rasmussen asked the following question:

"How likely is it that Joe Biden was consulted about and perhaps profited from his son Hunter's overseas business deals including at least one involving a company in mainland China?"

More than half (54%) of voters polled say it's at least "somewhat likely" Biden knew and may have profited, with 44% calling it "very likely."
Chapman even tried to frame a finding from normally reputable pollster Gallup as somehow pro-Trump:
As Election Day approaches on Tuesday, Nov. 3, it is interesting to note that, according to Gallup, at this time in their first terms Americans' job approval ratings of President Barack Obama and President Donald Trump were very close -- Obama, 50% and Trump, 46%.

[...]

For Trump, his job approval rating on day 1,376 in office is 46%. (Poll conducted Oct. 16-27, 2020)

For comparison, Obama, at 1,377 days in office, had a job approval of 50%. (Poll conducted Oct. 22-28, 2012.)

Gallup also reported that Obama's first-term average job approval rating was 48%. (Similar data for Trump have not been posted yet by Gallup.)
If job approval ratings are an indicator of election performance, it's clear that Gallup was much more correct than Rasmussen. Chapman and Bannister won't admit that, of course.
Touting minor Israel peace deals
CNS reporter Patrick Goodenough used to be a relatively unbiased reporter (by CNS standards, anyway). Over the past couple years, he's been sliding toward pro-Trump hagiography and anti-Democratic attacks. His articles drooling over President Trump's deals with minor Arab countries to recognize Israel is one more step down for him.
On Aug. 31, Goodenough gushed over "the first commercial flight between Israel and the United Arab Emirates" and how "White House senior adviser Jared Kushner and National Security Advisor Robert O'Brien both expressed optimism Sunday that other Arab countries would follow the UAE in normalizing relations with the Jewish state" after the USE ended a boycott of Israel.
A week later, after Kosovo did something similar, Goodenough was sounding like a Trump White House press release:
It took more than four decades for the first two Muslim-majority countries to recognize and normalize ties with Israel, and now that number has doubled in less than a month, with Kosovo's decision to follow the United Arab Emirates in taking the step.

Making that observation at the White House on Friday, National Security Advisor Robert O'Brien called it "a very remarkable breakthrough."
Never mind, of course, that neither country was ever at war with Israel.
Goodenough was in press-release mode again in a Sept. 11 article, declaring that "President Trump on Thursday portrayed himself as a Middle East peacemaker, pointing to breakthroughs between Israel and Arab states, looming U.S. troop drawdowns, and apparent signs of progress in Afghanistan." A few days later, he was the willing scribe for Secretary of State Mike Pompeo, who "repudiated House Speaker Nancy Pelosi's jibe that President Trump's progress in the Middle East is a "distraction" from the coronavirus crisis. He also warned that "opponents" like "The Council on American-Islamic Relations (CAIR), Code Pink, and dozens other organizations are planning to protest near the White House during Tuesday's signing ceremony."
Goodenough was in full stenography mode for the signing ceremony:
As President Trump on Tuesday presided over first diplomatic agreements between Israel and Arab nations in 26 years, Israeli Prime Minister Binyamin Netanyahu urged naysayers to "rise above" political divides and to "put all cynicism aside.

"Despite the many challenges and hardships that we all face, despite all that, let us pause for a moment to appreciate this remarkable day," he said at the White House ceremony.

[...]

The signing took place on the exact spot where, 27 years and two days earlier, President Clinton oversaw the signing of the interim Oslo accords between Israel and the PLO.

The interactions between the principals – even despite the coronavirus-related absence of handshaking – seemed considerably warmer and less awkward on Tuesday than they were on that day in 1993.
Goodenough didn't have all the hagiography fun; Susan Jones uncritically repeated National Security Adviser Robert O'Brien obsequiously declaring that Trump "will be known as a peacemaker. And an op-ed from wacky pro-Trump rabbi Aryeh Spero slobbered that "This is yet another outstanding achievement by President Trump regarding Israel and the Middle East and demonstrates our president's unique abilities to bring to life that which has eluded other leaders. This is truly a manifestation of 'The Art of the Deal.'"
Then, when a deal was announced between Israel and Sudan, Goodenough was on hand to gush again:
Another foreign policy achievement weeks before the election? President Trump tweeted Monday that the U.S. will remove Sudan from its list of state-sponsors of terrorism, once Khartoum pays $335 million as agreed to U.S. terror victims. As a kicker, Sudan may then become the third Arab country in two months to normalize relations with Israel.

The news of the first part of that reported deal came in the form of tweet from the president: "New government of Sudan, which is making great progress, agreed to pay $335 MILLION to U.S. terror victims and families. Once deposited, I will lift Sudan from the State Sponsors of Terrorism list. At long last, JUSTICE for the American people and BIG step for Sudan!"

[...]

If that materializes, it would be another example of the type of unorthodox deal-making, which last month delivered Israel another Muslim-majority diplomatic partner, Kosovo, as part of a broader U.S.-brokered economic normalization agreement between Kosovo and Serbia. (As a bonus, both Balkan countries also reportedly agreed to locate their embassies in Jerusalem, rather than Tel Aviv.)
This was followed by an Oct. 26 attempt to dunk on John Kerry for no apparent reason other than that he's shilling for the Trump campaign:
The Trump administration now appears to be doing something that former Secretary of State John Kerry said could never be done.

In late 2016, Kerry told a think tank audience, "There will be no separate peace between Israel and the Arab world."

[...]

Kerry is a top foreign policy adviser to Democratic presidential nominee's Joe Biden's campaign.

[...]

After years of following that conventional thinking and frustrated attempts by a series of U.S. administrations to secure an Israel-Palestinian accord, President Trump's team took a different tack. It marginalized the Palestinian leadership – while undercutting its diplomatic initiatives at the U.N. – and focused on encouraging Arab states to make separate deals with Israel.
If Goodenough was ever an objective reporter, he certainly isn't one anymore -- he's been fully assimilated into the right-wing CNS borg.
Pushing GDP numbers
The Trump-fluffers at CNSNews.com put in one last pre-election effort to boost his campaign, managing to get a whopping four articles out of a relatively good-looking GDP number.
"GDP Grew at Record 33.1% in 3rd Quarter," proclaimed the headline of Susan Jones' Oct. 29 article, complete with photo of a grinning, thumbs-up Trump to reinforce the message that he should be given credit. Jones reinforced it further in the copy:
The key indicator of an economic rebound comes at an opportune time for President Trump, just days before the presidential election.

"This record economic growth is absolute validation of President Trump's policies which create jobs and opportunities for Americans in every corner of the country," Tim Murtaugh, Trump's campaign communications director, said in a statement released by the White House[.]
Jones followed that with a full five paragraphs of Murtaugh shilling for his boss.
That was followed by an anonymously written article that tried to dunk on Nancy Pelosi for criticizing the economy the day before the GDP numbers came out:
House Speaker Nancy Pelosi, appearing on MSNBC on Wednesday, said that "now we're in worse shape" in response to a question about the "markets falling."

The next day, the Bureau of Economic Analysis released its report for the 3rd quarter of 2020, stating that real Gross Domestic Product grew at an annual rate of 33.1 percent during the quarter.
Craig Bannister checked in with a blog post about Trump-loving Fox News personality Geraldo Rivera complaining that Trump won't get credit for the GDP growth because "Big Media is so toxic." Bannister also gave space to Rivera to spin away the growth in coronavirus cases in the U.S. because his critics "they should realize that the virus has surged in other countries, too – and they can't blame Trump for that."

Finally, CNS sent an intern to Capitol Hill to ask Pelosi, "The economy grew at an annual rate of 33.1 percent in the third quarter. Does President Trump deserve any credit for that?" Pelosi responded with the arguably more accurate point that the CARES Act, which pumped billions into the economy, deserved the credit for the GDP post. CNS loves to send interns to pester members of Congress.
Damage control on Trump aide's statement
CNSNews.com worked until the very end to play damage control and cleanup on behalf of President Trump's re-election.
On Oct. 25, Trump White House chief of staff Mark Meadows got himself into a spot of bother when he admitted on CNN that "We are not going to control the pandemic. We are going to control the fact that we get vaccines, therapeutics and other mitigation areas." That didn't go over well -- a fact reinforced by CNS, which ignored the remark at first. It took nearly two full days after Meadows said it for CNS to acknowledge it, apparently requiring that long to come up with a way to spin it. That angle -- blaming Joe Biden for taking Meadows out of context -- debuted in an article by Susan Jones:
Giving a speech near his home in Delaware Monday, Vice President Joe Biden said, "Look, yesterday White House Chief of Staff Mark Meadows went on television to admit to the country his administration wasn't even trying -- trying anymore to deal with the pandemic." He said, and I quote, 'We're not going to control the pandemic.'"

Yes, Meadows used those words. But clearly, Meadows did not mean the Trump administration is giving up.

Here's what Meadows actually told CNN's "State of the Union" on Sunday, in context:

[...]

So clearly Meadows meant that the contagious virus is impossible to control, absent a job-killing lockdown, until therapies and vaccines are able to keep it at bay. Meadows did not mean the Trump administration doesn't care about controlling it.
Jones further complained that "Biden made that comment after reporters asked Mark Meadows about his 'we're not going to control the pandemic' remark on Monday morning," in which he did his own damage control.
This was joined by an article from Melanie Arter attacking MSNBC host for noting Meadows' remarks (and referencing Jones' attempt at damage control):
MSNBC host Lawrence O'Donnell on Monday compared the Trump administration's approach to the coronavirus to President Franklin Delano Roosevelt saying during his re-election campaign that we're not going to win WWII.

On MSNBC's "Last Word with Lawrence O'Donnell," O'Donnell was referring to White House Chief of Staff Mark Meadow's comments over the weekend, saying that we're not "we're not going to control the pandemic. We're going to control the fact that we get vaccines, therapeutics and other mitigation areas."

As CNSNews.com reported, Democratic presidential nominee Joe Biden twisted Meadows' words, claiming that Meadows "went on television to admit to the country his administration wasn't even trying -- trying anymore to deal with the pandemic."
That's basically all CNS had on this. It seems even they didn't think it was all that defensible.
Op-ed from an admitted criminal
How desperate was CNS to see President Trump get re-elected? It published an op-ed by an admitted criminal that it pulled from a far-right conspiracy site.
The Oct. 27 op-ed was by Michael Flynn, the onetime Trump national security adviser who admitted to lying to the FBI, though he has since been trying to retract that admission. CNS' parent, the Media Research Center, falsely claimed that Flynn was "exonerated" after the Trump Justice Department decided to stop pursuing the case. His rant is a pretty standard right-wing screed:
Never should our nation, our president, or any family or individual be so viciously targeted, maligned, smeared, and threatened as we have all felt for the past four years and counting. This unconscionable and seditious direct attack by ideologically driven elitists strikes at the will of the American people who ensure our very freedoms through their vote and daily selfless actions.

We cannot allow the opposing leftist agenda to continue enabling the fleecing of America, peddling connected-influence for cash, exploiting American innovation for an elitist self-serving purpose, wielding official power and influence as a means to ensure personal gain while exercising mass control, and selling out our American ideals for ideologies to pursue what the leftists would like as "common and normal."

These all diminish the power and purpose inherent in "we the people" who constitute our republic.

I ask that you stand with me today in renouncing this betrayal of trust that has burdened our nation and breached the foundation of our American ideals.
Needless to say, CNS made sure not to mention Flynn's criminality.
At the end of his op-ed, an editor's note stated, "A version of this article originally appeared on The Western Journal." That's the website that seems to be running WorldNetDaily these days, and it's a descendant of the right-wing nonprofit journalistic group that WND founder Joseph Farah created back in the 1990s. It was so into pushing right-wing conspiracies that it got blacklisted by social media, and it has been trying to act somewhat more legit under a slightly altered name.
CNS sullied what little journalistic reputation it has by publishing this, and Trump lost anyway.
The latest from