MRC Whines That 'Big Tech' Will Turn Over POTUS Social Media Accounts To Biden
Topic: Media Research Center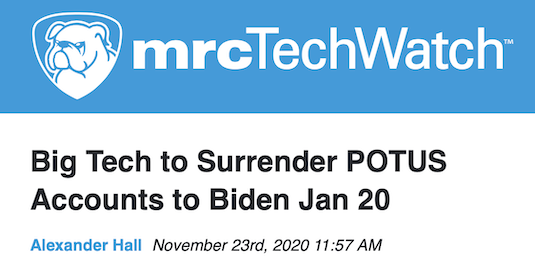 The Media Research Center hates "Big Tech" so much -- and is such a Trump sycophant that it won't admit he lost the election -- that even an uncontroversial decision like giving Joe Biden control of the presidential feeds on Facebook and Twitter when he takes office is yet another sign of the conspiracy. Alexander Hall huffed in a Nov. 23 post:
Big Tech has declared that Democratic nominee Joe Biden will receive the official verified presidential accounts from Twitter and Facebook/Instagram in late January, despite the fact that several states are still contested.

"Twitter Inc and Facebook Inc will transfer control of the @POTUS account to the Joe Biden administration on Jan. 20, the social media companies said on Saturday," Reuters reported Nov. 21. The @POTUS accounts on both Facebook and Twitter are distinct from President Donald Trump's @realDonaldTrump Twitter account and the @DonaldTrump Facebook page that Donald Trump has used to write the majority of his most popular posts.

Twitter reportedly informed Reuters this past weekend that the company is "actively preparing to support the transition of White House institutional Twitter accounts on January 20th, 2021." The same spokesperson added that this action is being taken "As we did for the presidential transition in 2017, this process is being done in close consultation with the National Archives and Records."

[...]

Twitter chomping at the bit to coronate Biden should come as no surprise after it did all-but pull the voting machine levers to help him prior to the election.
No, Alex, the election was not "still contested" when you wrote this.The Trump campaign filing baseless lawsuits filled with discredited evidence was not a serious attempt at "contesting" the election. Trump had requested a recount in Georgia the day before Hall wrote his post -- possibly the only serious attempt at contesting election results -- but that and even a subsequent recount showed that Biden still won the state.
Biden won the election, which -- despite Hall's protestations to the contrary -- was clear on Nov. 23. He's just mindlessly attacking "Big Tech" because that's his job.
Posted by Terry K. at 6:00 PM EST